Negative interest rates are back in the spotlight. Central banks will need to be prepared to cut interest rates deep into negative territory in the next economic downturn.
With U.S. economy due for pullback, analysts ponder stimulus

Supply of debt with negative yields surged in the past month
WTF Chart of the night.. h/t zerohedge pic.twitter.com/v4YMYwmuMP

— Alastair Williamson (@StockBoardAsset) August 15, 2017
Households at lower 80% of income scale are maxed out.
In June 2017, sales were back where they'd been in December 2015 – that's 19 months of now growth, with the past six months in decline: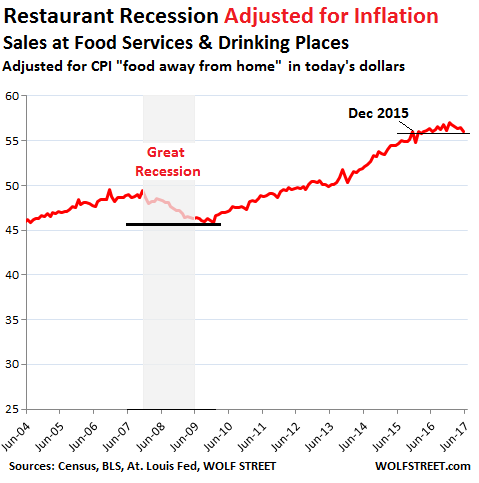 As the TDn2K report pointed out, households are having trouble maintaining their lifestyles, and those that have savings dip into them. But over half of US households don't have savings to dip into.
So credit card debt, at $1.02 trillion, has hit an all-time high. Auto loan balances, at $1.13 trillion, have far surpassed any prior all-time high. Housing costs are eating up an ever larger share of incomes. Healthcare costs are soaring. Households with kids in college are paying a big price. Many millennials, even those with good jobs, are buckling under their student loans, which have skyrocketed 164% over the past ten years to $1.45 trillion. And inflation-adjusted discretionary spending such as for restaurants by people at the lower 80% of the income scale is taking a hit. Something has to give. It's the description of a messed-up economy.
Margin debt has hit new peaks four times this year, starting with a new record of $513 billion in January; $528 billion in February; $536.9 billion in March; and reaching a whopping $549 billion in April. T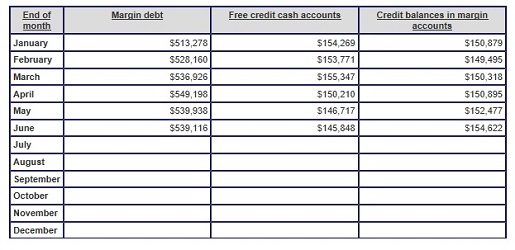 Retail space devoted to food sales in the US has hit a record high.
New store growth is outweighing demand, and grocers are cutting prices to compete. 
Department stores followed the same strategy in the last decade, and now they are closing stores and filing for bankruptcy at staggering rates.
Department stores and many mall-based retailers are closing thousands of stores after years of over-expansion. Now the grocery industry appears to be heading toward a similar fate.
Like mall-based retailers did in the 1990s, supermarkets have been expanding rapidly across the US in recent years.
"Over the past 10 years, we saw high growth from some of the more traditional players, which has resulted in saturation in the US, and forced mainstream supermarkets to slow openings," Danielle Dolinsky, an analyst at retail consulting firm Planet Retail RNG, told Business Insider.
For some companies, however, the pace of growth is only accelerating.
Discount grocers including Aldi, Lidl, and Dollar General are collectively planning to open thousands of new stores over the next couple years.
China is set to report industrial production for the month of July on Monday at 10 a.m. SIN/HK as market watchers keep their eyes on the world's second largest economy.
 
——————
 
The economy has got used to years of ultra low interest rates. When they rise it'll cause a cascade of defaults, which will in turn mean that interest rates rise further. A deflationary spiral.
752 views