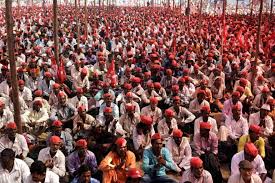 For centuries, India was the source of the spice trade. Christopher Columbus thought he discovered a shortcut to India but bumped into America. The various spices in India have been used also for practices such as yoga, meditation, and Ayurveda. They are deeply rooted in Indian and South Asian culture. Today, as it has been for thousands of years, these herbs commonly used for these practices, such as turmeric, ginger, and ashwagandha, are exported from India and Modi has pulled another fast one on the people.
Indian farmers are currently protesting against unfair new agriculture laws and this has seen 250 million people joining the protest against the tyranny of the Modi government which has set controversial new agricultural laws. The Indian government set three new agricultural laws in September 2020. Previously, the government fixed prices for a variety of crops, meaning the farmers were guaranteed minimum profits for their work. However, under these new laws. Modi has directed farmers to sell directly to companies and sellers, meaning the farmers are no longer guaranteed the same minimum profits. Now they must negotiate for themselves when it comes to finding buyers.
For the past two weeks, Indian crop farmers have led more than 250 million protestors against these new agricultural laws in the Indian capital city New Delhi, according to the Business & Human Rights Resource Centre. Many protesters have also ignored the coronavirus pandemic restrictions. The protests have shut down major highways, shops, markets, and more (see The Guardian). The participants say they will not cease their protests until the government listens, (see India Times).
Views: