by Ruby Henley
AG Jeff Sessions has not recused himself from the Uranium One corruption scandal.  Now he must decide how the Justice Department should respond to the corruption in which the Obama administration approved of a 2010 purchase of Uranium One, which controlled 20 percent of US Uranium, by Russian energy company Rosatam.  Sessions can recommend an internal DoJ investigation, in which the DoJ investigates itself.
There is a big problem for Special Counsel Robert Mueller when this investigation begins, as he himself was involved in the Uranium One deal.  He made a special trip to Russia on behalf of Hillary Clinton during that time.
twitter.com/wikileaks/status/864994472492453888?lang=en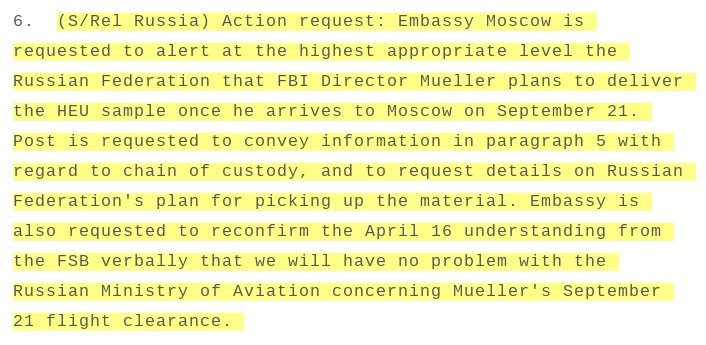 Since the Uranium One scandal must be thoroughly investigated, Robert Mueller may have to accept his past role in Uranium One and step down.  It seems that a group of Republican congressmen are looking into that option right now.  They are saying he was "compromised" by his connection in that sale of uranium assets to Russia.
The resolution was introduced by Republicans Matt Gaetz, Andy Biggs, and Louie Gohmert, and it reflects rising conservative frustration with Mr. Mueller's indictments.  It is time to act now, and Jeff Sessions must do so.  President Trump said he is not supposed to interfere with the Justice Department, but he cannot help himself, as Sessions needs to get busy now. The President wants Clinton investigated for all her crimes.
There is a contrast between the current Trump/Russia collusion story and the Uranium One story, and it is not setting well with Republicans.  The aggressiveness of Mueller's current probe is in high contrast to the lack of oversight in the Russian nuclear scandal.  The time is now for Sessions too get on top of this.
gaetz.house.gov/media/press-releases/congressman-matt-gaetz-introduces-resolution-calling-recusal-mueller-special  quote
November 3, 2017 Press Release
Washington, D.C. — U.S. Congressman Matt Gaetz (R-FL), member of the House Judiciary Committee, introduced a resolution today calling for the resignation of Robert Mueller, former Director of the Federal Bureau of Investigation, from his position as Special Counsel.
"Evidence has emerged that the FBI withheld information from Congress and from the American people about Russian corruption of American uranium companies. A confidential U.S. witness, working in the Russian nuclear industry, revealed that Russia had deeply compromised an American uranium trucking firm through bribery and financial kickbacks.
Although federal agents possessed this information in 2010, the Department of Justice continued investigating this "matter" for over four years. The FBI, led at the time by Robert Mueller, required the confidential witness to sign a non-disclosure agreement. When the witness attempted to contact Congress and federal courts about the bribery and corruption he saw, he was threatened with legal action. By silencing him, Obama's Justice Department and Mueller's FBI knowingly kept Congress in the dark about Russia's significant and illegal involvement with American uranium companies.
These deeply troubling events took place when Mr. Mueller was the Director of the FBI. As such, his impartiality is hopelessly compromised. He must step down immediately," Rep. Gaetz said in a statement.
Cosponsors of the resolution currently include Rep. Andy Biggs (R-AZ) and Rep. Louis Gohmert (R-TX).
In July 2017, Rep. Gaetz offered an amendment in the House Judiciary Committee, as well as a stand-alone resolution, calling for a special counsel to investigate former FBI Director James Comey's collusion with Robert Mueller, the FBI's mishandling of the Hillary Clinton investigation, and former Attorney General Loretta Lynch's infamous "tarmac conversation" with former President Bill Clinton. To view Rep. Gaetz's amendment, and his stand-alone resolution, click HERE and HERE. To watch Rep. Gaetz offering The text of the resolution can be found below.
Expressing the sense of the House of Representatives that Robert Mueller should resign from his special counsel position.
Whereas from 2001–2013, Robert Mueller served as Director of the Federal Bureau of Investigation;
Whereas as early as 2009, the FBI discovered that Russian officials were engaging in bribery and extortion, tainting the American uranium industry in violation of the Foreign Corrupt Practices Act to strengthen their own nuclear program;
Whereas investigations into Russia's corruption of American uranium-related businesses were supervised by then-United States Attorney Rod Rosenstein, currently serving as Deputy Attorney General, and then-Assistant FBI Director Andrew McCabe, currently serving as Deputy Director
of the FBI;
Whereas despite knowledge of this corruption, backed by documents and an eyewitness account, neither the Department of Justice nor the Federal Bureau of Investigation under the leadership of Mr. Mueller brought charges;
Whereas the Department of Justice actively threatened the liberty of a confidential informant embedded within Russia's nuclear program who wished to inform Congress about Russian corruption of American uranium-related companies, and the FBI required this informant to sign a non-disclosure agreement, intentionally depriving Congress of information vital to national security and Congressional oversight authority;
Whereas Members of Congress have raised objections to, and concerns with, the sale of American uranium assets to Russian companies, and raised these concerns in official correspondence to then-President Obama as early as 2010;
Whereas in 2010, when the Russian Federation needed American approval of uranium sales, former President William Jefferson Clinton received hundreds of thousands of dollars in speaking fees from Kremlin-linked institutions, and requested approval from the State Department to meet with central figures in Russia's nuclear industry, and eventually met with Russian leader Vladimir V. Putin at Mr. Putin's private residence;
Whereas the Clinton Foundation has either directly or indirectly received undisclosed donations totaling millions of dollars from Russian-linked sources, including from officials in Russia's nuclear program;
Whereas in 2010, Hillary Clinton, founder of the Clinton Foundation, wife of former President Clinton, and then Secretary of State, approved the sale of Uranium One to a Russian state-owned nuclear technology corporation;
Whereas any thorough and honest investigation into the corruption of American-uranium related business must include investigating the willful blindness of the FBI and its leaders;
Whereas under 28 CFR 45.2, no individual can participate in a criminal investigation if he has a personal or political relationship with any organization substantially involved in the conduct that is subject of the investigation;
Whereas under 28 CFR 45.2, no individual may participate in a criminal investigation if the individual's participation would create an appearance of conflict of interest likely to affect public perception of the integrity of the investigation;
Whereas the Code of Federal Regulations, applied to Mr. Mueller, demonstrates that he cannot be allowed to investigate his former colleagues, supervisors, and subordinates;
and
Whereas these obvious conflicts of interest are unacceptable to the United States justice system and the American people:
Now, therefore, be it Resolved, his amendment, click HERE.
That House of Representatives expresses its sense that Robert Mueller is compromised and should resign from his special counsel position immediately.         
President Trump is, also, making himself clear, too, as he is "disappointed" with the Justice Department and won't rule out firing attorney general Jeff Sessions, if Sessions won't investigate Democrats.
"Honestly, they should be looking at the Democrats," Trump told reporters before departing the White House on a 12-day trip to Asia.
The president's comments came after he tweeted several times Friday morning to criticize his former 2016 rival Hillary Clinton and the Democratic National Committee: "Crooked Hillary bought the DNC & then stole the Democratic Primary from Crazy Bernie!," he wrote, adding it's the "real story on Collusion."
Asked if he would fire Sessions if DOJ doesn't focus its investigative powers on Democrats, Trump said, "I don't know."
Trump continued: "A lot of people are disappointed in the Justice Department, including me."
He can add me to that list, too.
www.youtube.com/watch?v=PclPGPs-nkY

The Wall Street Journal's editorial board called Thursday for FBI Special Counsel Robert Mueller to step down from his role in investigating alleged Russian interference in the 2016 election, saying that he lacks the "critical distance" to analyze recent revelations about the FBI's role in the saga.
"It is no slur against Mr. Mueller's integrity to say that he lacks the critical distance to conduct a credible probe of the bureau he ran for a dozen years," the Journal's editorial board wrote. "He could best serve the country by resigning to prevent further political turmoil over that conflict of interest."
The board was writing in response to recent reports that suggest the FBI uncovered evidence of the Russian bribery and money laundering in the U.S. ahead of a 2010 decision by the Obama administration to greenlight the partial sale of the Canadian firm Uranium One to Russian energy giant Rosatom. The deal transferred control of 20 percent of U.S. uranium stocks to the Russians.
Government Accountability Institute (GAI) President and Breitbart News Senior Editor-at-Large Peter Schweizer broke the Uranium One scandal in his book Clinton Cash: The Untold Story of How and Why Foreign Governments and Businesses Helped Make Bill and Hillary Rich. He reported that Clinton's State Department, along with other federal agencies, approved the transfer of 20 percent of all U.S. uranium to Russia and that nine foreign investors in the deal gave $145 million to the Clinton Foundation.
But the controversy re-emerged last week after the Hill reported that the FBI uncovered "substantial evidence that Russian nuclear industry officials were engaged in bribery, kickbacks, extortion and money laundering" to expand Russia's nuclear footprint in the U.S. as early as 2009, but the Justice Department did not inform Congress and the public, and did not act on the information until 2014, after the sale was completed.
The FBI also reportedly found evidence that Russian officials routed "millions of dollars" to the U.S. to be funneled into the Clinton Foundation — at a time when Hillary Clinton was serving as secretary of state and served on the government body that approved the deal.

Additionally, the Washington Post reported this week that the Democratic National Committee and Clinton's 2016 presidential campaign funded Fusion GPS as it put together the so-called "Trump dossier," a dossier of mostly uncorroborated accusations against Trump, many of which the Journal notes are based largely on Kremlin-connected sources. This raises the possibility that Democrats funded a Moscow-pushed misinformation campaign against Trump.
Both sets of revelations turn the Democrat-pushed accusations that Trump colluded with the Russians on their heads and raise questions about the Clinton campaign, DNC, and Obama administration's dealings with the Russians instead.
The Journal's editorial argues that the FBI's role in such controversies now needs to be investigated. Mueller served as FBI Director between 2001 and 2013, so he led the FBI at the same time the Uranium One deal was being debated and approved.
On the question of the dossier, the Journal argues:
The more troubling question is whether the FBI played a role, even if inadvertently, in assisting a Russian disinformation campaign. We know the agency possessed the dossier in 2016, and according to media reports it debated paying Mr. Steele to continue his work in the runup to the election. This occurred while former FBI Director James Comey was ramping up his probe into supposed ties between the Trump campaign and Russians
Arguing that congressional investigators now need to focus on the FBI's role, the Journal's board argues that it now puts Mueller's stewardship of the investigation into question:
All of this also raises questions about Special Counsel Robert Mueller's investigation. The Fusion news means the FBI's role in Russia's election interference must now be investigated—even as the FBI and Justice insist that Mr. Mueller's probe prevents them from cooperating with Congressional investigators.
It is in this context that the Journal argues that Mueller, as a former FBI director and someone who has worked closely with Comey for years, should resign or else cause turmoil related to his conflict of interest.
"The American public deserves a full accounting of the scope and nature of Russian meddling in American democracy, and that means following the trail of the Steele dossier as much as it does the meetings of Trump campaign officials," the Journal's board argues.