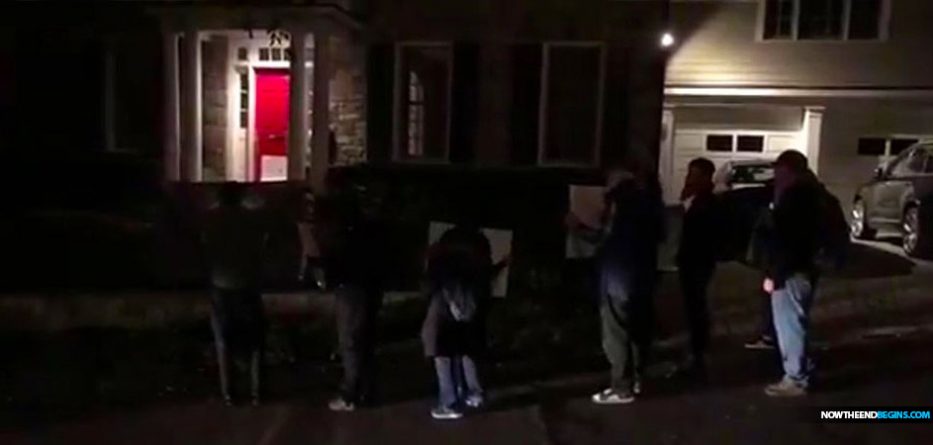 A group of domestic terror protesters congregated outside what they claimed was Fox News host Tucker Carlson's home in Washington, D.C., on Wednesday night to chant threatening messages.
This mob of domestic terrorists travels in packs, they wear masks to conceal their identities, they chant vile obscenities and issue death threats, and they are brimming over with intense and illogical hatred for their fellow man. Who and I talking about? If you guessed the KKK, you would be quite wrong.
Meet homegrown terror group 'Smash Racism', an ugly offshoot of the other main domestic terror group ANTIFA. Last night, some of their members surrounded the home of Fox News host Tucker Carlson, and issued threats to kill him while he sleeps in his own bed next to his wife.
Fun fact about the 'Smash Racism' people. Like ANTIFA, they are all Liberal Democrats. They are easy to find online, Facebook is more than happy to give them room to recruit and operate. Guess being a domestic terrorist doesn't violate Facebook's 'community standards' if you're a Liberal?
Protesters Send Message to Tucker Carlson outside His Home: 'We Know Where You Sleep at Night'
FROM THE NATIONAL REVIEW: Smash Racism D.C., a self-described "anti-fascist" group, posted a video of their members screaming obscenities at Carlson's house and blaming his "policies" for the deaths of thousands of people.
"TUCKER CARLSON, WE WILL FIGHT!" THE PROTESTERS CHANTED. "WE KNOW WHERE YOU SLEEP AT NIGHT!"
In the first video posted to Twitter, one protester can be seen ringing Carlson's doorbell before running away. One tweet posted a few minutes after 7p.m. — less than an hour before the beginning of "Tucker Carlson Tonight" — accuses the host of hiding because he didn't answer his door.
"RACIST SCUMBAG, LEAVE TOWN!"

EVERY NIGHT YOU SPREAD FEAR INTO OUR HOMES—FEAR OF THE OTHER, FEAR OF US, AND FEAR OF THEM. EACH NIGHT YOU TELL US WE ARE NOT SAFE. TONIGHT YOU'RE REMINDED THAT WE HAVE A VOICE. TONIGHT, WE REMIND YOU THAT YOU ARE NOT SAFE EITHER.#KNOCKKNOCKTUCKERPIC.TWITTER.COM/QLNVKS4OXN

— SMASH RACISM DC (@SMASHRACISMDC) NOVEMBER 7, 2018
One of the group's tweets, which included Carlson's address, was removed by Twitter soon after it was posted.
This particular group of left-wing agitators has previously targeted a number of prominent Republicans for public harassment, including most recently Senator Ted Cruz of Texas, who was chased out of restaurant in downtown Washington, D.C., along with his wife in late September.
The group also harassed Department of Homeland Security secretary Kirstjen Nielsen, forcing her to leave a restaurant in June, as a group of men berated her for her role in implementing the administration's zero-tolerance immigration-enforcement policy.
Carlson described coping with public harassment during a recent appearance on National Review's The Jamie Weinstein Show.
"I can't really go to a lot of restaurants anymore because I get yelled at," Carlson said. "I don't feel threatened, but having someone scream,'F*** you!' at a restaurant, it just wrecks your meal." READ MORE
ANTIFA Terror Group 'Smash Racism' Chants Death Threats At Home Of Tucker Carlson
Twitter removed the video, but we grabbed a copy of it before the Liberals who run social media could cover for their fellow domestic terror soldiers in the Democratic Party. Share this video with as many people as possible. 
769 views