via zerohedge:
A two-week investigation by The Hustle's Zachary Crockett into the seedy underbelly of Amazon's "fake review economy" reveals rampant fraud – primarily from shady Chinese sellers bribing buyers for positive reviews.
"Isn't this illegal?" I found myself typing one Tuesday night at 1:15 AM.

I was chatting with Lien Xi, an Amazon seller from Guangzhou, China, I'd met several minutes before in a private Facebook group. She'd courted me with an offer: If I gave her phone charger a 5-star review, she would refund the purchase via PayPal and send me a $10 "commission."

"No," she responded, with a smiley face emoji. "You will love."

I looked up her product on Amazon: It was one of the highest-ranked iPhone chargers, touting 3,971 5-star reviews and a trusted "Amazon's Choice" label.

How did this happen?

This question sent me hurtling through Amazon's massive fake-review economy — a journey that included private Facebook bazaars, thousands of fraudulent sellers from Tianjin to Tennessee, and an encounter with a morally righteous bodybuilder who is trying to deadlift a broken system. –The Hustle
Crockett notes that while 82% of American adults check product reviews prior to making a purchase, just 65% of people trust them. Meanwhile, most people are swayed by the stars alone – vs. actually reading what people write about a product.
"The way Amazon presents reviews to you is a form of hypnosis," says Saoud Khalifah of fake-review detection site, Fakespot. "They put a glowing 5-star review right in your face. They program you to trust these stars."
According to e-commerce metrics firm Feedback Express – 1.8 million vendors and sellers generate around 9.6 million product reviews every month on inventories of nearly 600m items.
Fake reviews have been an issue for Amazon since its inception, but the problem appears to have intensified in 2015, when Amazon.com began to court Chinese sellers.

The decision has led to a flood of new products — a 33% increase, by some accounts — sold by hundreds of thousands of new sellers. Rooted in manufacturing hubs like Guangzhou and Shenzhen, they use Amazon's fulfillment program, FBA, to send large shipments of electronic goods directly to Amazon warehouses in the US.

This rapid influx has spawned thousands of indistinguishable goods (chargers, cables, batteries, etc.). And it has prompted sellers to game the system. –The Hustle
"It's a lot harder to sell on Amazon than it was 2 or 3 years ago" says ex-Amazon manager Fahim Naim. "So a lot of sellers are trying to find shortcuts."
Los Angeles-based vendor Steve Lee says "You have to play the game to sell now," adding "And that game is cheating and breaking the law."
Another website tracking fake Amazon reviews, ReviewMeta, was founded by bodybuilder Tommy Noonan – who noticed what appeared to be a gamed product while shopping for testosterone boosters.
"This product had 580 reviews and every single one was 5-stars," recalls Noonan. "People would write things like, 'I haven't tried this product…BUT,' then leave a glowing review."
ReviewMeta has analyzed 203 AMazon reviews and found 11.3% of them (22.8m) to be untrustworthy. Review site Fakespot places the figure at around 30%.
Amazon, meanwhile says that "less than 1%" of its reviews are fake, and has cautioned against trusting the review sites.
"They're almost all for these off-brand, cheap electronic products: Phone chargers, headphones, cables," says Noonan. "Generic things that are super cheap to manufacture, have good margins, and get a ton of searches."
In a spot check run prior to the publishing of this article, I confirmed Noonan's findings: 10 of the 22 first-page results on Amazon for "iPhone charger" were products with thousands of 5-star reviews, all unverified and posted within a few days of each other. –The Hustle
Under federal law, bribing people for reviews is illegal.
"Endorsements are required to be truthful" says FTC Associate Director of Advertising Practices, Mary Engel. "If a reviewer has received something of value in exchange for their opinion, they need to clearly disclose that in the review."
Amazon belatedly banned incentivized reviews on its platform in 2016, as part of a well-intentioned effort to maintain trust. Earlier this year, the FTC also made headlines by prosecuting a first-of-its-kind case challenging undisclosed paid product reviews. –The Hustle
Underground fake review economy
Crockett's journey into the seedy underbelly of fake Amazon reviews turned up over 150 private Facebook groups where sellers openly exchange free products (and in many cases, commissions) for 5-star reviews. "A sampling of 20 groups I analyzed [which I've posted publicly here] collectively have more than 200,000 members. These groups seem to be in the midst of an online Gold Rush: Most are less than a year old, and in the past 30 days have attracted more than 50,000 new users," according to the report.
Crockett infiltrated four of these groups posing as an interested reviewer. Via The Hustle (emphasis ZH):
Here's how the process generally works:
A seller posts an item to the discussion board with a message like, "FREE. refund + $5 commission for 5 STAR. PM for details."
An interested buyer sends the seller a private message.
The seller directs the buyer to the product on Amazon using keywords.
The buyer purchases the product and leaves a 5-star review.
The seller sends the buyer a refund via PayPal, plus a commission (usually in the form of a $5-10 gift card).
"U want free?" one seller messaged me one morning. "Which one u want?" The seller, listed under the name Lee Ann, threw open his digital trenchcoat and exposed me to a vast selection of cycling clothing. "Men or women?"
"Men," I wrote.
"Need review, refund after review," he responded. "10 dollars commission."
He instructed me to search for the keywords "cycling shorts men" on the Amazon mobile app, gave me the first two letters of the brand name (XG), and said it was the 80th result. On the third page, I found the shorts: 32 5-star reviews — all unverified.
"Must be 5-star review, no disclosure" he instructed. I asked if he had any tips on how to craft my prose. "More letters and put photo of you wearing the shorts."
***
"Make sure your reviews don't sound overly fake and make sure you review other items too, not just from Chinese sellers," cautioned Araceli Morales – who has left 112 5-star reviews for Amazon sellers via Facebook listings. "Never write 'love'" be continued. One stay-at-home mom from Kentucky says she makes $200 – $300 per month leaving fake reviews.
"Do you actually like the products?" asked Crockett.
"I don't know," she wrote. "I never use them."
The sellers hope that the stars gained by taking a loss will build their credibility with unsuspecting buyers down the road.
"It's part of a promotion…it's a long-term process," says Kash Corp – a seller of hot pink women's leggings that offered Crockett a $6 commission for a pre-written review – despite the fact that he's a man.
When confronted, the sellers defended their actions.
"Hear me out," said one seller named Mikaela. "We are doing this [to] help our item make sales. We are competing with thousands of screen protectors out there."
The majority of sellers' personal profiles (though likely burner or alias accounts) place them in industrial Chinese cities, at the epicenter of Amazon's recent listings growth. The goods they sell are fungible: At one point, I was in communication with 4 sellers all offering indistinguishable cables, down to the pattern on the nylon braiding.

But buyers seem eager to partake in these transactions.

"It's nice to try out free things, that's how I look at it," said Zach Miller, a former Piggly Wiggly cashier (and frequent 5-star dispenser) from Elm, Texas. –The Hustle
The products often suck
Unsurprisingly, the highly rated Chinese items aren't exactly top quality. Crockett cites a three-pack of phone chargers for $13.99 which claimed to be of the "highest quality" – and were offered for free in exchange for a 5-star review. After the review was posted, the seller offered $10 more. 
On Amazon, the product was the #3 result for "iPhone Charger", boasting nearly 4,000 5-star reviews. It had been knighted with an "Amazon's Choice" label and qualified for Prime shipping.

I bought it.

Two days later, a blue packet arrived in the mail. The cables were a tangled bouquet of polyethylene and plasticisers. I unsheathed one, popped it into my phone, and — snap! –The Hustle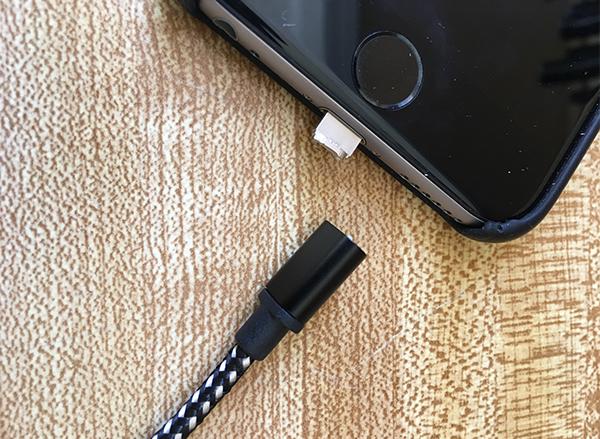 The second cable caused Crockett's phone to get too hot due to a voltage irregularity. The third charger was apparently a charm.
It's sad to imagine how many shoppers spotted this $13.99 charger pack on Amazon's first-page results and fell for the thousands of positive reviews and the algorithmically-generated endorsement from a platform that people trust more than religion.

And it's hard to reason how such a product, peddled by a ragtag troupe of e-commerce scammers, managed to game one of the world's premier technology companies.

Some have suggested that Amazon, a for-profit company, has an incentive to allow this behavior: The cut it takes from sellers and vendors varies, but e-commerce experts say the median is around 15%— and studies have shown that large volumes of reviews translate to more sales. –The Hustle
"They're going to highlight items with lots of good reviews that push sales and get them a commission," said Fakespot's Khalifa. "Even if some of the reviews are fake."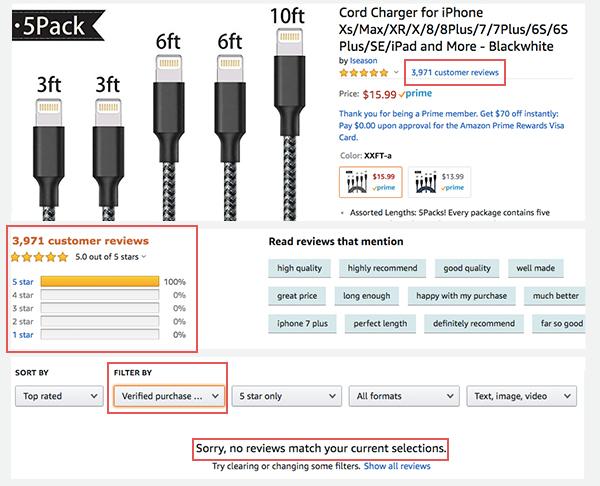 As a result of The Hustle's investigation, Facebook says that it frequently takes down fake review groups – though none had been removed as of the article's publication date.
Amazon, meanwhile, removed thousands of fake reviews after being contacted for comment. "
Among them were the 3,971 5-star reviews for the charger I purchased. The product now has 11 reviews and holds a rating of 2.5 stars. To its credit, Amazon has sued more than 1,000 third-party fake review sites to date and is quick to act when links to fraudulent products come to light. But as Noonan puts it, "Their way of handling it is reactive, not proactive."
1,373 views