Hundreds of thousands are expected to demand the resignation of Czech Prime Minister Andrej Babis in what will likely be the biggest public confrontation with the government since the 1989 Velvet Revolution.
The forthcoming protest follows a wave of massive street rallies across the country, following the recent appointment of a new justice minister at a time when prosecutors have to decide whether to indict Babis over alleged fraud involving European Union funds. – [link to www.euronews.com (secure)]
Letna Park quite full: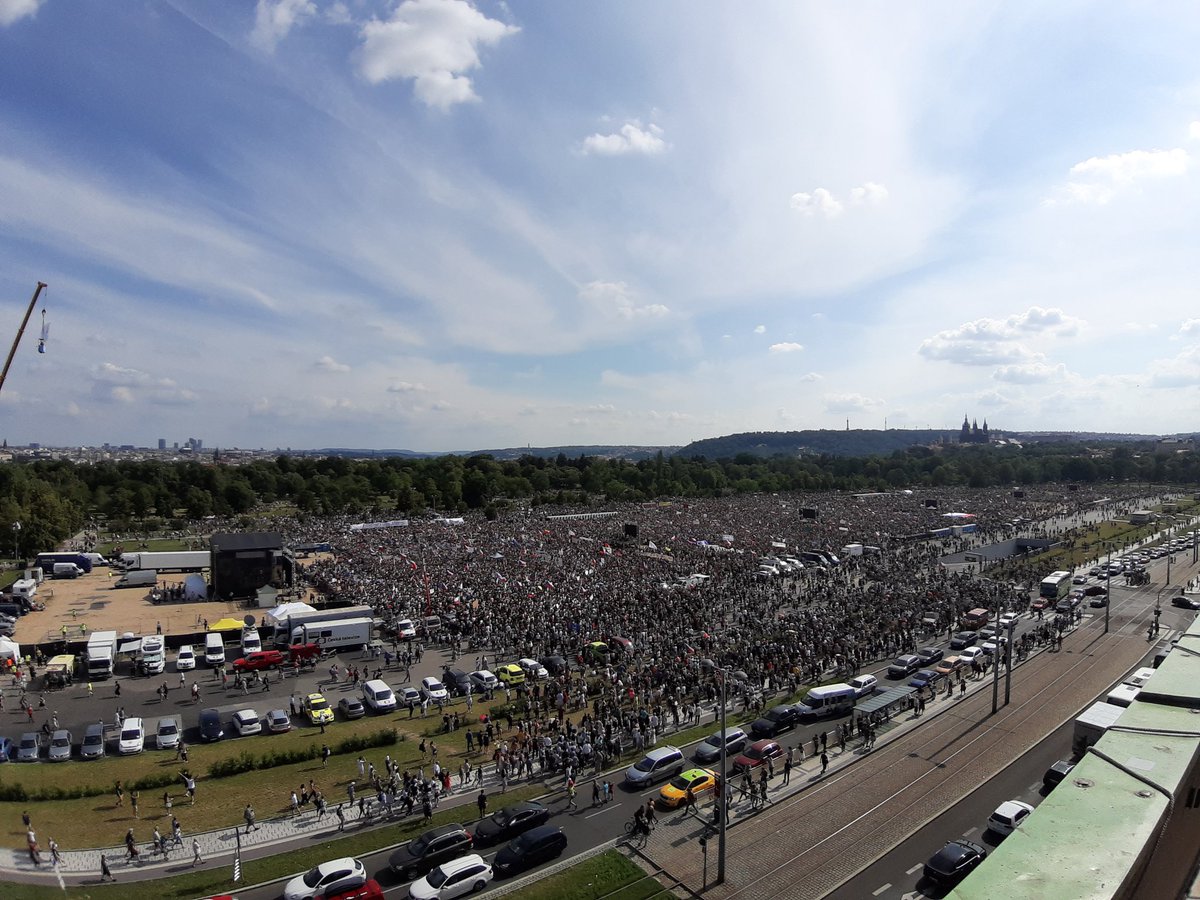 What did the PM do to triggered the public?
Former STB
– enough for me. Liar, populist, owner of companies that parasites on people, …
Ream about him for start at
en.wikipedia.org/wiki/Andrej_Babiš
Some background:
Czech Republic protests: Andrej Babis urged to quit as PM – https://www.bbc.com/news/world-europe-48737467
Czech PM Andrej Babis tested by swelling street protests – https://www.ft.com/content/1e354f2e-885c-11e9-97ea-05ac2431f453
Protests against 'Czech Trump' are Prague's 'biggest since fall of Communism' – https://edition.cnn.com/2019/06/05/europe/czech-republic-protests-babis-intl/index.html
Czech leader Babis defies inquiry, protests and EU audit – reuters//article/us-czech-babis/czech-leader-babis-defies-inquiry-pr​otests-and-eu-audit-idUSKCN1TL1NT
Prague set to see biggest protests since Velvet Revolution – https://www.washingtonpost.com/world/europe/prague-set-to-see-biggest-protests-since-velvet-revolution/2019/06/22/1360539c-94d6-11e9-956a-88c291ab5c38_story.html?noredirect=on&utm_term=.4561d77726ae
Organizators stream:

Note that I personally feel 'doubtful' about protests organized by this group. You can saw many EU, NATO flags in crowd. Organizators and most of participants are implicit pro-EU etc. They represent just one opinion on view of world in Czech society.
It is VERY different from Yellow Vests protests, for example, if you're familiar with it.
h/t serkok
1,626 views