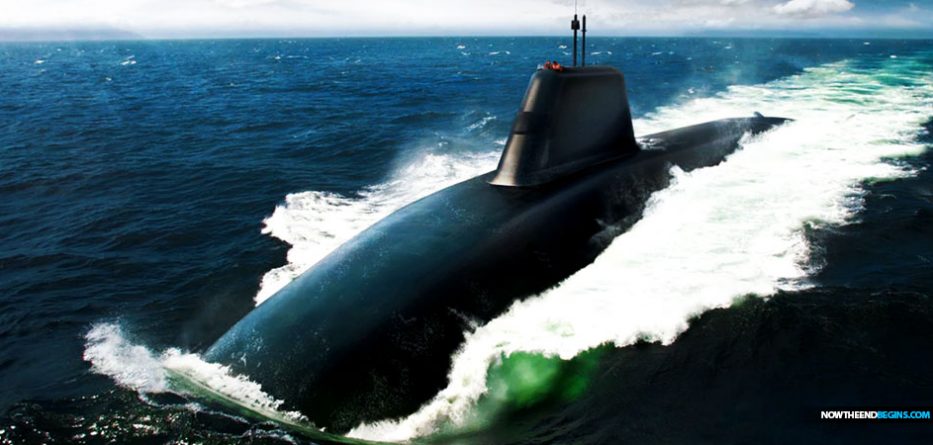 THERESA MAY WAS POISED LAST NIGHT TO DEFY CALLS FOR A COMMONS VOTE ON MILITARY ACTION IN SYRIA. THE PRIME MINISTER SUMMONED MINISTERS BACK TO LONDON TO SEEK THEIR SUPPORT FOR JOINING AN AMERICAN-LED ATTACK ON THE ASSAD REGIME WITHIN DAYS.
EDITOR'S NOTE: British Prime Minister Theresa May is prepared to act with or without the consent of Parliament, sources are now saying. UK submarines armed with Tomahawk cruise missiles have already been positioned off the coast of Syria to support the United States just as soon as President Trump gives the go ahead to launch the missile strike. Kinda funny to think that a potential war of such Biblical proportions could be waged largely on Twitter and social media, yet it is. The end times clock is ticking, the only question is will it blink or go boom? 
Clearing the way for action, she declared the use of chemical weapons could not go unchallenged and said 'all the indications' suggested that Bashar Assad's forces were responsible for Saturday's atrocity near Damascus.
MILITARY CHIEFS ARE SAID TO HAVE ORDERED BRITISH SUBMARINES ARMED WITH TOMAHAWK CRUISE MISSILES TO MOVE WITHIN RANGE OF SYRIA.
Despite fears of a military confrontation with Russia, no preparations are being made to recall MPs from their Easter recess. It is understood No 10 believes it can launch a one-off, punitive strike without consulting Parliament.
Donald Trump dramatically escalated the crisis yesterday by telling Russia to 'get ready' because 'nice and new and smart' cruise missiles would be coming. He warned Vladimir Putin not to stand by President Assad, who he described as a 'gas killing animal'.
Russia's ambassador to Lebanon had said his country was ready to target US planes and ships if they fired at Syrian regime forces. That would effectively lead to a state of war, according to Sir Richard Barrons, a senior former military commander.
And Julian Lewis, who chairs the Commons defence committee, was among MPs to warn of the risks of intervention. 'Embroiling ourselves in a military clash with Russia in the context of a civil war between an inhumane government and opposition controlled by jihadi fanatics is not a sensible one, to put it mildly,' he said.
IN OTHER DEVELOPMENTS:
British officials were said to be in talks with their counterparts in France and the US about which military assets should be deployed for military action.
'We are committed to deter and prevent the use of chemical weapons,' said a government source.
'We now have to establish the best way of getting there, and those conversations are carrying on, officials are speaking to their counterparts in France and America right now. In terms of precisely what happens next, that is still to be confirmed.'
THE PM WILL HOLD A CABINET MEETING THIS AFTERNOON. MINISTERS WERE UNDERSTOOD TO BE PRIVATELY URGING HER TO ACT, ALTHOUGH IS NOT CLEAR WHETHER THE BRITISH PUBLIC WOULD SUPPORT AN EXPANSION OF MILITARY ACTION IN SYRIA.
Brexit Secretary David Davis voted against military action against the Assad regime in 2013. Speaking on a visit to Birmingham yesterday, Mrs May said: 'The continued use of chemical weapons cannot go unchallenged.'
Asked whether she was concerned by Mr Trump's tweet, she replied: 'We are working with our allies, we have been working to get an understanding of what happened on the ground. We are rapidly reaching that understanding. All the indications are that the Syrian regime was responsible. We will be working with our closest allies on how we can ensure that those who are responsible are held to account and how we can prevent and deter the humanitarian catastrophe that comes from the use of chemical weapons in the future.'
TORY COLLEAGUE BOB SEELY SAID: 'TRUMP IS DECLARING WAR ON TWITTER. BOTH TRUMP AND PUTIN NEED TO REMEMBER WHAT THE STAKES ARE.
'This crisis could escalate very quickly into a shooting war in Syria. If Russians are injured, the Kremlin will hit back. The most important thing our generation can achieve is to avoid actual conflict with Russia.
'If we are reckless or thoughtless in our actions, it will make conflict now or in future more likely to happen.'
Russia's ambassador to Lebanon, Alexander Zasypkin, said any US missiles fired at Syria would be shot down along with the ships or planes that fired them. He told Hezbollah's Al Manar TV: 'If there is a strike by the Americans then … the missiles will be downed and even the sources from which the missiles were fired.' source