By Robert Ross
In its last meeting, the Fed made it clear it would keep interests rates low for a while.
That's good news for dividend investors.
You see, when interest rates are low, so are government bond yields.
That forces income investors to look for higher yields elsewhere. And history shows that many will flock into dividend stocks.
But in the search for higher yields, many investors fall prey to what I call the "dividend trap."
This Sector Is the Most Common Dividend Trap
A classic "dividend trap" is energy master limited partnerships (MLPs).
If you're not sure what these are, energy MLPs are companies that own the pipelines that transport oil and natural gas around the US.
And they often pay huge dividend yields many investors fall prey to.
A look at the top five oil MLPs shows they have an average dividend yield of 6.6%. That's more than three times the S&P 500 dividend yield of 1.9%.
I even found one oil MLP that is paying a crazy 18.4% dividend.
But while the yields are generous, many of them are very unsafe.
How the MPL Industry Crashed 50% Just Like That
In December 2015, Kinder Morgan (KMI) was the largest oil pipeline operator in North America.
The company had raised its hefty dividend for five straight years. In fact, the dividend was raised 30% each year during this period.
Then the unthinkable happened: Kinder Morgan cut its dividend.
It wasn't a token reduction, either. Kinder Morgan slashed its dividend by 75%.
The news shocked investors.
Many had piled into the nation's largest pipeline operator because they thought the 8% dividend yield was safe.
And when you catch the market off guard, you get punished: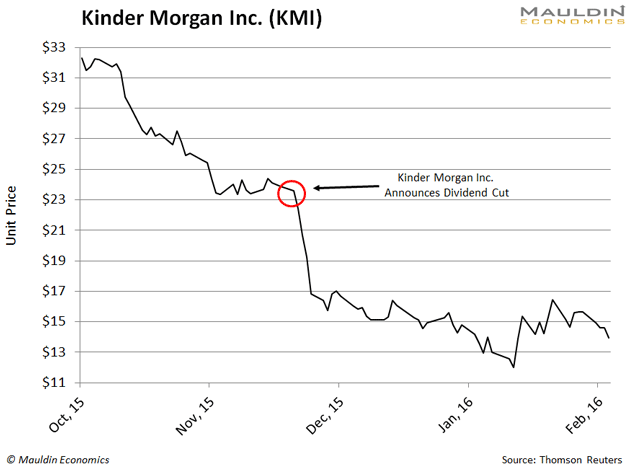 After the announcement, KMI shares plunged 28.6% and never recovered.
Major pipeline operators such as Plains All American Pipeline LP (PAA), NGL Energy Partners (NGL), and Enbridge Energy Partners LP (EEP) would soon follow suit and cut their dividends.
This tanked the entire MLP sector. The Alerian MLP ETF (AMLP) crashed 47% between June 2015 and February 2016.
While most would think nobody could have predicted that, the writing was on the wall for many of these companies.
And if you know where to look, you can easily avoid traps like this.
How to Spot a Dividend Trap
I've spend my entire career looking for safe and profitable dividend stocks.
Here's why oil MLPs are not one of them.
Of those top five oil MLPs I mentioned, the average payout ratio is 104%.
The payout ratio is the percentage of net income a firm pays to its shareholders as dividends. So if a company has earnings per share of $4 and pays $2 in dividends, it has a payout ratio of 50%.
The lower the payout ratio, the more sustainable the dividend payment.
When the payout ratio is over 100%, the company is actually dipping into its cash reserves to fund the dividend.
Or worse, they're using debt to finance the dividend!
That's a terrible strategy. It's just a matter of time before the company runs out of money to pay the dividend.
When that happens, we almost always see a dividend cut. And as we've learned, that's a death sentence for any stock.
So pay attention to the payout ratio when picking dividend stocks. That alone will help you avoid some of the deadliest dividend traps.
Now that we've learned how not to lose our shirts, let's talk about making money. I've recently put together a special report where I reveal my favorite dividend stocks for 2019. It's free for a limited time. Claim your copy now.