Jeff Bezos Boosts Fortune by $12 Billion in a Day on Amazon Surge
Jeff Bezos, the world's richest person, got a lot richer Thursday.
The Amazon.com Inc. founder added $12 billion to his fortune as the company's shares surged 6.3 percent to $1,614 in extended trading at 4:33 p.m. in New York — on top of a 4 percent gain during the regular session — after the retailer reported results that beat Wall Street estimates. That lifted Bezos's net worth to to $134 billion, according to the Bloomberg Billionaires Index.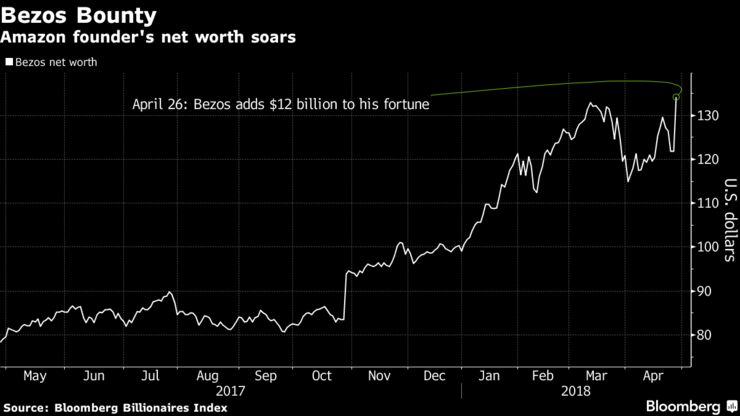 Amazon jumps after smashing earnings
Amazon reported a huge earnings beat on Thursday, with strong growth from AWS and advertising.
Amazon stock jumped roughly 7 percent in after-hours trading.
Amazon also announced it would raise the price of its Prime membership to $119 per year.
Amazon reported a huge beat across the board for its first-quarter earnings on Thursday, with particular growth coming from its AWS cloud service and advertising business.
Amazon stock is up roughly 7 percent in after-hours trading, soaring past its all-time high.
Here are the most important numbers:
Revenue: $51.04 billion vs. $49.78 billion, as estimated, according to Thomson Reuters
EPS: $3.27 per share vs $1.26 per share, as estimated, according to Thomson Reuters
AWS revenue: $5.44 billion vs. $5.25 billion, as estimated, according to FactSet
Amazon to Increase U.S. Prime Annual Fee to $119, Up from $99
Amazon will increase the annual cost of Prime for U.S. customers to $119 per year, up 20% from $99 currently — news coming after it blew the doors off revenue and profit expectations in the first quarter.
The price increase will take effect starting June 16 for existing Prime customers based on their renewal period, CFO Brian Olsavsky said on Amazon's first-quarter 2018 earnings call. New members will pay the $119 price starting May 11. The company last raised the price of Prime in the U.S. in March 2014.
Asked on the call why Amazon was raising rates now, Olsavsky cited rising costs because of higher shipping expenses and spending on digital content. "It's really nothing more than looking at the state of the program, and the high benefits it's delivering," he said. "There's all kinds of new features we've continually added to the Prime program. It's much different than it was in 2014."
Four years ago, Prime offered free two-day shipping on 20 million products in the U.S., Olsavsky noted. Today Amazon offers more than 100 million products in Prime available within two days, and many are available even faster than that — with same-day or two-hour delivery.
1,026 views