by Pamela Williams
I have to be honest and say that I agree at this point, it is best to make small changes in the Obamacare Repeal. Too many people have come forward against the repeal. I am waiting to see what will happen, and I just found this breaking news.
The new changes are as follows:
 
Although it still includes tax credits that vary by age, Republicans are considering not allowing wealthier people to qualify for the credits. There are no specifics about the cutoff, although as we reported this week, that could be in the next draft.
"Grandmothered" plans are no longer allowed to remain in the market indefinitely. These are plans that existed before Obamacare's implementation, but didn't meet its coverage requirements.
In addition to the "state innovation grants" in the earlier version of the bill, this draft creates a reinsurance fund. It would reimburse insurers for enrollees with medical claims above $50,000 and up to $350,000.
Conservatives — and moderates — are going to have to decide if they can stomach this not-so-different version of the bill they previously complained about. I am getting a bad feeling here.
This is coming out, too: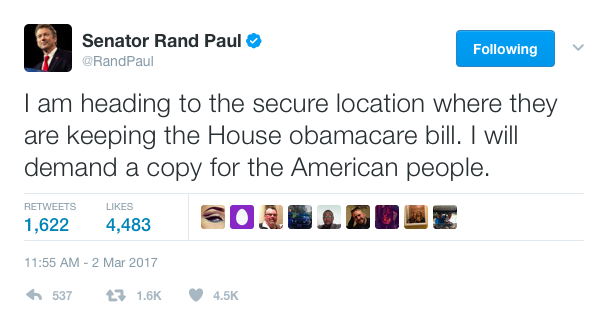 www.axios.com/vitals-2295249657.html
The biggest show of the day yesterday — and I do mean "show" — was when Sen. Rand Paul and several Democrats staged several "hunts" for the latest draft of the House Obamacare replacement bill, which was being kept in a secret reading room. Paul, one of the conservative Republicans who's demanding a full repeal, set up his own chase with a mini-tweetstorm demanding transparency, ending with the tweet above.
This fall, Congress will have to reauthorize the generic drug and biosimilar user fees that fund the Food and Drug Administration. That's the routine part. It's also trying to nudge FDA to approve more generic drugs to bring prices down — not so routine.
Here's how they fit together at yesterday's hearing (the one where Pallone started his hunt for the Obamacare bill):
 
The House Energy and Commerce health subcommittee gave every indication that when it renews those user fees, it's going to push the FDA to review those new generic drugs a lot faster. The old goal was 10 months, but the new goal will be eight months for "priority" drugs.
They're also going to take up the bipartisan bill by Reps. Gus Bilirakis and Kurt Schrader to speed that up even more: They'd make the FDA act

within six months

on new generic drugs when there's a market need.
It's going to be hard to get more generic drugs to market without more money, though. When the FDA's Janet Woodcock was asked what it would take to speed up the approvals, she said she needed more funding — because the reviews are "labor-intensive activities." She also said the agency has to take time to inspect the drug companies' facilities, sometimes in different countries.
Yes, but: The unfinished inspections are one of the biggest holdups, the agency's critics say, along with multiple review cycles that makes it hard to know when a drug is really going to be approved.
Why drug prices are definitely on the radar
Here's an exchange from the hearing that should eliminate any doubt that Republicans in Congress, not just Democrats, want to act on drug prices. Rep. Buddy Carter, who owns a Georgia pharmacy, told Woodcock that a generic alternative to Daraprim — the drug that former Turing Pharmaceuticals CEO Martin Shkreli raised to $750 per pill — could have prevented the whole situation. "What the people coming into my office are telling me is that they had an alternative to Daraprim, but they couldn't get approval through you to get it marketed," Carter said.
He said he's "under tremendous pressure" to explain to his constituents why drug prices are rising so much. The kicker: "I don't like the federal government being involved in anything, but we need to step in there, because that's wrong."
www.politico.com/story/2017/03/house-obamacare-repeal-bill-what-does-it-say-235648
 
The latest draft, dated Feb. 24, also still includes a plan to phase out Obamacare's Medicaid expansion. Instead the program's current open-ended federal entitlement would be replaced by capped payments to states based on the number of Medicaid enrollees.
Republicans are still divided about several key provisions, and the bill is likely to undergo changes before being publicly released. Spokesmen for the relevant House committees declined to comment or did not respond to requests for comment.
The proposal also still includes plans to eliminate Obamacare's taxes. Revenue would be generated by capping the tax exemption for employer-sponsored plans at the 90th percentile of current premiums. That means benefits above that level would be taxed.
Perhaps the biggest change in the latest draft is removing a section that would have allowed "grandmothered" plans to remain in the market indefinitely. Those are plans that were in existence when Obamacare was fully implemented in 2013, but that didn't meet the coverage requirements of the law. Following an outcry about canceled plans, the Obama administration gave states the option of keeping them in place through 2017. The Trump administration announced last month that it was extending that deadline by another year.
 
1,040 views