zerohedge
‏ @zerohedge
12 minhace 12 minutos
Goldman Warns Turkish Banks Will Be Wiped Out If Lira Hits 7.1
Lira is now 7.20
Following emergency bank meetings and numerous pleas by Erdogan for Turks not to "pull FX out of their banks," blaming the country's current economic crisis on America, the Lira has opened massively weaker – crashing below 7.00 per dollar for the first time ever…

Turkish Lira Crashes Through 7 As Erdogan Threatens To Unleash "Plan B Or C…"
"It is industrialists' duty too to keep this nation on its feet. Otherwise we will set into motion our plan B and C,"
www.zerohedge.com/news/2018-08-12/lira-crashes-through-700-erdogan-urges-turks-not-pull-money-out-banks
The guy is clearly losing his mind over this…
Turkish lira plunges to new record low in Asia Pacific trade
www.thisismoney.co.uk/wires/reuters/article-6053007/Turkish-lira-plunges-new-record-low-Asia-Pacific-trade.html
DAILY SABAH
@DailySabah
BREAKING — Turkish lira has been targeted by US President Trump himself, we have prepared an action plan to soothe the volatility in lira/dollar parity, Treasury and Finance Minister Berat Albayrak says
This is serious. Not only for Turkey, but also the EU…
ECB concerns grow over EU banks' Turkey exposure as lira slides …
www.ft.com/content/51311230-9be7-11e8-9702-5946bae86e6d
2 days ago – ECB concerns grow over EU banks' Turkey exposure as lira slides. … Europe's banks opened on Friday under pressure. The Euro Stoxx Banks index dropped 0.5 per cent in early trading, with BBVA, UniCredit and BNP Paribas among those drawing most scrutiny.
I expect a down-day on the stocks Monday…
The US is also exposed-
If Turkey implodes, here's who else gets hurt
Exposure is "pretty international." "European, U.S., Japan, China, Middle East — everyone," Timothy Ash, a senior emerging markets strategist at Bluebay Asset Management, told CNBC.
www.cnbc.com/2018/08/10/if-turkey-implodes-heres-who-else-gets-hurt.html
And two days ago:
Deutsche Bank (DB) has dropped 4.8% to $11.80 on concerns about its exposure to Turkey, and Morgan Stanley's downgrade to Underweight from Equal Weight.
www.barrons.com/articles/morning-movers-deutsche-bank-slides-on-turkey-concerns-intel-tiffany-slump-1533907756
Turkey has little hope of coming out of this in one piece. The pretend President-Dictator, Tayyip Erdogan, has come out and denied on Saturday that Turkey is in a currency crisis. Exactly how he can even say that is shocking. Nevertheless, he called a 25% drop in the currency a plunge that is just 'fluctuations' that have nothing to do with economic fundamentals. He blamed the United States calling the collapse in the currency 'missiles' of an economic war waged against Turkey. Trump in raising the tariffs against Turkey is understandable since the currency declined and that would make their exports cheaper. However, he is stepping in the wrong direction here for the collapse in the currency reflects the collapse in the CONFIDENCE with regard to Erdogan.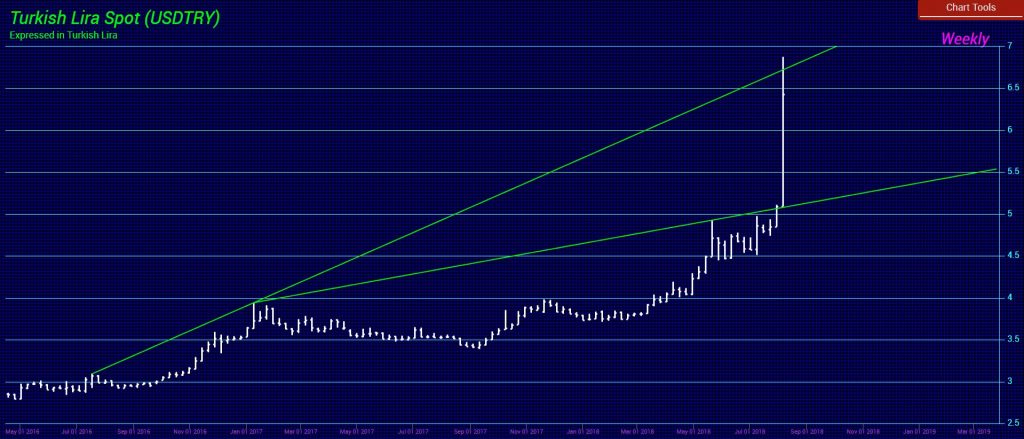 www.armstrongeconomics.com/international-news/turkey/turkey-approaching-the-point-of-no-return-as-erdogan-blames-the-currency-decline-on-usa/
h/t Spanish_guy
Views: