by Ruby Henley
We have a new situation developing in Las Vegas.  There seems to be a question about an incident at Hooters in Las Vegas.  There were 17 ambulances reported at Hooters taking out dead bodies.  This occurred at the same time as the Las Vegas massacre at the concert.
In the police dispatch, we know they were advising people to stay clear of Mandalay Bay.  As people were wounded and fleeing, the Hooters area would have been a safe zone.
As far as the wounded, many times someone can be shot and not know they are shot.  They might not know they are shot until later, which could very well have happened at Hooters.  Yes, the wounded from the concert venue could have made it to the Hooter's area.  Many who have been shot, will go into shock when they actually realize they are shot.  This is when they will begin to go downhill.  
However, some ask how could the wounded actually make it to Hooters?
www.youtube.com/watch?v=5cVxIp6x5u0&t=62s
In another incident that not many are speaking about, there were bullet holes fired at the fuel tanks, and it is now being analyzed.  This should be completed by the end of this month.
It is being questioned now if there were two shooters.  Someone was seen running across the top of the stage at one point.  
There is also the issue of the cell phones being wiped of evidence.  If the cell phones were downloaded as evidence, then that is something the FBI had a right to do.  If the cell phones were wiped clean without downloading the contents, then that is another matter altogether.  We will probably never know which actually happened.

Published on Oct 24, 2017
This report discusses the Las Vegas Shooting involving the two Jet Fuel Tanks with bullet holes which clearly  shows that bullets struck the Jet fuel tank during the shooting event that occurred on 10-01-17.
In addition, a discussion will include recovered elements and items from the recovery of cell phones and other items left behind by those fleeing the central festival kill zone of the Route 91 Harvest Music Festival.  
Lastly I will discuss the possible reasons and or explanations of why the Hooters Casino Hotel had as many as 17 EMT ambulances all staged immediately in front of the Hooters Casino and Hotel during the shooting on 10-01-17.

A question being asked is what is going on with Battlefield Vegas?  If you do not know what this is, you need to go to the website:   www.battlefieldvegas.com/  QUOTE
Battlefield Vegas is the #1 new interactive entertainment attraction to hit Las Vegas.
Whether you visit us at our five acre military-style complex located just one block from the Las Vegas strip, or at one of our off site outdoor training areas you will be guaranteed the most realistic first-person shooting experience of your life.
We set ourselves apart from the competition by offering you a chance to step into a realistic military setting where you will have the chance to shoot the largest collection of U.S. and foreign weapons available for public use in the United States.
We have firearms at your disposal dating from World War I all the way through to the weapons used by NATO forces in Iraq and Afghanistan today.
While you are visiting Battlefield Vegas you will be able to get hands-on with 100's of pieces of authentic military history.
Be sure to bring your camera and check out our fleet of over 25 military vehicles and aircraft from Jeeps used in WWII to 2.5 and 5-ton troop carriers as well as HMMWV (Humvee's) used in conflicts from Vietnam to present day, and even a Huey helicopter that was flown by U.S. forces in Vietnam!   END OF QUOTE  
It seems the Las Vegas Metro Police Department is being provided vehicles by Battlefield Las Vegas.  
Also, Paddock frequented Battlefield Las Vegas.  He spent a lot of money there. He even took family and friends there.

Another question which is being asked is how did he really make his millions?  Most do not believe he could have possibly made his millions from gambling.  
Paddock stopped working in the 1980's after leaving the Deep State defense contractor  Morton-Thiokol. We know he owned two planes and had a pilot's license. And we also know that his main company since 2004 is called Paradise Ranch.
There is also a Paradise Ranch in the Philippines which is a joint venture with the Philippine Children's Fund of America, a CA charity that provides a transitional home for American children we fly from the Philippines.
Many suspect Paddock was a gun runner, but could he have also been involved in human trafficking?  The question should logically be asked at this time.
This type of connection would explain a lot of the evasiveness surrounding this story.
If Paddock was running guns;  also, we must take into consideration that ISIS has a stronghold in the Philippines.  The many trips and the fact that Paddock was streaming video from inside his room overseas must be considered as a possible terrorist connection.

twitter.com/tracybeanz/status/915683835072917504?lang=en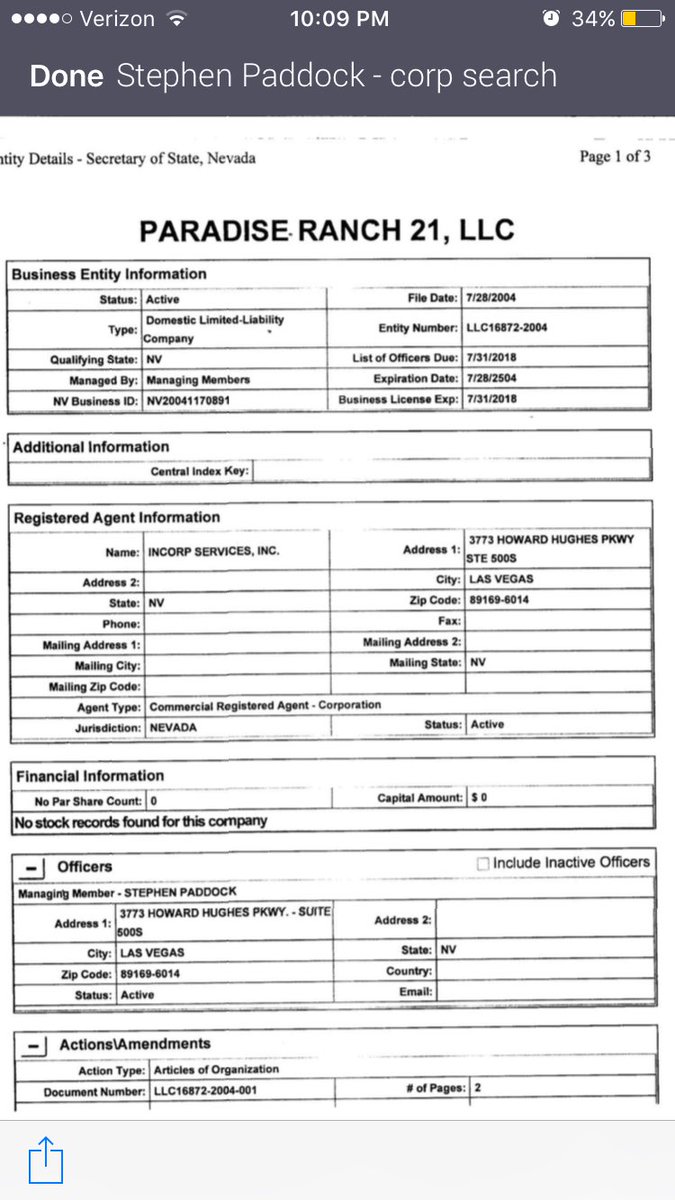 en.wikipedia.org/wiki/Philippine_Children%27s_Fund_of_America
Was created by the US and Philippine governments in 1991. To assist impoverished Filipino children of American ancestry by providing educational scholarships, employment and working visas to the United States. Philippine Children's Fund of America envisions a stable and viable community that will uphold the rights, welfare and aspiration of Filipino families especially the children towards authentic human development.[3] [4] Philippine Children's Fund of America was founded to serve the needs of children left behind by the U.S. military closure. Pearl S. Buck International foundation estimates there are 52,000 Amerasian scattered throughout the Philippines. "The majority of the children have been abandoned by their American fathers," said Jocelyn Bonilla, the manager of the Pearl S. Buck center in Angeles City. [5] Today it's serving more children, families and communities including 150 charitable groups all over the Philippines. Serving poor children including those left behind from the closure of US bases. Provides transitional home for American children we fly from the Philippines. [6] [7]

People are asking legitimate questions about the Las Vegas massacre, as they should be.  Tucker Carlson himself is asking important questions, as he cannot understand the timeline mix up.

Before I close there is a matter I would like to correct that has been going around the Internet.  There was a valet, who parked Stephen Paddock's car when he checked into the Mandalay Resort.  Many are saying he died while going to church.
Chad Nishimura did not die while going to church.
This is the original story written by Rio Lacanlale Las Vegas Review – Journal – October 16, 2017
www.reviewjournal.com/crime/shootings/man-shot-to-death-in-las-vegas-as-he-arrives-for-church/
I wrote the author to ask him if it was indeed Chad Nishimura.  This was his response:
I'm sorry, but you're going to have to be a little more specific. What church are you referencing? If you are referencing the homicide at Iglesia La Luz del Mundo on Oct. 16, the man shot was not a Chad Nishimura. That homicide was not related to the Route 91 Harvest festival shooting.
Take care.
Warm regards,
Rio Lacanlale
Crime & Breaking News Reporter
1111 W. Bonanza Road
Las Vegas, NV 89106O. 702.383.0381 C. 702.739.4968@riolacanlale