With results still trickling in late Monday night, Trudeau was on track for another minority government, meaning he will once again need to work with other parties to pass legislation.
"I hear you when you say you want to get back to the things you love, not to worry about the pandemic or the election," Trudeau said from Montreal early on Tuesday morning, acknowledging the decision to hold an early election was deeply unpopular. "You have given this government and this parliament clear direction."
Preliminary results indicated his Liberals had won or were leading in 156 seats – short of the 170 needed for a parliamentary majority. Erin O'Toole's opposition Conservatives had 121.
The result mirrored the outcome of the 2019 election.
---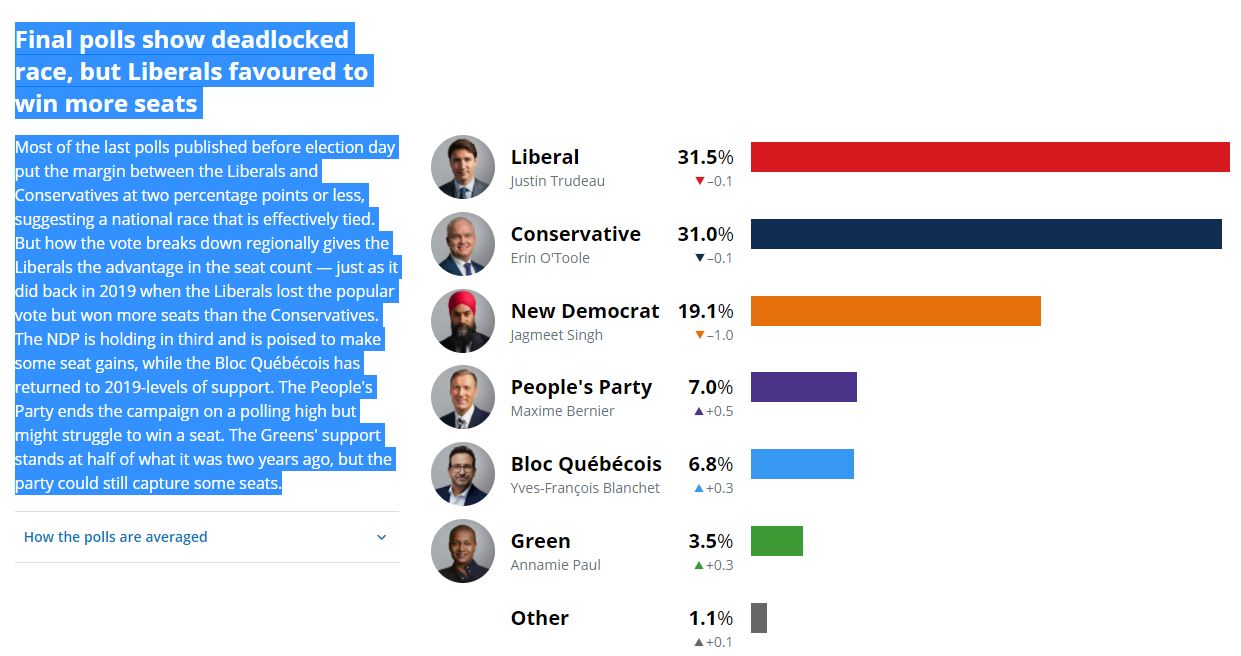 Most of the last polls published before election day put the margin between the Liberals and Conservatives at two percentage points or less, suggesting a national race that is effectively tied. But how the vote breaks down regionally gives the Liberals the advantage in the seat count — just as it did back in 2019 when the Liberals lost the popular vote but won more seats than the Conservatives. The NDP is holding in third and is poised to make some seat gains, while the Bloc Québécois has returned to 2019-levels of support. The People's Party ends the campaign on a polling high but might struggle to win a seat. The Greens' support stands at half of what it was two years ago, but the party could still capture some seats.
citizenfreepress.com/breaking/watch-live-canada-election-results-will-trudeau-and-liberals-go-down-in-defeat/