In the past 48 hours China has:
– Cut its 7-day Treasury rate by 103bps
– Launched quasi QE
– told banks to flood the system with liquidity
– Sent the Yuan tumbling
– Warned more easing is coming
China –
Industrial production and current account show a completely different picture from the science fiction estimates of some agencies.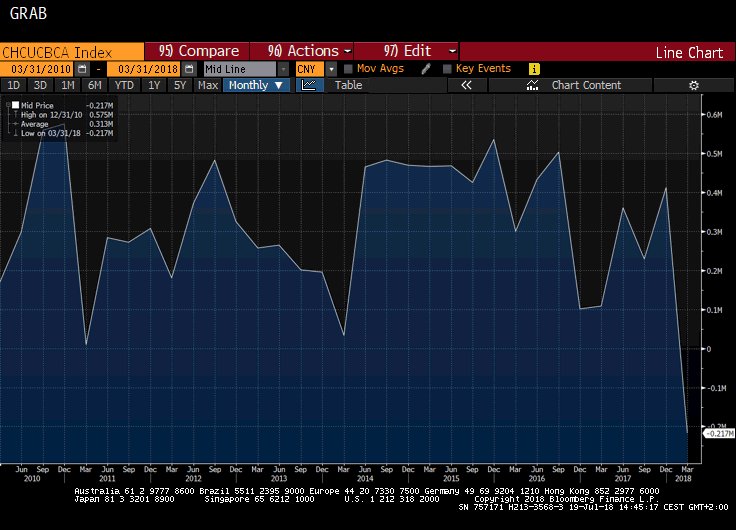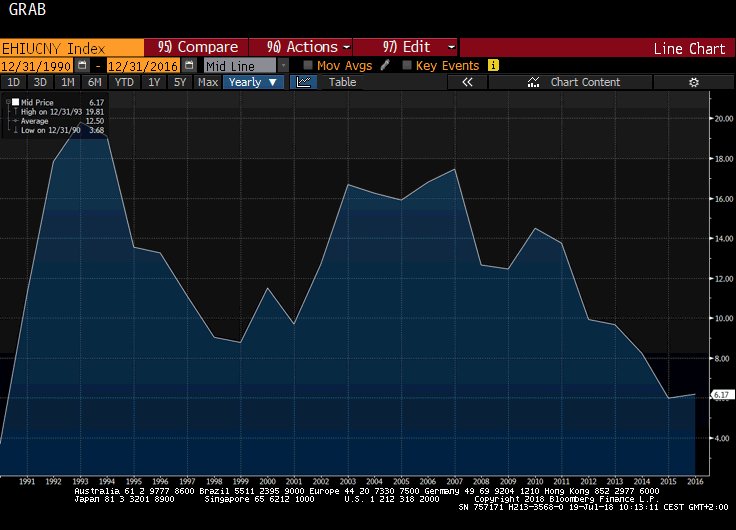 Yuan breaks key support vs USD…
Debt keeps rising.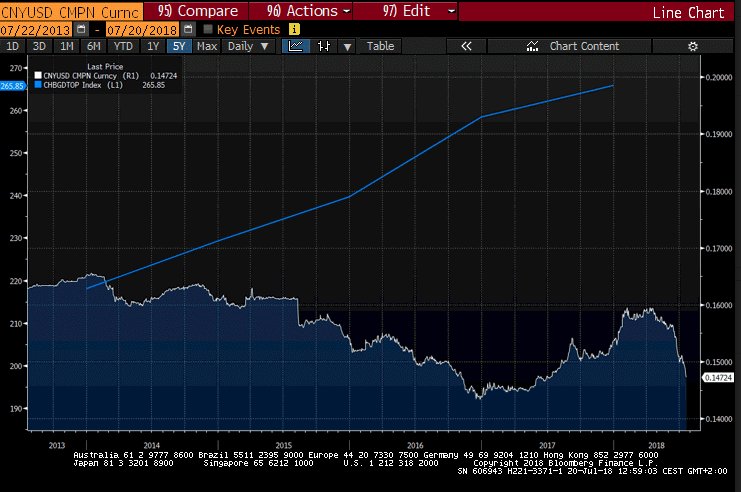 Chinese companies are facing a reality check after years of ramping up debt. The deleveraging campaign that President Xi Jinping began in 2016 to curb risks in the nation's financial markets has cracked down on shadow financing and tightened rules on asset management. As a result, firms are having a tough time raising new funds to repay existing debt, leading to a record amount of bond defaults this year.
1. How big is the default problem?
There have been about 33.3 billion yuan ($4.9 billion) in corporate bond defaults so far this year, data compiled by Bloomberg show. That already exceeds the full-year record of 30 billion yuan, set in 2016. These include nine private and 25 public offerings. Strains are set to get worse if the trends of credit-rating companies are anything to go by — agencies including Dagong Global Rating Co. have been downgrading firms by an unprecedented margin.
As China Suffers Its Biggest Bankruptcy Of 2018, The PBOC Finally Panics
Why China's private firms are falling into a shadowy debt black hole
Right on Cue, With Trade War Options Ending, Trump Starts Jawboning Currency War
As we've been predicting for months, with the unwinnable (for anyone) trade war grinding toward its surefire stalemate and having now publicly exhausted his tariff options, it's currency war time. Trump has begun his campaign to weaken the dollar.
Trump: "Tariffs on 100% of China Imports"; Fed's Powell: "What Trade War?"
In a spectacular display of willful cognitive dissonance, while the president vocally embraces going max-trade-war and tariff-izing every single Chinese item that crosses US borders, Jerome Powell, the man whose take on the US economy matters most of all, refuses to admit there is any trade war at all.
2,304 views