Former chief economist of the Bank for International Settlements, William White, told Bloomberg TV recently that "the system is dangerously unanchored." This is not the first time White has issued a warning that global financial markets were not on sound footing. Underlining his grave concern, the former chairman of the Economic and Development Review Committee at OECD stated the current situation "looks very similar to 2008." He then added that OECD sees "more dangers" today than in 2007. Even as stock markets across the world continue to set new records and make all-time new highs, we should see this as an acknowledgment all is not well.
White voiced his concerns such as prices being very high, in particular for high-yield assets and equities, VIX at very low levels, and house prices are rising strongly. What stood out in my mind was his indication that central banks cannot or will not be able to solve what might be seen as a growing "liquidity problem." The idea that we have too much debt and we have a debt resolution or insolvency problem that only governments can address is a huge reason for concern as governments have a poor history when it comes to addressing such issues in a fair manner. It is no small matter deciding how to handle an avalanche of bankruptcies and defaults.
It should be noted that White has voiced many of these concerns for some time. In January of 2016, the Telegraph reported White said:
"The only question is whether we are able to look reality in the eye and face what is coming in an orderly fashion, or whether it will be disorderly. Debt jubilees have been going on for 5,000 years, as far back as the Sumerians."
He then made it clear a major task awaiting the global authorities is how to manage debt write-offs – and therefore a massive reordering of winners and losers in society – without setting off a political storm.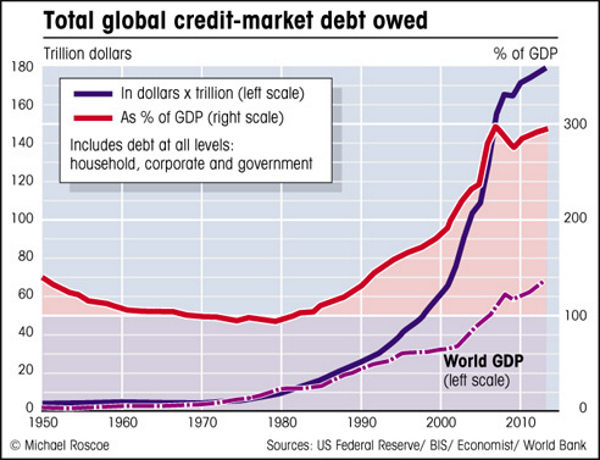 Global Debt Has Grown Much Faster Than GDP
stockboardasset.com/insights-and-research/former-bis-chief-system-dangerously-unanchored/
China's Property Market Cools t.co/VLWp4r2i86

— Alastair Williamson (@StockBoardAsset) September 18, 2017

China Newly Built House Prices YoY Change verse Shanghai Composite


stockboardasset.com/insights-and-research/chinas-property-market-cools/
Consumer seeks 'debt relief'… The excess is unwinding and it's on the backs of consumer debt. Opps! pic.twitter.com/HuAEAhQmRN

— Alastair Williamson (@StockBoardAsset) September 18, 2017

STOCK MARKET CRASH WARNING: "Reversal Could Happen Quickly And Strongly…Likely To Induce Panic"
After 8 years of reckless central bank policies and bubbling stock prices, today one of the greats in the business issued a stock market crash warning.
September 14 (King World News) – Art Cashin, Head of Floor Operations at UBS: Of Calendars And Cautions – This year has seen many longstanding seasonal patterns fail to perform. Sell in May and Go Away was a clear loss maker this year. The traditional market weakness in August and September has been stood on its head. Sharp-eyed Keene Little over at Option Investor thinks it may have to do with a different "pattern", the one that comes in a year ending in a seven.
Here's a bit of what Keene wrote:
While we should be looking over our shoulder for potential trouble, the market has been ignoring the troubling signs and that could continue longer than most think possible. Don't fight the trend is clearly the message after just a 3-wave pullback in August. The pattern of the rally off the August 21st low is not clean but the choppy move higher fits as an ending pattern. So I would definitely not get complacent about the current rally. Don't fight it but be careful joining it. I have a feeling the reversal from it could happen quickly and strongly.
If the market does hold up into October it would fit a pattern for years ending in 7, which is what we're currently in. In the past, with August and September being typically weak months, it's been common to see some ugliness into September. October has been known as the bear killer since a strong rally into the end of the year has typically started from a stronger pullback into October.
kingworldnews.com/stock-market-crash-warning-reversal-happen-quickly-strongly-likely-induce-panic/
The Global Debt Crisis Is Much Worse Than We Are Being Told

twitter.com/NorthmanTrader/status/909083046179196928
Like so many companies in America, Boeing Co. has largely neglected the gaping deficit in its employee pension as it doled out lavish rewards to shareholders.
NBC 10 Philadelphia
–
21 hours ago
The state's general fund will run dry following more than two months of failed efforts in the General Assembly to close a $2.2 billion budget deficit. The first bill …
… payments – including nearly $102 million of debt service costs due on Friday … a credit downgrade," said Wolf spokesman J.J. Abbott in an email to Reuters.
Hartford Courant
–
15 hours ago
Standard and Poor's, which had already downgraded Hartford's debt to junk bond status, dropped the capital city's rating another four notches Thursday, a week …
WPERP's unfunded pension liability increased the most — from $1.1 billion in 2015 to $2.2 billion in 2016 — because plan administrators changed the discount …
If the state treasurer's office approves the bonds, Jackson County will instead pay $5 million toward the bonds for the next 25 years – when the pension costs are …
1,671 views