by Ruby Henley
She must feel so out of control right now.  Sad, she could not tell the truth to the person who questioned her.  More than that, why has she been trained to help someone to break the law?
Why would she lie to Prosecutor Mitchell when she knew the penalty was perjury?
Prosecutor Rachel Mitchell: "Have you ever given tips or advice to somebody who was looking to take a polygraph test?"
Christine Blasey Ford: "Never."
twitter.com/ShannonBream
Below is the sworn statement made by Ford's boyfriend obtained by Fox News –
In the sworn statement, he speaks of the following –
She never mentioned sexual assault.
She coached a friend on how to pass a polygraph.
She flew around the Hawaiian Islands and was never afraid.
She lived in a house with only one door.
I don't think any of us are shocked about these revelations.  The question is why, how, and who?
Why did she do this?
How did she become so perfect at lying?
If she indeed is a PhD, is it not against her oath to knowingly lie?
She has committed perjury – now what will the penalty be?
Who coached her to do this?   I believe she is not the only one involved in this horrible charade. In fact, I know it is an alleged Internet rumor, but I believe it will eventually surface that she is indeed connected to the CIA in some way.
www.youtube.com/watch?v=to0WUGN7aIs
Christine Blasey Ford's accusations are unraveling more and more each day that goes by. That polygraph that she took is now something that Senate Judiciary Committee Chairman Chuck Grassley wants to examine much more closely. He wants the recordings of it among other things for review by the Senate Judiciary Committee under advice and consent.
Ford's ex-boyfriend from years ago has suddenly come forward with a written letter to the Senate Judiciary Committee. In it, he solidly contradicts Ford's testimony last week on polygraphs as well as other issues. Sen. Chuck Grassley now has severe doubts about her truthfulness.
The man does not wish his name or identity to be made public. He dated Ford between 1992 and 1998. At one point, they lived together. The relationship eventually ended after Ford cheated on him.
She then allegedly used his credit card for a year after they parted ways. He had to confront her on it because at first, she lied about it. When he threatened to notify fraud prevention, she came clean.
The letter was obtained by Fox News. In it, the man says that he once saw Ford help ease the nerves of a friend preparing to take a polygraph by ­"explaining in detail what to ­expect" and how they work. She coached her best friend on how to pass a polygraph for a job at the FBI and US Attorney's office.
That means that Ford perjured herself when she was asked directly in the hearing the other day if she had given tips on how to pass a polygraph.
He also says that not only did she not have a fear of flying or tight spaces… she flew all the time.
From the New York Post:
"During last Thursday's hearing, Arizona sex crimes prosecutor Rachel Mitchell asked Ford if she had ever talked with anyone other than her lawyers about "how to take a polygraph." Ford said, "Never."
"The man, whose name was not released, also said that during his relationship with Ford, she never mentioned Brett Kavanaugh or her experience as a victim of sexual assault.
"In a letter late Tuesday, Grassley (R-Iowa) asked Ford's lawyers for the polygraph results, saying the ex's claim "raises specific concerns about the reliability of [Ford's] polygraph-examination results.'"
In his letter, Sen. Grassley also wrote that Ford's testimony at the hearing "raises specific concerns about the reliability of her polygraph examination results. The Senate, therefore, needs this information."
"Your continued withholding of material evidence despite multiple requests is unacceptable as the Senate exercises its constitutional responsibility of advice and consent for a judicial nomination," Grassley (R-IA) wrote.
It is not clear when the Senate Judiciary Committee staff came into possession of the letter. Mitchell's specific questioning about polygraph preparation during Ford's committee testimony, however, may indicate committee staff had some knowledge of the allegations laid out in the letter at least as early as last week. That question was not random or by chance and I think the Republicans knew about the allegation and were vetting it.
From Fox News:
"Some of the apparent inconsistencies, Grassley wrote, could possibly be addressed if Ford's legal team turned over all video or audio recordings produced during her own polygraph examination. Ford passed that polygraph, and in a handwritten statement she wrote prior to the test, she indicated "there were 4 boys and a couple of girls" at the gathering.
'
Senator Grassley has sent the following letter to Ford's legal team.
twitter.com/ShannonBream/status/1047291933025030144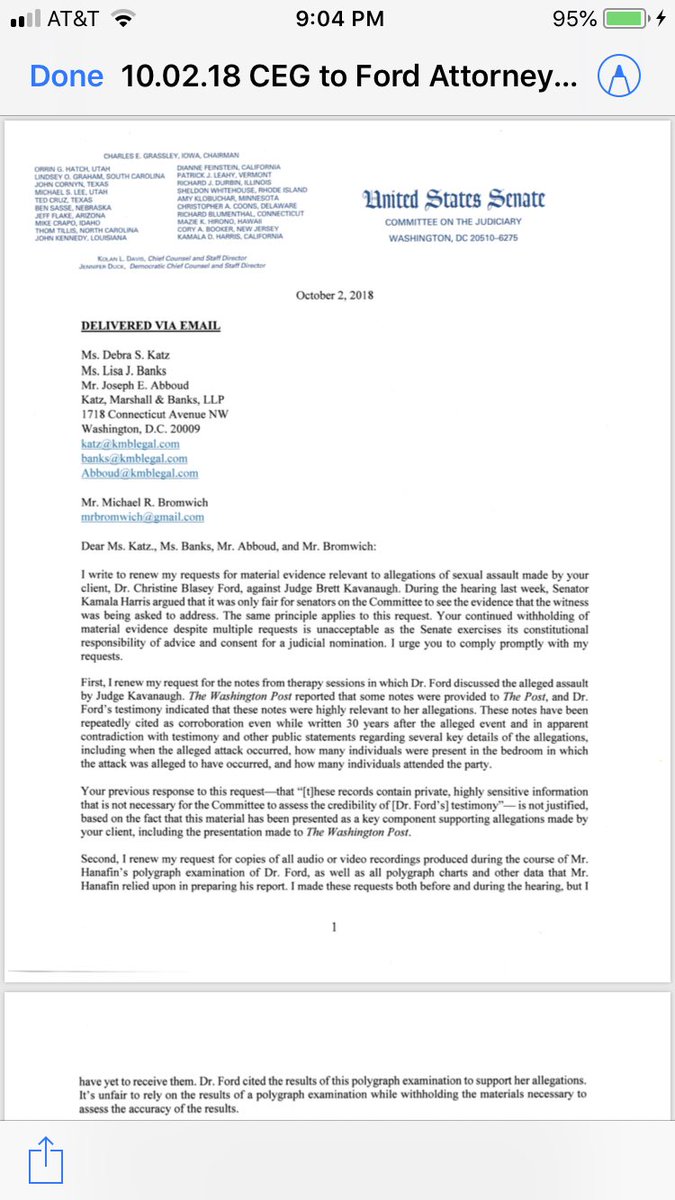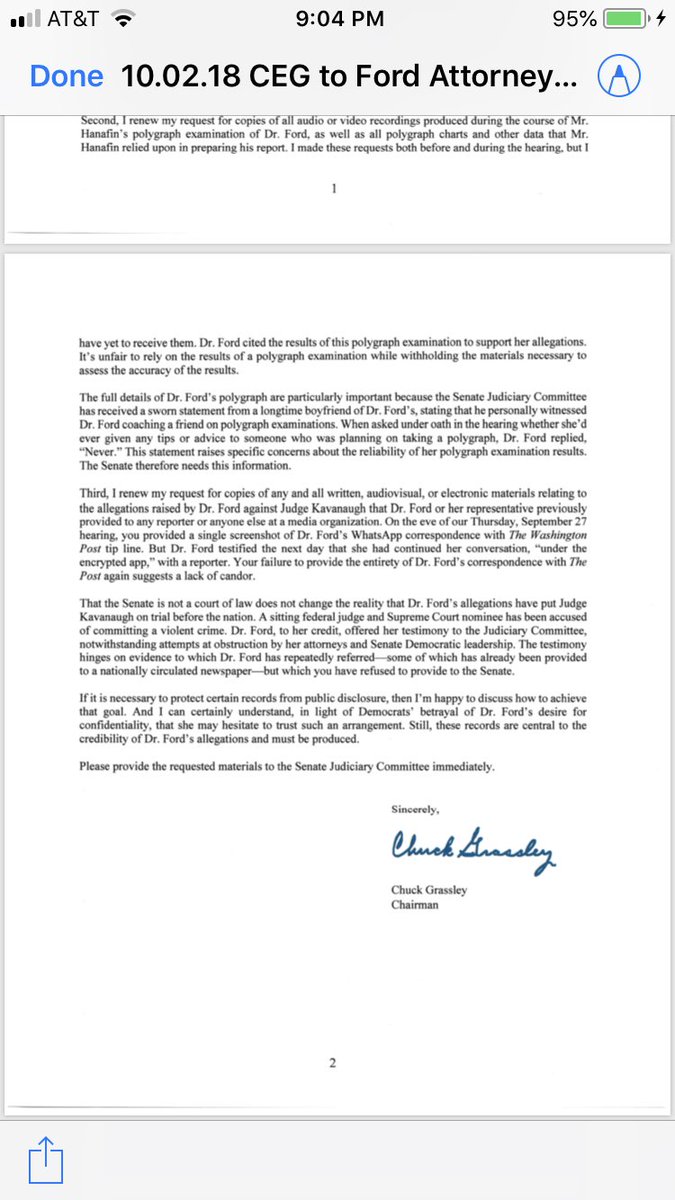 2,268 views