Going viral and encouraging disgruntled Democrats to leave the party in all states without upcoming primaries. This does not mean that a percentage of these people won't still vote Democrat in the general election but there is also an active effort coming from the Green Party to recruit these people. Sanders very publicly leaving the Democrat Party to return to Independent was very significant and a signal to his supporters to give the Demexit go sign. Many states have a deadline of August 1st for pre-election party switches, so that leaves only a couple days for many.

The interactive map and Demexit instruction page being circulated is here. As is customary with the left, alot of work and coordination went into putting this together.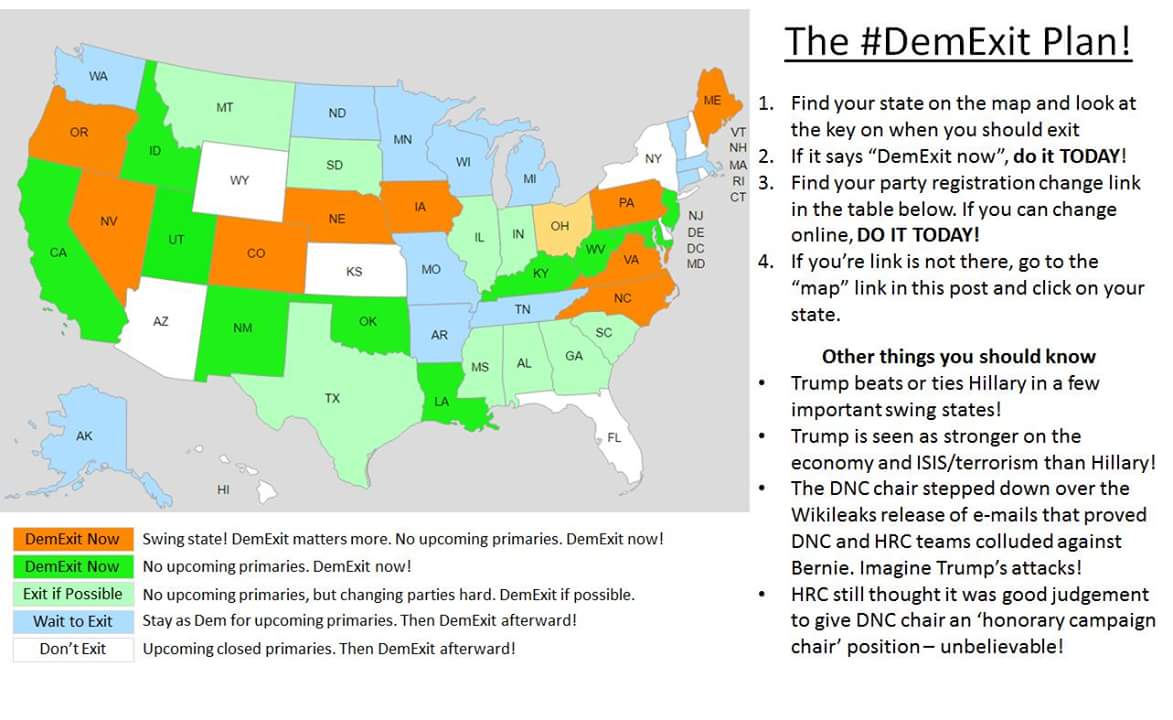 jackpineradicals.com/boards/topic/the-demexit-plan/
DemExit: 13 Million to leave Democratic Party Thursday
Starting at 2:20 she says 13 MILLION people are doing the "DemExit" to leave the Democratic party on Thursday!!

investmentwatchblog.com/demexit-13-million-to-leave-democratic-party-thursday/
Angst in Bernie ranks over push to exit Democratic Party
PHILADELPHIA –  
Efforts by some Bernie Sanders supporters to organize an exodus from the Democratic Party have not only agitated party leaders but caused tensions inside the Sanders ranks – with some worried the latest effort to split from the establishment is a step too far.
"We are all part of the Democratic Party," said Jessica Justice, a pledged delegate for Sanders. She told FoxNews.com calls to leave the Democratic Party are a last-minute distraction that will only deepen the current divide.
"We are here to continue the work we were sent here to do. We have no intention of leaving," she said, claiming some hardcore Sanders supporters and members of the Green Party are trying to capitalize on the drama.
www.foxnews.com/politics/2016/07/28/despite-unity-push-sanders-supporters-now-urge-dem-exit.html
#Demexit means civil unrest and a 'real' revolution? VIDEO
youtu.be/tBMWMj9bzfw
It's time to #Demexit. This party is not who we are. We are better than THIS. pic.twitter.com/v8TIU9tyMQ

— Jacob Was Kenobi (@Old_Bern_Kenobi) July 28, 2016


twitter.com/Grandmaz4Bernie/status/758676778814623744