Having attempted to gaslight Americans into believing that all the inflation of the last 16 months or so is due to Vladimir Putin alone – and nothing to do with the massive central-planning money spout gushed forth, and regulatory/reputational pressures pushed down on various 'greedy' industries, from Washington – those clever politicians on the left have decided to play their 'trump' card (no pun intended) to avoid the self-reflection trap.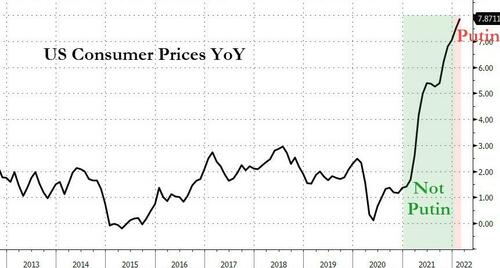 It's simple America – Paying record high prices for your gas at the pump is 'your patriotic duty' and nothing less than 'democracy is at stake' if you complain that the wallet-busting cost of driving to work every day is a burden!!

At House Democrats' conference in Philadelphia this week, lawmakers made the case for Biden's resurgence and for Americans' shared sacrifice…
We are primarily funded by readers. Please subscribe and donate to support us!
---
"I'm asking the people of the United States to also make that kind of sacrifice because in the long run, democracy is at stake," said House Foreign Affairs Committee Chairman Gregory Meeks (D-N.Y.).
…
www.zerohedge.com/political/democracy-stake-dems-urge-americans-shared-sacrifice-over-soaring-gas-prices
Views: