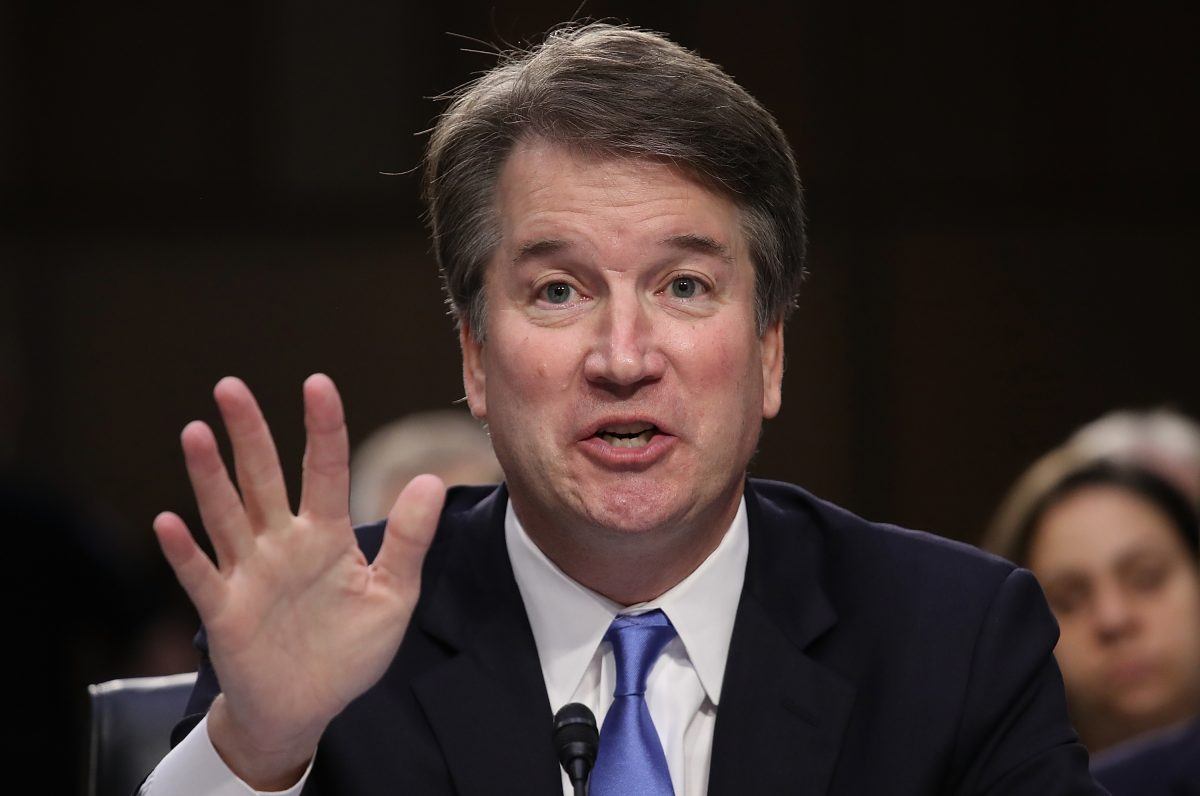 Just in case there's any doubt about what Democrats' post-Kavanaugh confirmation claims will be, they made it clear at the opening of the third and last day of the judge's hearing they will claim he is illegitimate. Just like Trump is for colluding with Russian intelligence to steal the 2016 election from Hillary Clinton.
And isn't it impressive how all those Senate Democrats are accepting Sen. Thom Tillis' challenge that, since they are going to make confidential documents public, they also  make public all of their emails concerning the Kavanaugh hearing. Can't wait to read all about how they plotted with far-left protestors to disrupt and derail the hearing.
DEMOCRATS: TRUMP IS A TYRANT WHO DISREGARDS ALL THE NORMS AND PROPRIETIES.
ALSO DEMOCRATS: Sen. Cory Booker Releases Confidential Kavanaugh Documents.
Now if the Dems take the House, the Trump Administration can justify its refusal to provide documents to investigating committees based on Congress's untrustworthiness.
THE CRAZY ONES: Michael Barone: Democrats' visions of hand signals from white supremacists.
The meaning of this gesture was not lost on certain alert viewers. "Who is she? What's up with the white power sign?" tweeted one Keith R. Dumas. Further enlightened tweets streamed in. From TV actor Kelly Mantle: "This neo-nazi is Zina Bash. She's intentionally throwin [sic] up White Power signs at a Supreme Court Justice hearing. On national TV. She works for Kavanaugh & is also one of the writers for Trump's immigration policy. This is their new Amerikkka."

Author Jamie Ford: "Zina Bash, who works for Kavanaugh, quietly flashing the white power sign. Welcome to the dystopia, folks."

Tommy Christopher, writer for a George Soros-funded website: "The woman sitting behind Kavanaugh giving what appears to be a white supremactist 'Pepe' salute has been identified as Zina Bash, member of Trump's transition, domestic policy, and now SCOTUS team."

Eugene Gu, MD: "Kavanaugh's former law clerk Zina Bash is flashing a white power sign behind him during his Senate confirmation hearing. They literally want to bring white supremacy to the Supreme Court. What a national outrage and a disgrace to the rule of law."

These people and the scores who tweeted in their support were deterred not a bit by the fact that Zina Bash is the granddaughter of Holocaust survivors, and that her mother is a native of Mexico. Not a likely white supremacist.

They seem not to have wondered why a white supremacist would find it necessary or useful to communicate such beliefs by an obscure hand gesture that isn't really a white supremacist hand gesture, when so many other forms of communication are readily available and more easily concealed from alert eyes like their own.

They seem to find it inconceivable that everyone doesn't know that the hand gesture recognized universally and for many years in this country as signifying "OK" now signifies support of white supremacy.

In other words, they have taken leave of their senses.
The more they tell us Trump is crazy, the crazier they themselves act.
REMEMBER LAST WEEKEND WHEN IT WAS ALL ABOUT CIVILITY, DECORUM, AND BIPARTISANSHIP? Feinstein Incites Progressive Outrage After Apologizing to Kavanaugh for Hearing Disruptions.
INDEED?  OH, MY STARS AND GARTERS. DON'T THROW ME IN THAT BRIAR PATCH B'RER RABBIT:  NJ Dems Warn That Justice Kavanaugh Could Undermine Gun Control.
VOTERS CAN BE PRETTY SMART: Voters Say Politics, Not Issues, Driving Kavanaugh Opposition.
h/t MT
1,066 views