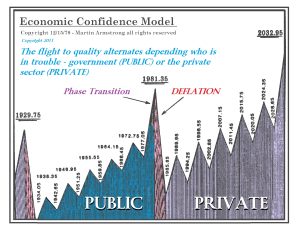 Public confidence has plummeted. People across the world have lost faith in their governments, economy, and overall futures. The 2022 Edelman Trust Barometer surveyed 36,000 respondents from 28 countries in November 2021. Similar sentiments are being felt across the world as inflation, civil unrest, and war continues to wreak havoc on our lives with no signs of slowing.
Nearly half of all respondents stated that they viewed the government (48%) and media (46%) as divisive forces in society. "We find a world ensnared in a vicious cycle of distrust, fueled by a growing lack of faith in media and government. Through disinformation and division, these two institutions are feeding the cycle and exploiting it for commercial and political gain," the poll found. The propaganda propelled by the media is so blatant that it cannot be ignored by anyone regardless of their political standing. Honest journalists are jailed while the others promote an agenda. The media quickly adverted our attention to the war in Ukraine and rapidly downplayed their coverage on COVID. Fauci's face was an unavoidable daily presence in the press for years until the war began. Where is he now? The same thing happened when the Black Lives Matter riots dominated the news until Joe Biden was elected president as their mission was accomplished. The governments are responsible for changing the narrative provided to the public by the media who have become misinformation peddlers.
However, people are now looking at the private sector to solve societal problems. The private sector is not capable or responsible for doing the government's job, but people worldwide would prefer it if it were. "We see an even greater expectation of business to lead as trust in government continues to spiral," the survey noted. Around 49% of respondents want businesses to fix economic inequality, while 46% believe they are responsible for reskilling the workforce. A surprising 52% of respondents believe the private sector is responsible for cyclical climate change.
Conclusion: "Failure of leadership makes distrust the default." Our model indicates that people will continue to seek refuge from the private sector, with the intensity increasing to a level not seen in our lifetimes.
Views: