Recession Countdown Begins: Treasury 2s10s Yield Curve Inverts For First Time In 12 Years; 30Y Yield Drops To All Time Low
While many have noted the inversion of the 3m-10Y segment of the US Treasury curve, mainstream investors appear more focused on the spread between 2Y and 10Y yields… and that has just inverted for the first time since May 2007.
The spread between 3m and 10Y yields has been inverted since mid-May and reached its most inverted since April 2007 this morning…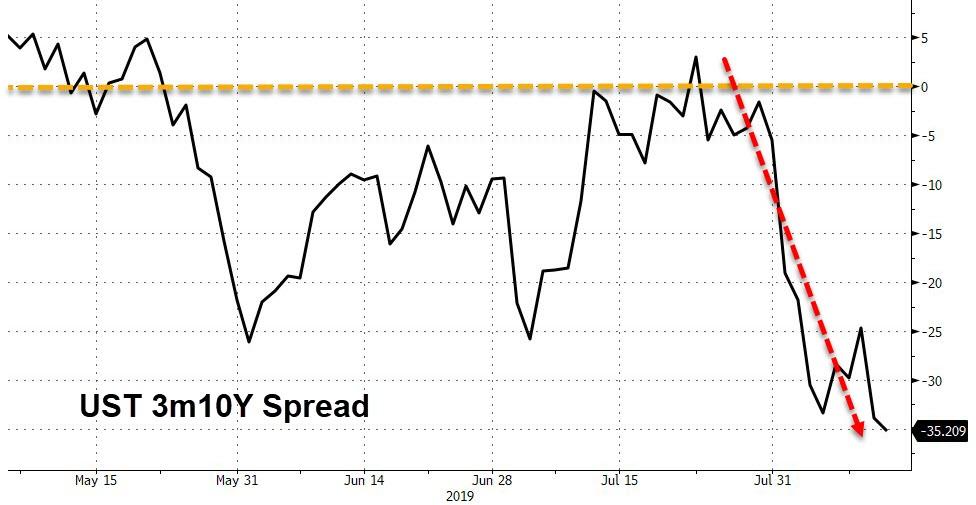 www.zerohedge.com/news/2019-08-13/recession-alert-ust-2s10s-yield-curve-inverts-first-time-12-years
CRITICAL: Expect The Mother Of ALL Stock Market Crashes. By Gregory Mannarino
The 2-10 U.K. yield curve inverted for the first time since 2008
The U.K. yield curve inverted for the first time since the financial crisis in another sign that the global economy may be headed toward a recession.
The gap between two- and 10-year yields dropped below zero after the nation's inflation unexpectedly rose above the Bank of England's target of 2% in the year through July. Bond investors have been driving into higher yielding assets — typically those further out the curve — in recent months. The U.S. curve is also close to inversion, widely seen as a sign of an impending recession.
www.bloomberg.com/news/articles/2019-08-14/u-k-yield-curve-inverts-for-first-time-since-financial-crisis
German economy slips back into negative growth
www.bbc.com/news/business-49342012
WSJ had a similar article.
The DAX is below its 2015 high.
www.wsj.com/articles/german-economy-contracts-as-trade-woes-bite-11565768142?mod=hp_lead_pos2
AC
1,840 views