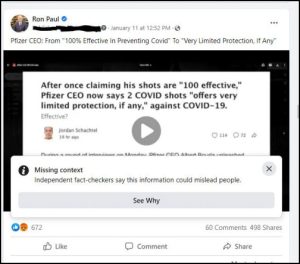 Facebook fact-checkers have become the new Gestapo by silencing anyone who opposes the Great Reset narrative. The Taliban is permitted to operate on social media. However, that privilege was taken away from a sitting US president (Donald Trump) and others whose voices are deemed too dangerous for society. Ron Paul is the latest voice to be censored. "My speech crime? I shared an interview with the CEO of Pfizer," Dr. Paul wrote in an email.
Ron Paul is no stranger to media censorship. In September, his YouTube channel was erased from the internet with no explanation other than "severe or repeated violations of our community guidelines." His son Rand, Fauci's most vocal foe, questioned, "Facebook now considers advocating for liberty to be sedition. Where will it end?"
We are primarily funded by readers. Please subscribe and donate to support us!
---
The dangerous video that Ron Paul shared was of the CEO of Pfizer admitting that his vaccine does not protect against omicron. On January 10, Pfizer's CEO Albert Bourla admitted during an interview with Yahoo Finance: "We know that the two doses of a vaccine offer very limited protection if any." This was a poor marketing attempt to promote Pfizer's next vaccine that they plan to release in March.
Here is the video, straight from the horse's mouth. Glance at the comment section to see the general consensus – we are continuing to build our herd immunity to fear.
Views: