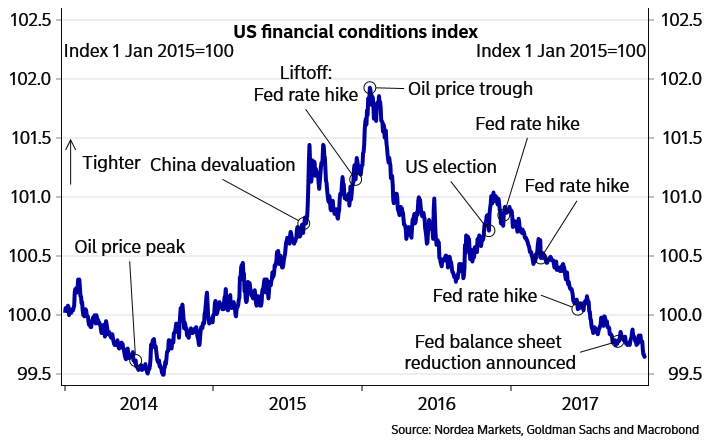 Fed is in trouble It wants to cool financial markets and the economy but can't control financial conditions – @ Johnny Bo Jakobsen?


ECB warns of possible global market correction after excessive risk-taking
The European Central Bank (ECB) warned Wednesday that despite the improved economic growth in the euro area there are concerns related to a sudden increase in volatility
The ECB said that "the risk of a rapid repricing in global markets nevertheless remains"
Markets have been on the bullish side throughout the year and many continue to push further into record territory
The European Central Bank (ECB) warned Wednesday that despite the improved economic growth in the euro area there are concerns related to a sudden increase in volatility.
"Systemic stress indicators for the euro area have remained low over the past six months," the ECB said in a statement on Wednesday, but added that "the risk of a rapid repricing in global markets nevertheless remains."
Markets have been on the bullish side throughout the year and many continue to push further into record territory. The S&P 500 is up by 16 percent since January and the pan-European Stoxx 600 is up by 7 percent. Some solid earnings and hopes of tax cuts in the U.S. and deregulation for the banking system have boosted equities.
Chart of the Day: This Time IS Different—Except For 1929!


Look Out Below!


@ David Stockman
Considering most Americans are broke and probably addicted to opioids. The one thing they love paying premiums on are stocks. LOL pic.twitter.com/W1QtEVobuY

— Alastair Williamson (@StockBoardAsset) November 30, 2017
Since 2000, total revenue for S&P 500 companies has grown by only 62% while operating EPS has grown by more than 100% due to financial engineering. t.co/oY2LMSUFF3 pic.twitter.com/ZqKKmKG913

— Lance Roberts (@LanceRoberts) November 30, 2017

twitter.com/NorthmanTrader/status/936293782051590146

968 views