Wolf Richter wolfstreet.com, www.amazon.com/author/wolfrichter
But there's a bottom for everything.
Uber drivers are on the hook for their own social security and Medicare taxes, plus the costs of the vehicle, vehicle maintenance, insurance, and fuel. Gasoline prices have surged since mid-2016. Uber has no fuel surcharge, and the drivers eat the additional costs. Has this impacted interest in becoming an Uber driver? And the disclosures of misconduct by Uber, starting in late 2016 – have they impacted interest in becoming an Uber driver?
One way to measure the possibly changing interest by the public in becoming an Uber driver is to look at the search results for "become an Uber driver." SEMrush, a marketing data provider, sorted through the data and correlated it to gasoline prices and to Uber's fiasco disclosures. Here is what they found – gasoline prices first: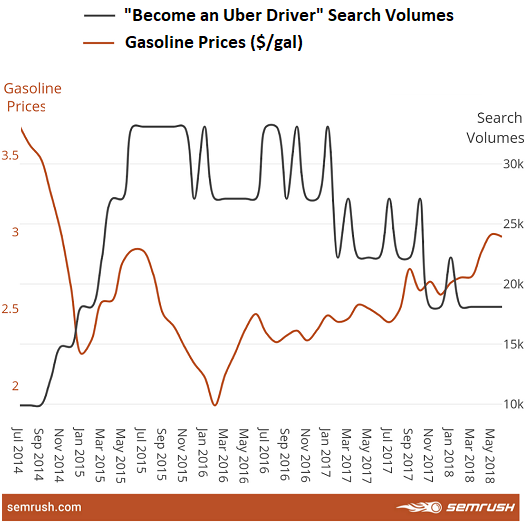 The chart above compares the average price of gasoline (red line) to the search volume for "become an Uber driver" (gray line). Search volume more than tripled in 2014 through mid-2015, as gas prices fell, then plateaued through late 2016, and then plunged by around 40% as gas prices surged.
But gas prices surged just as Uber was getting raked over the coals publicly, with a seemingly endless series of disclosures, scandals, and legal fights. This was when Lyft made large market-share gains, at the expense of Uber: riders were reacting to the disclosures. And potential drivers?
The chart below by SEMrush shows the search volume since the end of 2016 for "become an Uber driver," annotated with 14 of the many disclosures and scandals as they popped up in the media for all to see. Numbered 1 through 14, they're explained below the chart: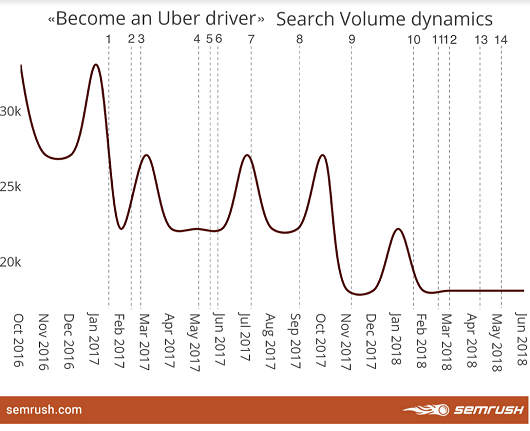 1. #DeleteUber hashtag started trending on Twitter, made the New York Times in January 2017, and is still active.
2. Former Uber engineer Susan Fowler publishes on her blog her essay that instantly went viral, and was picked up massively by the main-stream media, exposing to the entire world the sexist culture at Uber.
3. It was revealed that Uber had for years engaged in a program to deceive authorities in areas where its service was restricted or banned. This tool, called Greyball, uses various technologies, including data collected by the Uber app, to "evade authorities in cities like Boston, Paris and Las Vegas, and in countries like Australia, China and South Korea," the New York Timesreported.
4. Uber changed the way it set fares, and fares increased as a result. But drivers complained that their pay hadn't gone up, that Uber was calculating their share under the old method, and that the gap between the fare and what the driver receives is getting wider. These complaints made the rounds in the media.
5. Uber admits having underpaid its New York City drivers for two-and-a-half years by taking a larger cut of drivers' fares than it was entitled to. It agreed to pay them tens of millions of dollars. This was the result of a class-action lawsuit filed a year earlier. There were numerous other lawsuits against Uber, accusing it of underpaying drivers, including a suit in Los Angeles, reported by the LA Times in April 2017, that accused Uber to pull off "an active, extensive, methodical scheme … to defraud drivers."
6. In order to contain the toxic fallout from the scandals about its workplace culture, Uber fires 20 employees over allegations of harassment, discrimination, and inappropriate behavior, the New York Times and others reported in June 2017.
7. It was disclosed – in the USA Today and elsewhere – that many Uber drivers work dangerously long shifts, in part because Uber offers various incentives – and applies some pressures too – that encourage them to work way past legal limits.
8. Transport for London yanks Uber's license to operate in London, based on the grounds of "public safety and security implications."
9. To top it off: After keeping it secret for over a year, Uber discloses in November 2017 that hackers had stolen personal data from 57 million accounts of drivers and riders over a year earlier and that it had paid a $100,000 ransom. This was all over the news, and potential drivers couldn't have missed it.
10. Waymo, Google's autonomous vehicle division, accuses Uber in federal court in San Francisco of having stolen trade secrets relating to technologies for autonomous vehicles.
11. Pennsylvania Attorney General threatens Uber with a lawsuit over the data breach (#9 above). The lack of disclosure violated the Pennsylvania Breach of Personal Information Notification Act. Shapiro says that at least 13,500 Uber drivers in the state were affected.
12. An autonomous Uber test vehicle in Tempe, Arizona, driving in autonomous mode, but with a human driver in the car, was involved in a collision that killed a pedestrian. Uber stopped testing autonomous vehicles on streets, though it said tests would resume eventually. A few days ago, it shut down its self-driving truck division, Otto, that it had acquired for a pile of money in 2016.
13. At least 103 Uber drivers in the US have been accused of sexually assaulting or abusing their passengers over the past four years, a CNN investigation finds. "The drivers were arrested, are wanted by police, or have been named in civil suits related to the incidents," CNN said. "At least 31 drivers have been convicted for crimes ranging from forcible touching and false imprisonment to rape, and dozens of criminal and civil cases are pending."
14. Uber keeps how much its drivers make a secret. But after expenses, it's not much. This secrecy about pay has produced all kinds of estimates, some of them so low that they have been discredited. In May, one of the more credible studies showed that drivers make $10.87 an hour after expenses and adjusted for the extra contributions that independent contractors make toward Medicare and social security. This places Uber drivers in the lowest fifth of American earners – not exactly very appealing prospects.
But as the chart above shows, since March this year, the negative effects of the scandals have leveled off, as the search volume stopped plunging. There is a bottom for everything.
Tesla said it "produced" 87,833 vehicles but delivered only 70,765 in the first half. The difference: 17,068 vehicles. Are these the Model 3 cars that are now stuck in huge parking lots, as documented profusely by videos and pictures on the internet? How unfinished are they? When can they be sold? Or has Tesla produced far fewer cars than it said it did? SEC, are you checking into this? Read…  Tesla Discloses Worst Quarterly Loss Ever, But Where Are the 17,000 Model 3 Cars it "Produced" But Didn't "Deliver"? 
Views: