"You cannot be civil with a political party that wants to destroy what you stand for, what you care about," Clinton told the CNN anchor.
"That's why I believe, if we are fortunate enough to win back the House and or the Senate, that's when civility can start again. But until then, the only thing that the Republicans seem to recognize and respect is strength." she continued.
Video
Hillary: "You cannot be civil with a political party that wants to destroy what you stand for, what you care about. That's why I believe if we are fortunate enough to win back the House and/or the Senate, that's when civility can start again." pic.twitter.com/Rvt5tIN3iQ

— Tom Elliott (@tomselliott) October 9, 2018
Rand Paul's wife says she's so terrified of attacks from Democrats she sleeps with a loaded gun by her bed and locks her doors with three deadbolts
Rand Paul's wife has revealed she's so terrified of attacks from Democrats that she sleeps with loaded gun by her bed and locks her doors with three deadbolts.
Kelley Paul said she feels frightened and threatened amid calls from Democrat supporters to increase hostility against Republicans.
She said she has updated her security systems at her family home in Bowling Green, Kentucky.
'I sleep with a loaded gun by my bed,' Mrs Paul told Breitbart. 'I'm home alone a lot, when Rand is [in Washington, DC], and so I've got deadbolts all around my house so that if someone's in my house when I go to bed I'm deadbolted in three different levels.'
Mrs Paul referred to Senator Corey Brooker's comments in June that constituents should not be passive and should instead 'get up in the face' of members of Congress.
She said it has made her feel more likely to be harassed by political opponents.
Mrs Paul added: 'I've never been like this in my whole life… We used to never even lock our doors, and now that has all changed. Even going out to dinner in D.C., last night, you worry. You hope that people aren't going to come up and just start screaming at you.'
She said her anxiety has worsened since her husband was attacked in November last year.
Paul Rand suffered five rib fractures and contracted pneumonia after a neighbor tackled him to the ground when he placed a pile of sticks on the man's lawn.
The neighbour was sentenced to 30 days in jail for misdemeanor affray.
Antifa Arsonists Vandalize Pro-Trump Truck — THEN TORCH IT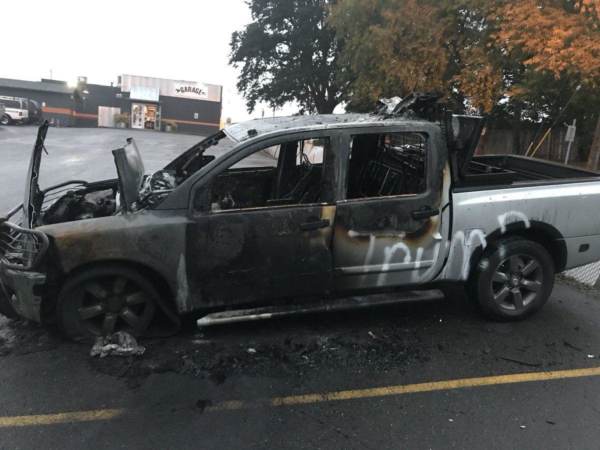 A man in Vancouver, WA, just north of Portland returned to the bar he had left his truck at the night before to find charred remains of what used to be his Nissan Titan. On the previous night, Johnny MacKay opted to take an UBER home rather than take to the roads under the influence. He left his truck in the parking lot, expecting to drive it back the next day. Except some anti-Trump terrorists got it to first, setting it on fire.
WALSH: Democrats Who Won't Condemn Left-Wing Violence Don't Have The Temperament For Office
Somewhat lost in the Kavanaugh news this weekend was another violent Antifa outburst. Of course there is no need to qualify with the word "violent" when discussing Antifa, as violence is the group's whole point and its only method of communication.
This time, masked thugs shut down an intersection, blocked traffic, and physically threatened motorists who tried to pass through. At one point, they chased down an elderly man and beat his vehicle with batons while screaming obscenities at him. Police were nowhere to be seen. It appears that law enforcement decided to give the domestic terror group free rein for the afternoon.
Meanwhile, protestors in Washington D.C. were being arrested as they tried to disrupt the Brett Kavanaugh confirmation vote. Others were seen maniacally banging against the doors of the Supreme Court and accosting an elderly counter protestor.
Senator Mazie Hirono was asked on CNN whether it is "going too far" to "run [Republican] senators out of restaurants, go to their homes." She declined to discourage such behavior, saying that liberal voters are "very motivated."
Prof Who Called for GOP Senators' 'Deaths' Admits to 'Doxxing' Her Haters' Addresses, Phone Numbers
The Georgetown University professor who called for the "miserable deaths" of GOP senators admitted Thursday to PJ Media that she runs a "doxxing" blog where she posts the names, phone numbers, and addresses of people who send her rude emails.
The blog — "ShitMenSay" on Tumblr — was launched by Professor Christine Fair in January 2017. First, she began by posting screenshots of the "hate mail" she was sent by Facebook and email, typically only including names and people's email addresses.
But as early as May 2017, Fair changed course. Instead of simply screenshotting the person's email or Facebook message, Fair appears to have subscribed to a service that would help her figure out where these people exactly live.
PJ Media reviewed hundreds of posts (yes, hundreds) on "ShitMenSay" and identified 11 accounts of full-on doxxing, for which home addresses, phone numbers, photos, aliases, and occasionally work phone numbers and other family members were made public.
"When will these male trolls learn?" she wrote on September 28.
"I do research for a living. Locating their residences (these folks live in a town in [redacted] near an elementary school on [redacted] St.), their wives, employers, etc. is mental sport for me," wrote Fair in one doxxing post.
"I will be notifying his current and past employer as well as his wife," she wrote on a separate doxxing post. (PJ Media is not linking or screenshotting any of these posts due to privacy concerns for the victims of her blog.)
Related: Rand Paul on political climate: 'I really worry that someone is going to be killed.' Note the replies from Democrats to The Hill's tweet of this quote, basically hoping he's right.
Previously:
● Democrat Doxxer Threatened To Reveal Senators' Children's Health Information.
● DC restaurant: We've received death threats after Ted Cruz, wife forced out by protesters.
● Rep. Ruben Gallego (D-AZ): We Are Less Than 60 Days From Totally 'Kicking the S–t Out of the Republicans.'
● Networks Silent On Attempted Stabbing of GOP Candidate By Anti-Trump Attacker.
● Rep. Maxine Waters (D-CA) Jokes About Threatening Trump Supporters 'All The Time.'
● Bernie Bro James T. Hodgkinson, Attempted Assassin Of Steve Scalise, Already Being Erased From History.
Why is the Democratic party such a cesspit of hate and violence?
UPDATE (From Ed):
h/t GR
1,220 views