by Jim Quinn
There is a great little restaurant in the Wildwood Crest, just before you go over the bridge into Cape May called Two Mile Crab House. It sits on the back bay.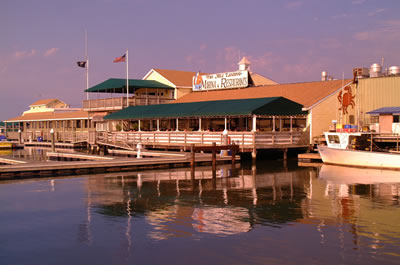 People go there for great food and beautiful sunsets. It's always packed. Even in the off-season we had to wait 25 minutes for a table on Saturday.
Before we went, I checked their menu online. Below is a picture of the menu from their website. It hasn't been updated since last October when we ate there on the last day of the season. I'm not a big seafood fan, so I got the 2 Mile Stuffed Chicken last year, and I ordered it again on Saturday.
The price today is $28. Except, last year you got a house salad, roll & butter, vegetable of the day, and choice of potato as part of the price.
Now, if you want a salad, it will cost you $5. If you want a basket of 4 rolls with butter, it will cost you $4. Garlic mash potatoes and zucchini came with the plate.
The increase in price from $26 to $28 seems reasonable, but is 7.7%. In reality, if you wanted the same amount of food as last year, it would be $5 for salad and $1 for a roll. That would make the total $34, a 30% increase over last year.
This is the shrinkflation which we are all experiencing, in restaurants, grocery stores, and in our everyday lives.
Views: