by Umar Farooq

Lending subprime auto loans to drivers has reached its peak point in a decade, with U.S. auto debt hitting a record $1.16 trillion in the last quarter of 2016, according to a report from the Federal Reserve Bank of New York. This spells bad news for automakers, who may soon be at the receiving end of their own generous deal-making in the next financial crisis.

Auto loan balances increased by $22 billion, continuing their steady rise. Auto loan delinquency rates deteriorated again, with 3.8% of auto loan balances 90 or more days delinquent on December 31, 0.2% above last quarter, according to the report from the New York FED.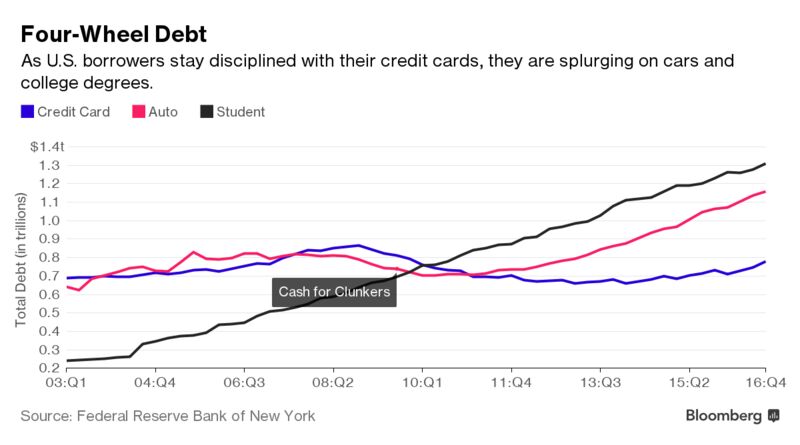 It's an alarming number, big enough to incite talk of a bubble. In fact, the pile of debt would cover the cost of 43.4 million Ford F-150 pickups, one for every eight or so people in the country. Another way to look at: Every licensed driver in the U.S., on average, owes about $6,100 in car payments.

The below chart indicates that $414 Billion of new loans have been granted in only 6 years that has led to the creation of an auto boom.




In the meanwhile automakers are facing a decline in sales in the start of the new year as General Motors Co. and Ford Motor Co. posted declines in January auto sales amid what is expected to be a broader cooling in demand following sharp sales in the prior month that is creating a surplus on dealer lots. GM, the No. 1 U.S. auto maker, sold 195,909 vehicles in the month, compared with 203,745 a year ago, for a sales decline of 3.8%. Retail sales declined 4.9%. Ford's sales, meanwhile, edged 0.7% lower to 171,186. The Detroit auto maker reported its retail sales climbed 6% while fleet sales declined 13%. Ford said its popular F-series pickup trucks — up 13% — saw their best sales start for the year since 2004.

"Greater access to auto loans for non-prime consumers suggests that lenders have made deliberate decisions to accept more risk from non-prime loans in their portfolio," said Jason Laky, TransUnion's automotive and consumer lending business leader, while discussing the market forecast of the agency in 2017.
Bottom-line is that although the last ten years have been good for auto sales but stretching out the loan requirements and extending payment periods out to seven years and beyond only ends up applying more pressure on automakers in the event of another financial crisis, and blowing up a bubble that's been growing for years.