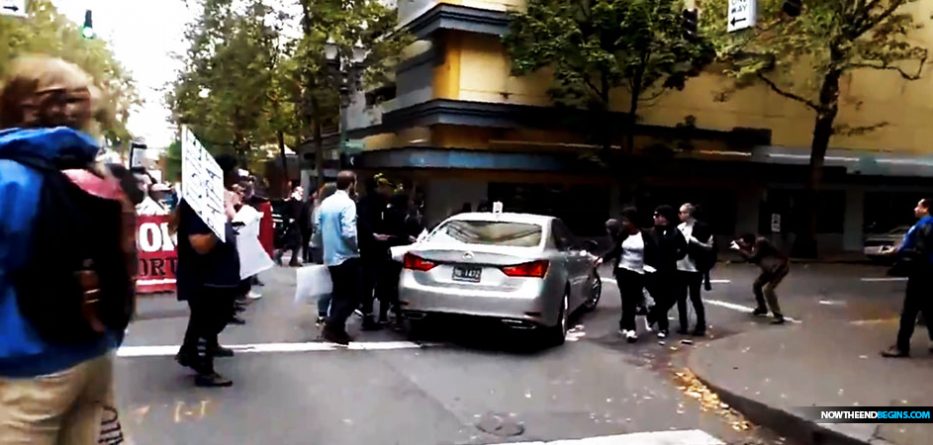 ANTIFA protesters holding a vigil for a man shot to death by Portland police made it clear Saturday that they were taking over, and there was no room for anything else but obedience to mob rule
You are probably not aware that right now as you are reading this article, the George Soros funded anarchist group ANTIFA is rioting on the streets of Portland, Oregon, having seized control of the main roads and are actively terrorizing the citizenry there.
ANTIFA is a domestic terror group, as the videos in this article so clearly show, but they are loved by CNN, MSNBC, ABC, CBS and all the other fake news media outlets. Before watching the videos, let me give your our STRONGEST POSSIBLE graphic warning and you will see and hear things that anyone who is not on the Liberal Left will find upsetting.
FROM WESTERN JOURNALISM: The raw violence was captured by Brandon Farley, who in his Twitter profile says he captures "disruptive events in downtown Portland, Oregon."
At one point, ANTIFA protesters blocked off an intersection as though they were the police and refused to let drivers pass.
A woman, asked by a driver why traffic was rerouted, had no time to explain.
"Because I told you to," she said.
VARIOUS VIDEOS POSTED TO TWITTER SHOW PROTESTERS THREATENING ELDERLY DRIVERS WHO DID NOT UNDERSTAND WHAT WAS GOING ON.
And here is video of an elderly man who didn't heed their street orders — so they chased him down. #Portland t.co/AeXvhUKijO

— Andy C. Ngo (@MrAndyNgo) October 8, 2018
Watch as the Liberal Left reveals their actual plan
1,444 views