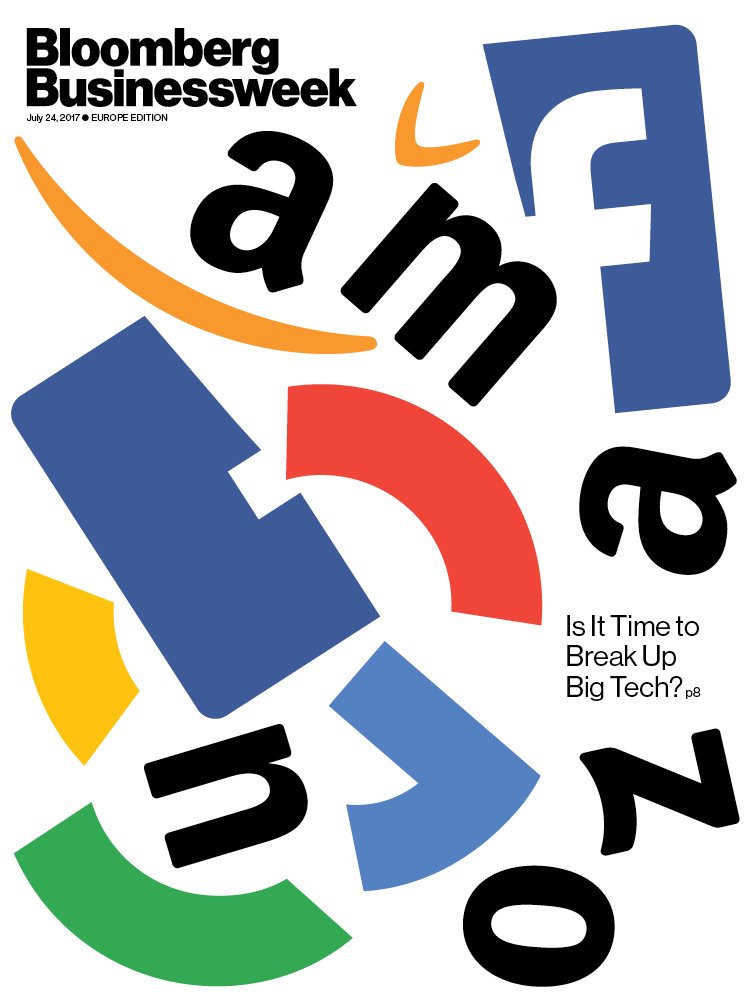 Should America's Tech Giants Be Broken Up?
Apple, Amazon, Google, and Facebook may be contributing to the U.S. economy's most persistent ailments.
As a former tour manager for Bob Dylan and The Band, Jonathan Taplin isn't your typical academic. Lately, though, he's been busy writing somber tomes about market shares, monopolies, and online platforms. His conclusion: Amazon.com, Facebook, and Google have become too big and too powerful and, if not stopped, may need to be broken up.
Crazy? Maybe not. Taplin, 70, author of Move Fast and Break Things: How Facebook, Google, and Amazon Cornered Culture and Undermined Democracy, knows digital media, having run the Annenberg Innovation Lab at the University of Southern California. Ten years before YouTube, he founded one of the first video-on-demand streaming services. He also knows media M&A as a former Merrill Lynch investment banker in the 1980s. He says Google is as close to a monopoly as the Bell telephone system was in 1956.
He has a point, judging by market-research figures. Alphabet Inc.'s Google gets about 77 percent of U.S. search advertising revenue. Google and Facebook Inc. together control about 56 percent of the mobile ad market. Amazon takes about 70 percent of all e-book sales and 30 percent of all U.S. e-commerce. Taplin pegs Facebook's share of mobile social media traffic, including the company's WhatsApp, Messenger, and Instagram units, at 75 percent.
Economists have noticed these monopoly-size numbers and drawn even bigger conclusions: They see market concentration as the culprit behind some of the U.S. economy's most persistent ailments—the decline of workers' share of national income, the rise of inequality, the decrease in business startups, the dearth of job creation, and the fall in research and development spending.
Can Big Tech really be behind all that? Economists are starting to provide the evidence. David Autor, the MIT economics professor who famously showed the pernicious effects of free-trade deals on Midwestern communities, is one. A recent paper he co-wrote argues that prestigious technology brands, using the internet's global reach, are able to push out rivals and become winner-take-all "superstar" companies. They're highly profitable, and their lucky employees generally earn higher salaries to boot.
They don't engage in the predatory behavior of yore, such as selling goods below the cost of production to steal market share and cripple competitors. After all, the services that Facebook and Google offer are free (if you don't consider giving up your personal data and privacy rights to be a cost). However, academics have documented how these companies employ far fewer people than the largest companies of decades past while taking a disproportionate share of national profits. As they grow and occupy a bigger part of the economy, median wages stagnate and labor's share of gross domestic product declines. Labor's shrinking share of output is widely implicated in the broader economic growth slowdown.
www.bloomberg.com/news/articles/2017-07-20/should-america-s-tech-giants-be-broken-up
Amazon is already a huge part of many people's lives. And its $13.7 billion deal for the organic grocer Whole Foods will likely bind its customers even more tightly.

"It kind of feels like they're taking over so much commerce in our life," said Erica McGivern, a Whole Foods and Amazon customer who lives in Seattle, where Amazon is headquartered. "It's intimidating."
The acquisition could easily hurt both Amazon's existing rivals and future startups that might one day challenge it. Yet experts don't believe U.S. antitrust regulators will oppose the deal. That's largely because it doesn't create anything resembling a traditional monopoly.
Instead, it merely extends Amazon's long quest to make shopping so convenient that consumers won't even think about stepping away from its embrace. The more successful that strategy, the more Amazon can monopolize the attention and shopping dollars of its customers — which, of course, is perfectly legal.
…
A QUESTION OF PRICE
Amazon is just one of several major tech companies — such as Google and Facebook — facing new scrutiny over their market power, which doesn't map neatly onto traditional notions of monopoly.
When a company dominates a market, it typically pushes up prices to boost profits — something U.S. antitrust law is geared to prevent. Amazon, however, has a track record of keeping prices low and locking customers in to sell more stuff. For instance, the company typically sells gadgets like its tablets for little or no profit — but then pushes people to buy digital movies they can watch on the tablet.
…

www.seattletimes.com/business/amazon-isnt-technically-dominant-but-it-pervades-our-lives/
The $90 billion makeover…
Social media sites went into a frenzy as they compared Bezos – who is worth around £75billion – with his previous image.
Many remarked how the father of four looked younger and notably more muscular at a tech conference in Idaho. It is thought Bezos has become a health nut and regularly works out.
www.dailymail.co.uk/money/markets/article-4712022/Amazon-chief-Jeff-Bezos-unveils-75bn-macho-makeover.html
WHOLE FOODS Cashier Disappear?

When shoppers were asked what Amazon should add or change at Whole Foods locations, the top response was adding "cashier-free checkout," according to a poll conducted by ChargeItSpot.
"Our survey found that shoppers want the Amazon-Whole Foods merger to upgrade the grocery store experience with additions of useful technology," ChargeItSpot's CEO Doug Baldasare said.
Experts are saying fewer cashier positions will translate to more people employed in distribution centers and fulfillment hubs.
www.cnbc.com/2017/07/19/with-amazon-going-after-whole-foods-the-cashier-job-is-in-question.html

Latest assault wipes $13 billion off appliance seller stocks…

Shares of Home Depot and Lowe's were slammed Thursday, along with Whirlpool, after Amazon threatened to take on the appliance market in a much bigger way in a deal with Sears Holdings.
The market cap loss in Home Depot, Lowe's, Whirlpool and Best Buy was about
$13 billion at midday. Amazon stock was up slightly, and Sears was up about 13 percent.
www.cnbc.com/2017/07/20/amazons-latest-assault-wipes-out-13-billion-off-home-depot-others.html
Bezos bots to stalk at airports…
The "low battery" warning on our phones is an invitation to powerlessness that all of us have experienced. It's worse when you're in a public place and can't seem to find an available outlet to charge your electronic devices, panic rising by the second.
Amazon wants to change this scramble to find an outlet by bringing the outlet to you. And the outlet will be housed in a robot that would be built to look friendly — presumably so that you don't notice that it's stalking travelers.
This week, a U.S. patent filed by Amazon in 2015 was published for a power-charging robot that will come to your aid when you're at the airport in need of an electrical outlet.
The robot that knows where you are
Here's how it works: You will make a wireless request (perhaps with your last precious few moments of juice).The robot will find you in a crowd using sensor data.Through a cloud-based application, the robot can even find you automatically when your power hits below 10%. Nothing, of course is free, so the robot will ask you to watch an ad, complete a survey, or pay some money.
Then: the robot provides sweet, precious electricity to your phone or iPad or laptop.
The robot would be designed for public use in airports, hotels, and shopping malls—all locations where losing battery power can be particularly inconvenient. Of course, a device like this would be perfect for business travelers, who have become accustomed to carrying heavy external batteries or even bulky power strips.
According to the illustrative examples provided in the patent, what the robotic device will look like is subject to change. Some figures show it with a humanlike body that can store sticks of gum for purchase; others show it with a conical shape powered on wheels.
www.theladders.com/p/24256/amazon-patents-a-robot-to-stalk-you-at-the-airport
Views: