Heat index in US Northeast tops 100; girl dies in hot car
NEW YORK (AP) — Tens of millions of people in the northeastern United States sweated in dangerously high heat Wednesday, with temperatures that felt like more than 100 degrees and prompted emergency measures including school closures and extra breaks for star players wilting at the U.S. Open tennis tournament .

Authorities on Long Island say heat appeared to be a factor in Tuesday's death of an 11-year-old girl found in a vehicle with the windows closed. The heat index was past 100.

In Massachusetts, nearly two dozen school districts canceled classes or sent children home early Wednesday in response to heat that reached 98 degrees, breaking the Aug. 29, 1953, record of 96. With the added high humidity, it felt like 107 degrees, according to the National Weather Service.
'Weather models have flipped the switch': Hurricane season coming to life in the Atlantic
The sleeping giant may be about to awaken.
Hurricane activity in the Atlantic Ocean, Caribbean Sea and Gulf of Mexico is forecast to ramp up over the next couple of weeks. "Weather models have flipped the switch on the Atlantic hurricane season and see multiple areas of development possible, starting mainly this weekend," weather.us meteorologist Ryan Maue said.
One storm could spin up in the Caribbean over the next few days and affect Florida over the Labor Day weekend. Looking further ahead, "there is the potential for two or three tropical features spinning over the Atlantic by the second weekend in September," AccuWeather meteorologist Dan Kottlowski said.
The next tropical storm or hurricane in the Atlantic basin will be called Florence.
One of the reasons for the predicted increase in activity is that wind shear, which tends to rip apart developing hurricanes, appears to be decreasing. "There are signs now that wind shear may drop over a significant part of the Atlantic basin over the next couple of weeks," said AccuWeather meteorologist Bernie Rayno.
It's too early to predict exactly where or when any storm might form or whether a storm will affect land areas.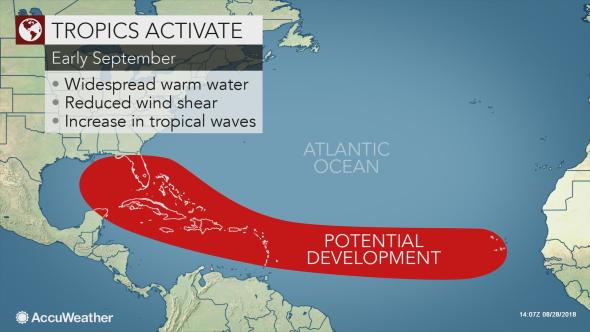 Views: