Wolf Richter wolfstreet.com, www.amazon.com/author/wolfrichter
It started before the sell-off.
TD Ameritrade's Investor Movement Index – "designed to indicate the sentiment of retail investors" based on what they're doing in their accounts and "how they are actually positioned in the markets" – plunged 23% in February to 5.95, the biggest month-over-month plunge in the history of the index, "as volatility returned to the market."
This comes after a 9% plunge of the index in January, the largest month-over-month plunge in three years, which occurred despite the final spurt of the rally that took the stock market indices to new highs on January 26. It's as if retail investors, for once, smelled a rat. After which the sell-off started: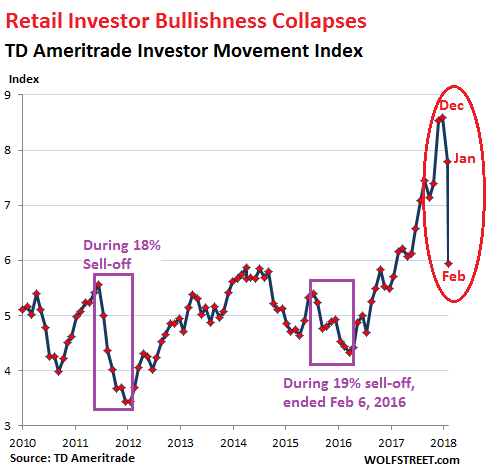 TDA Chief Market Strategist JJ Kinahan explained in an interview that TDA's clients "didn't want to be as exposed" in February to risk "as they were."
"What's interesting is they were net buyers, and they were net buyers because of the February 9th move," he said. "They bought a lot of stocks that day. But as the month went on, they just continued to sell those stocks back out, and then some. So it was a really interesting pattern that developed."
The stocks they bought had "lower beta than some of the stocks they sold," he said. "So it was really and truly a risk-off trade. But the bigger part about it is they lightened up their exposure across the board. So one or two days truly of buying,… but after that, not only selling what they'd bought that day, but selling on top of it what they'd bought earlier" this year and last year.
In the chart, several things stick out:
The phenomenal spike in enthusiasm among retail investors during much of 2017, topped off with the drunken exuberance in November when the index spiked 15%, its largest single-month increase ever. It left the index far outside its normal range.
The relatively muted enthusiasm at the beginning of each of the prior two sell-offs. The S&P 500 index dropped 19% during the sell-off that ended in early February 2016, and 18% during the sell-off in 2011. But the change in sentiment among retail investors was relatively tame compared to what happened in January and February.
Return of the index toward the normal range after the plunge in January and February. In other words: bullishness has collapsed from the drunken highs, but remains strong and has room to drop further.
TDA's Historical Overview notes that the IMX "has generally correlated with the S&P 500 as clients react to equity price movements, but the index has gone through uncorrelated periods."
When the index for December was released, TDA reported that its clients had been net buyers for the 11th month in a row, one of the longest buying streaks, and ended up with more exposure to the stock market than ever before in the history of the index. TDA's Kinahan said at the time that clients were "up to their knees in it" at the beginning of 2017, "and then up to their thighs, and now up to their chests."
"As the year went on, people got more confident," he said. "The market was never tested at all" last year. There was this "buy-the-dip mentality" every time the market dipped 1% or 2%. But one of his "bigger fears" for 2018 was this very buy-the-dip mentality. People buy when the market goes down 1% or 2%, and "it goes down 5%, then it goes down 8% — and they turn into sellers, and then they get an exponential move to the downside."
"It's hard to believe that the market can go up unchallenged," he said at the time. And this is precisely what happened a month later.
The January plunge of the index preceded the sell-off in early February. What everyone wants to know now is what the index's much bigger plunge in February might precede. But whatever the plunge of the index means, one thing is clear: The extraordinary breathtaking enthusiasm of retailer investors late last year has unceremoniously collapsed.
During the sell-off, the Fed ignored Wall Street. Read…  Fed's QE Unwind Marches Forward Relentlessly