Source: Clive Maund for Streetwise Reports   
A miner with a large project in Colombia is going to acquire its spin-out company, and technical analyst Clive Maund sees this stock as an immediate strong buy.
Red Eagle Mining Corp. (R:TSX; RDEMF:OTCQX; R:BVL)
 describes itself as Colombia's premier emerging gold producer, and its biggest project is the San Ramon mine not far from Medellin. It is an interesting time to look at it because the news came out after the market closed on Friday that it is to acquire Red Eagle Exploration, although this is as much a merger as a takeover, and it is noteworthy that Red Eagle Mining already owned 76% of the shares of Red Eagle Exploration prior to this announcement. This amalgamation will result in a combined company with bigger scope and more properties and will reduce costs, and is not seen as negative in any way for the shareholders of either company. The details may be read in 
Red Eagle Mining and Red Eagle Exploration Announce Amalgamation
.
On the 8-year chart we can see the entire history of Red Eagle Mining stock. After starting trading at a high level in 2011 it got taken down hard by the sector bear market. Then, after marking out a triangular base pattern between late 2013 and early 2016 it ran up sharply only to top out and plunge from whence it came about a year later. Apparently the reason for this was operating problems at the San Ramon property, which have since been resolved. By far the oddest thing about this chart, in a positive sense, is the way that the Accum-Distrib line, after a brief plunge when the stock nosedived in mid-2017, has risen strongly to new highs as the subsequent base pattern has formed at a low level. The On-balance Volume line has risen as this base has developed as well, although not in such a dramatic fashion. The way these volume indicators have risen as the low base has formed is certainly a sign of accumulation and a bullish indication.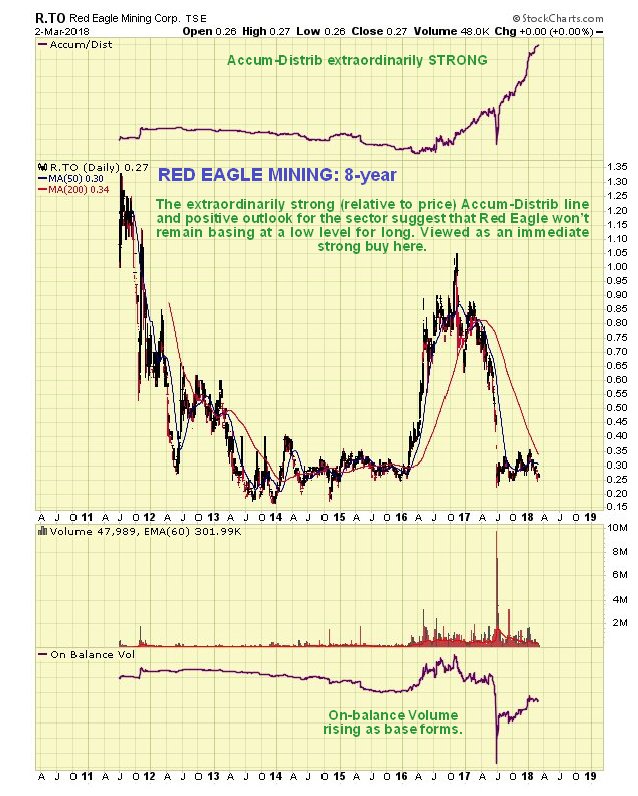 Zooming in on a 2-year 3-month chart, we see that after the stock plummeted into a high volume selling climax in mid-2017, it has tracked sideways in a narrow rectangular trading range that has continued to this day, and the positive volume indicators, especially the remarkably strong Accum-Distrib line, promise an eventual upside breakout into a new bullmarket from this range. An upside breakout has been very unlikely up to now because the 200-day moving average was falling steeply and still far above the price, symbolizing the need for more rotation of stock before it would be ready to advance. Now, however, the technical conditions are rapidly improving, because the 200-day moving average has arrived at the trading range and is now dropping down into it resulting in an increasingly tight bunching of the price and its moving averages, a frequent precondition for an upside breakout. Lastly on this chart we can see that if this stock is destined to break out upside from the range into a bull market, then we are clearly at an excellent entry point right now because it is very close to the bottom of the range.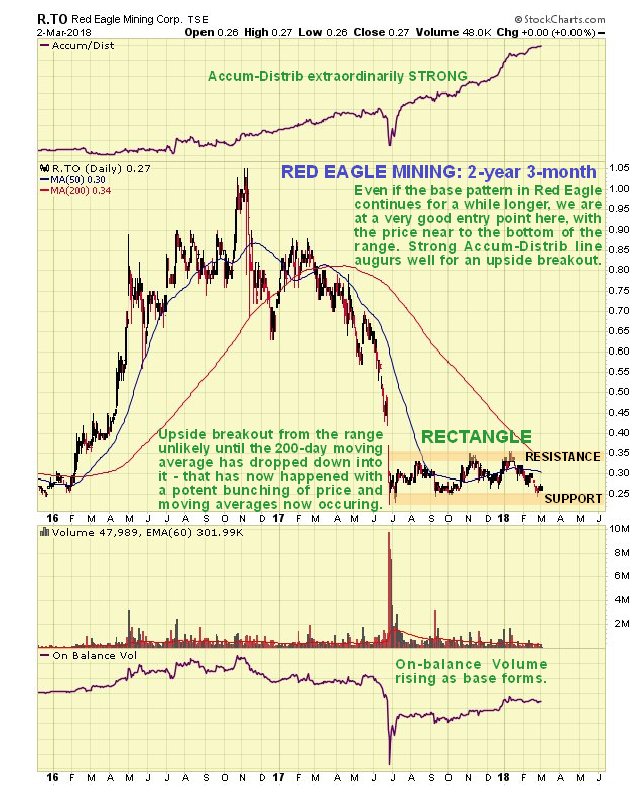 Finally, we look at recent action in much more detail on the 6-month chart, on which we see that, within the confines of the trading range, it has dropped back in a short to medium-term downtrend from early in the year to the present to arrive at the support at the lower boundary of the range, and all the while its Accum-Distrib line has continued to advance, which is a very positive sign. This downtrend has resulted in an oversold condition shown by its MACD indicator. Also on this chart, notice the falling 200-day moving average entering the picture from above, as a prelude to the price turning up and breaking above both it and the 50-day moving average, and proceeding to break out of the rectangular trading range shown on the 2-year 3-month chart into a new bull market.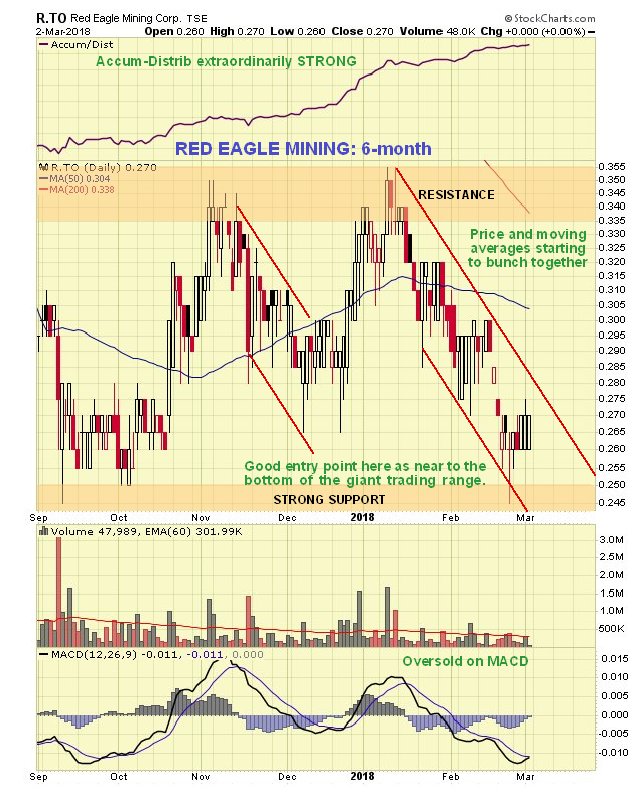 Red Eagle Mining is rated an immediate strong buy, and with the news of the merger coming out after the close on Friday, we will have the benefit of observing the effect on the price in the early trade tomorrow before we do anything. If it is positive, we should go ahead and buy, even if it gaps higher—this is what is expected. In the unlikely event that it should drop, we will have the chance to review the situation and decide whether to buy at this point or not. Red Eagle Mining trades in light but acceptable volumes on the US OTC market.
Red Eagle Mining 
website
Red Eagle Mining Corp, R.TSX, RDEMF on OTC, closed at C$0.27, $0.21 on 2nd March 2018.
Clive Maund
 has been president of www.clivemaund.com, a successful resource sector website, since its inception in 2003. He has 30 years' experience in technical analysis and has worked for banks, commodity brokers and stockbrokers in the City of London. He holds a Diploma in Technical Analysis from the UK Society of Technical Analysts.