Texas braces for water & cell service outages as massive blackout leaves MILLIONS freezing in the dark ahead of 2nd snow storm
Cities across Texas are preparing for widespread outages in cell phone and water services as the state continues to be pounded by a ferocious winter storm, which has already left millions without electricity.
Ravaged by the first storm on Sunday night, Texas' power grid has taken a beating over the last 24 hours, leading to rolling blackouts across the state for around 4.3 million residents as officials rush to repair ailing infrastructure. The power outages have set off a cascade of other problems, knocking some water treatment plants and cell phone networks offline.
Due to a prolonged power outage at the water treatment plant, Pflugerville is under a boil water notice. We are working with Oncor to restore power, but until further notice, all city water customers must boil their water prior to consumption. (1/3) pic.twitter.com/alhpeSfyaN

— Pflugerville, TX (@PflugervilleTX) February 15, 2021
www.rt.com/usa/515660-texas-storm-cell-water-service/
Update (1003 ET): Some Texans have been living in their cars to stay warm as rolling blackouts have left millions without power.
CBS DFW spoke with at least one person who's been sitting in his car since Sunday to get warm.
Collin County resident Clint Cash has had no power in North Texas for a couple of days. He said his house went dark Sunday, which was when he decided to bundle up and sit in his parked car with the heater on full blast.
Isha Elhence, a Dallas resident who lost power around 2 a.m. Monday, was quoted by Bloomberg as saying, "We lost power around 2 a.m. Monday. It was only supposed to be for one to two hours, which seemed manageable… Now it's kind of indefinite with no updates, so we're unsure of what we're supposed to be doing."
  "This is extremely dangerous," said Eric Berger, a forecaster with Houston's Space City Weather.
As the rolling blackouts increased across Texas, we noted Monday evening, internet searches for firewood exploded across the state.
Internet searches for "where to buy firewood" erupted on Monday.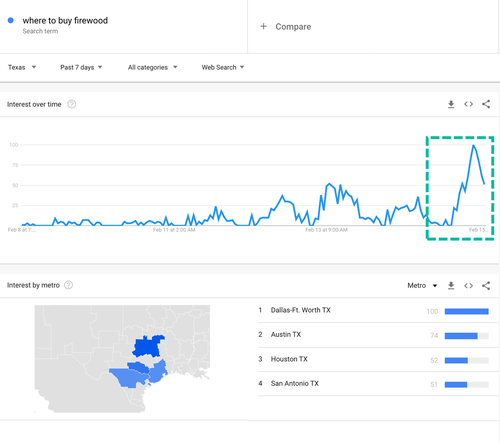 www.zerohedge.com/weather/4-million-texans-without-power-amid-grid-collapse-second-storm-nears
AC
758 views