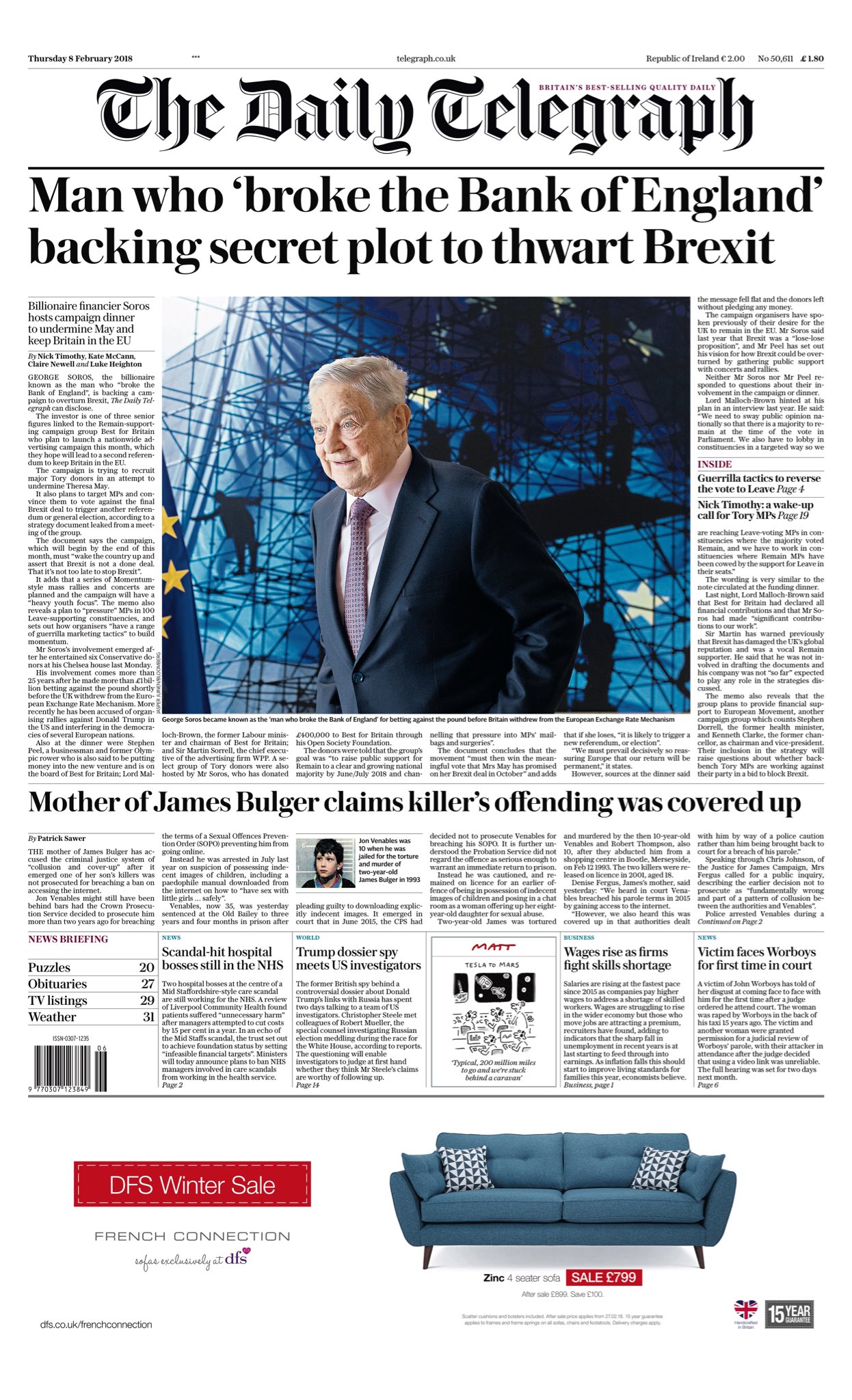 George Soros, the billionaire known as the man who "broke the Bank of England", is backing a campaign to overturn Brexit, the Telegraph can disclose.
The investor is one of three senior figures linked to the Remain-supporting campaign group Best for Britain who plan to launch a nationwide advertising campaign this month, which they hope will lead to a second referendum to keep Britain in the EU.
The campaign is trying to recruit major Tory donors in an attempt to undermine Theresa May.
It also plans to target MPs and convince them to vote against the final Brexit deal to trigger another referendum or general election, according to a strategy document leaked from a meeting of the group.
www.telegraph.co.uk/politics/2018/02/07/george-soros-man-broke-bank-england-backing-secret-plot-thwart/
TODAY FINANCIAL HEADLINES: "SOROS IS ACTIVELY PROMOTING CRASH OF BREXIT" Heads Up Britons…Soros trying to shape your reality again
Billionaire investor George Soros has give hundreds of thousands of pounds to a pro-EU campaign, according to media reports.
The Best for Britain campaign, which advocates staying in the EU, has been given more than £400,000 ($550,000) of funding by Soros' Open Society Foundation.
www.cnbc.com/2018/02/08/george-soros-is-reportedly-backing-a-campaign-to-stop-brexit.html
extreme big exposure . cnbc headlines now.
not the same title, but the same idea…
Hefty donation: Soros contributes to Anti-Brexit campaign

A campaign to reverse the Brexit vote has received a hefty boost from American business magnate George Soros. 'Best for Britain' has confirmed he donated almost half-a-million pounds through his foundation. READ MORE:
on.rt.com/8yo9
George Soros has pumped £400,000 into Remainer campaign to thwart Brexit
www.dailymail.co.uk/news/article-5365023/George-Soros-backs-pro-EU-campaign-400-000.html
SS
1,097 views