via Bloomberg:
For the first time in seven years, the Swedish central bank raised interest rates, surprising many in the market as policy makers chose to focus on low unemployment instead of an uncertain outlook driven by global trade conflicts.
The Riksbank, which is based in Stockholm, added a quarter of a percentage point to its repo rate, bringing it to minus 0.25 percent. The decision was expected by fewer than half the 24 economists surveyed by Bloomberg.
With inflation and inflation expectations now looking "established" around the Riksbank's 2 percent target, "the need for a highly expansionary monetary policy has decreased slightly," the bank said in a statement on Thursday. Policy makers, who had signaled they were ready to deliver a hike either this month or in February, said the next increase will probably come in the second half of 2019.
The krona soared on the news, appreciating as much as 1 percent against the euro, which is its biggest gain since early October.
Twitter War Erupts Among Swedish Economists After Riksbank Hike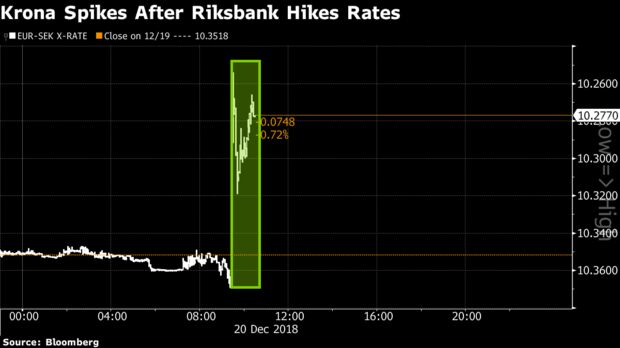 808 views