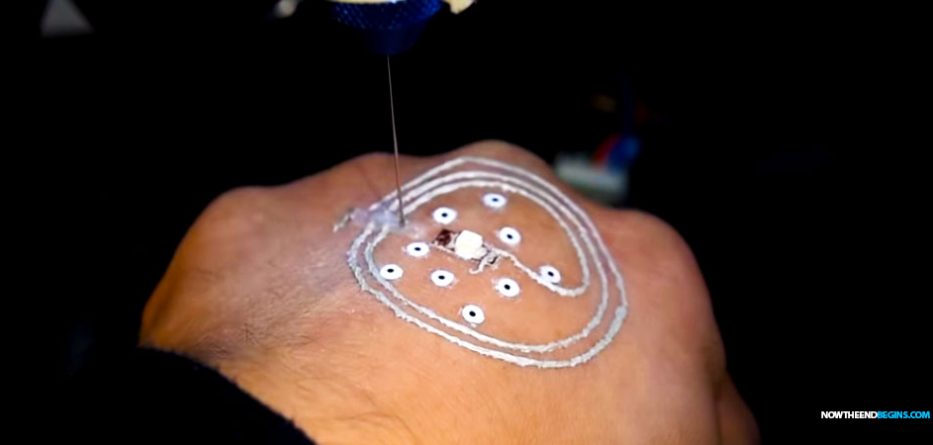 A $400 3D PRINTER PUTS ELECTRONICS DIRECTLY ONTO PEOPLE'S SKIN TURNING THEM INTO 'SEMI-CYBORGS'. THE 3D-PRINTED SENSOR COULD BE PUT ONTO THE BODIES OF SOLDIERS ON THE BATTLEFIELD AND USED TO DETECT CHEMICAL OR BIOLOGICAL WEAPONS.
"And he causeth all, both small and great, rich and poor, free and bond, to receive a mark in their right hand, or in their foreheads: And that no man might buy or sell, save he that had the mark, or the name of the beast, or the number of his name." Revelation 13:16,17 (KJV)
EDITOR'S NOTE: In my development they are currently building a fancy, brand-new Publix supermarket complex. It's still many months away from being completed, doesn't even have signage yet, but as I watch it come to life it's very obvious what I am seeing. So it is with the Mark Of The Beast. The actual mark cannot show up until Antichrist is released in Revelation 6:1 after the Pretribulation Rapture of the Church – but – anyone who is even mildly aware and awake can see the direction our technology is taking us in. 
As well as being used for electronics, it can also print biological cells for medical needs and could heal wounds or print grafts for skin disorders. The electronics can simply be peeled or washed off when no longer needed.
'We are excited about the potential of this new 3D-printing technology using a portable, lightweight printer costing less than $400,' said the study's lead author Michael McAlpine from the University of Minnesota.
'We imagine that a soldier could pull this printer out of a backpack and print a chemical sensor or other electronics they need, directly on the skin'.
'It would be like a 'Swiss Army knife' of the future with everything they need all in one portable 3D printing tool', he said.
The machine, which commentators have said could turn humans into 'semi-cyborgs', can adjust to small movements of the body during printing meaning it never makes a mistake. Temporary markers are placed on the skin and it is scanned using computer vision to adjust to movements.
'No matter how hard anyone would try to stay still when using the printer on the skin, a person moves slightly and every hand is different,' Dr McAlpine said.
'This printer can track the hand using the markers and adjust in real-time to the movements and contours of the hand, so printing of the electronics keeps its circuit shape', he said.
Another feature of the technique is that it uses specialised ink made of silver flakes which can cure and conduct at room temperature.
The technique could pave the way for printing cells to help those with skin diseases. Researchers successfully tested the technology by printing biological cells on the skin wound of a mouse.
This is different from other 3D-printing inks that need high temperature to be able to cure (sometimes up to 100°C / 212°F) and that would burn the skin. To remove the electronics, the person can simply peel off the electronic device with tweezers or wash it off with water.
'I'm fascinated by the idea of printing electronics or cells directly on the skin,' Dr McAlpine said. 'It is such a simple idea and has unlimited potential for important applications in the future', he said. source
1,771 views