Wolf Richter wolfstreet.com, www.amazon.com/author/wolfrichter
Under pressure from the banks, the government may take down the site.
There is no telling if the Consumer Financial Protection Bureau (CFPB) will even survive the next few years, given the opposition to it in the White House, Congress, and the banking lobby because it has become just too inconvenient for banks.
One of the inconvenient aspects for the banks is the CFPB's database of consumer complaints against financial institutions and other companies. This database is public and can be searched.
Remember Wells Fargo? It became the most hated bank in America in 2016. You can go to CFPB's site and search this database for Wells Fargo or any other bank and see what crops up. Go ahead, take a look while you can and put your bank of choice in the search box — before the data base gets taken off line.
So I searched for Wells Fargo, and the first item that crops up at the very top is this report from September 2016: "Consumer Financial Protection Bureau Fines Wells Fargo $100 Million for Widespread Illegal Practice of Secretly Opening Unauthorized Accounts."
Or the next one down, from August 2016: "CFPB Takes Action Against Wells Fargo for Illegal Student Loan Servicing Practices."
If you click on "Reports" in the left sidebar, the top report is this: "What you need to know if you were harmed by Wells Fargo." This goes on, search page after search page. Clearly, it would be a lot better if this dang site got taken down.
Then there is the "Monthly Complaint Report." It summarizes consumer complaints against banks by state, for all 50 states. For example, the report for October 2017 (Vol. 26) shows that the CFPB "handled" 91,482 complaints from 2011 through Oct 2017, to which 97% of the companies responded in a "timely" manner.
And it has this chart of the annual nationwide complaint volume: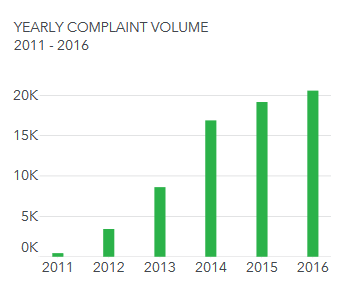 Among the top five "products" that triggered those complaints, "debt collection" is Number 1 (SM = service members, veterans, and their families):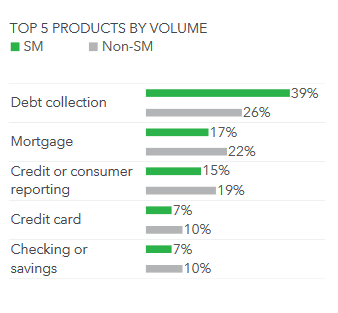 Among the big states: CFPB handled 9,667 complaints in California, 8,528 in Texas, and 8,195 in Florida. However, it handled only 2,930 complaints in New York.
These are just the complaints the CFPB has been able to "handle" – that is, get companies to respond and deal with them in some manner. But as of June 1, 2017, the CFPB has received "over 1,218,600 complaints." As of that date, about 1.13 million complaints remained "unhandled."
"This database has become an extremely useful tool that can increase the accountability of powerful financial institutions on behalf of the consumer," explains a report by Lend EDU, which dug into this data base more deeply by analyzing "exactly 223,992 consumer complaints" and built a table of 49 banks, from regional banks to the largest behemoths in the US, and ranked them by the number of complaints per $1-billion in deposits.
In 2016, Wells Fargo had over 10,000 complaints and was in third place with a ratio of 8 complaints per $1-billion in deposits. But it has begun to clean up its act, apparently, and in 2017, the number of complaints was down to 8,465, or 6.48 complaints per $1-billion in deposits, which moved it down 5 slots into 8th place.
The number 1 bank with the most complaints per $1-billion in deposits was TCF Financial Corporation, in 2016 and 2017. In fact, its complaints-to-deposits ratio deteriorated from 12.30 in 2016 to 13.59 in 2017.
Below is this list of 49 banks for which the CFPB received at least some complaints between January 1 and December 10, 2017. They're ranked from Number 1 with the most complaints (TFC Financial with 13.59 complaints per $1 billion in deposits) to Number 49 with the lowest complaint ratio (Western Alliance Bancorporation with 0.18 complaints per $1 billion in deposits).
However, LendEDU dug around long enough to find a dozen banks for which the CFPB had not received any complaints at all last year. These are in the second table below.
| | | | | |
| --- | --- | --- | --- | --- |
| Rank | Name | Complaints | Deposits | Ratio |
| 1 | TCF Financial Corporation (TCF National Bank) | 246 | 18.1 | 13.59 |
| 2 | SunTrust Banks | 1,159 | 162.7 | 7.12 |
| 3 | Citizens Financial Group | 782 | 113.2 | 6.91 |
| 4 | Fifth Third Bancorp | 698 | 101.5 | 6.88 |
| 5 | Citigroup | 6,600 | 964.0 | 6.85 |
| 6 | U.S. Bancorp | 2,338 | 342.6 | 6.82 |
| 7 | Comerica | 380 | 57.8 | 6.57 |
| 8 | Wells Fargo | 8,465 | 1,306.7 | 6.48 |
| 9 | KeyCorp | 670 | 103.4 | 6.48 |
| 10 | Bank of America | 8,069 | 1,284.4 | 6.28 |
| 11 | F.N.B. Corporation (First Naitonal Bank) | 124 | 21.9 | 5.65 |
| 12 | Huntington Bancshares | 441 | 78.4 | 5.62 |
| 13 | CIT Group | 165 | 29.6 | 5.58 |
| 14 | M&T Bank | 514 | 93.5 | 5.50 |
| 15 | JPMorgan Chase | 7,747 | 1,439.0 | 5.38 |
| 16 | PNC Financial Services Group | 1,374 | 260.7 | 5.27 |
| 17 | Regions Financial Corporation | 514 | 97.6 | 5.27 |
| 18 | Synovus Financial Corp. | 131 | 26.2 | 5.00 |
| 19 | Webster Financial Corporation (Webster Bank) | 104 | 20.9 | 4.99 |
| 20 | Popular Inc. (Banco Popular) | 170 | 34.2 | 4.96 |
| 21 | BB&T Corporation | 680 | 156.1 | 4.36 |
| 22 | First Horizon National Corporation (First Tennessee Bank & Capital Bank) | 70 | 22.1 | 3.17 |
| 23 | Commerce Bancshares Inc. | 62 | 20.4 | 3.03 |
| 24 | Chemical Financial Corporation | 39 | 13.8 | 2.83 |
| 25 | MB Financial | 38 | 14.4 | 2.64 |
| 26 | BancorpSouth Bank | 27 | 11.8 | 2.29 |
| 27 | People's United Financial | 74 | 32.5 | 2.27 |
| 28 | Umpqua Holdings Corporation (Umpqua Bank) | 44 | 19.9 | 2.22 |
| 29 | Trustmark Corporation | 22 | 10.2 | 2.15 |
| 30 | Associated Banc-Corp (Associated Bank) | 43 | 22.3 | 1.93 |
| 31 | Old National Bancorp | 18 | 10.6 | 1.70 |
| 32 | Bank of Hawaii | 24 | 15.0 | 1.59 |
| 33 | Zions Bancorporation | 79 | 52.1 | 1.52 |
| 34 | IBERIABANK Corporation | 31 | 21.3 | 1.45 |
| 35 | UMB Financial Corporation | 20 | 16.0 | 1.25 |
| 36 | Great Western Bancorp | 11 | 9.0 | 1.23 |
| 37 | BankUnited | 25 | 21.2 | 1.18 |
| 38 | Investors Bancorp Inc | 15 | 16.9 | 0.89 |
| 39 | Valley National Bancorp | 15 | 17.3 | 0.87 |
| 40 | Sterling Bancorp | 9 | 11.0 | 0.81 |
| 41 | Cullen/Frost Bankers (Frost Bank) | 17 | 26.4 | 0.64 |
| 42 | Prosperity Bancshares | 8 | 16.9 | 0.47 |
| 43 | East West Bancorp Inc. | 11 | 31.3 | 0.35 |
| 44 | Fulton Financial Corporation | 5 | 16.1 | 0.31 |
| 45 | PacWest Bancorp (Pacific Western Bank) | 5 | 16.8 | 0.30 |
| 46 | United Bankshares Inc. | 4 | 13.9 | 0.29 |
| 47 | Bank of the Ozarks | 4 | 15.7 | 0.25 |
| 48 | Cathay General Bancorp (Cathay Bank) | 3 | 12.6 | 0.24 |
| 49 | Western Alliance Bancorporation | 3 | 16.9 | 0.18 |
And here are the dozen banks for which LendEDU could not find any complaints that the CFPB received in 2017:
| | | | |
| --- | --- | --- | --- |
| Columbia Banking System Inc. | | 8.3 | |
| Community Bank System Inc. | | 8.6 | |
| CVB Financial Corp. (Citizens Business Bank) | | 6.6 | |
| Glacier Bancorp | | 7.8 | |
| Hancock Holding Company (Whitney Bank) | | 21.5 | |
| Home BancShares Inc. (Centennial Bank) | | 10.4 | |
| Hope Bancorp Inc. (Bank of Hope) | | 11.0 | |
| Pinnacle Financial Partners Inc. (Pinnacle Bank) | | 15.8 | |
| Signature Bank | | 33.7 | |
| SVB Financial Group (Silicon Valley Bank) | | 44.8 | |
| Texas Capital Bancshares Inc. | | 19.1 | |
| United Community Banks Inc. | | 9.1 | |
| Wintrust Financial Corporation | | 22.9 | |
These are not complete lists. They're samples of the nearly 5,000 commercial banks in the US. But if the public loses access to this database — in other words, if you cannot check out the bank before you do business with it — then, well, the worst banks would be the real winners.
And here are my stories about my darling Wells Fargo, such as: Wells Fargo Gets Clocked in California
1,251 views