by Pamela Williams

There is a probe taking place in Washington right now about how Obama took a Defense contract away from a business , who had professionally handled these contracts for years.  Obama and the Deep State pulled the rug out from under a company called IOMAX, run by an Army aviation disabled veteran and a crew of Army special forces all working together to create the most advanced aircraft being used in the  various roles in the Middle East and even in the drug wars at our borders.
IOMAX had perfected the unusual design and had just introducted its latest magnificent Archangel to the line. The below are two  short videos demonstrating the capabilities of the Archangel.


I have to admit I am proud of the accomplishments of this company as the founder Ron Howard came from my hometown.  He was a decorated Army pilot, and his employees were all Special Forces veterans.  He was an amazing man, and he will be missed by a family and crew he loved.  When I talk of him in the past tense, I do so, because he died on a recent trip to Washington.  He was embroiled in the situation of the above.  He was fighting for the rights of his company, as it was being squeezed out by the Deep State.
We now have a new source to connect with the so called "Deep State."  A group of lawmakers have asked for an investigation into this matter.  Since the opening of the investigation, we have learned a lot about the Deep State.  The lawmakers have made a request in this investigation:
"We ask that the Government of Kenya take these facts, in particular the prospect of an ongoing congressional investigation of this sale, under consideration as it decides whether or not to proceed with this arms purchase," says the letter.
The request for an investigation comes after the lawmakers have unsuccessfully tried to figure out how the New York-based L3 received the "sole-source" primary contract, which means there is only one known source for the equipment requested, or only one single supplier that can fulfill the requirements.
IOMAX was unaware of the contract until the State Department, which approves all foreign military sales, publicly announced it on Jan. 23, the Monday after Trump was sworn in.
Typically, with a foreign military sale, an ally would notify and work with the Defense Security Cooperation Agency, a Pentagon agency, to request weapons.
DSCA would then work with the nation to specify requirements and write a Letter of Request for the weapons. The letter would be sent to an "implementing agency." After price and other details are worked out, the Pentagon would issue a recommendation, and the State Department would approve or disapprove the sale. The DSCA would receive about a four percent cut of the total sale.
Lawmakers suspect, though have no evidence, that in this case, the implementing agency — an Air Force acquisition office, known as the "Big Safari" at Wright-Patterson Air Force Base, steered the contract to L3.

For the first time now, we have a source for the Deep State called "Big Safari" at Wright Patterson Air Force Base.  Lets take a closer look at this group.
The following website explains it very well:  www.globalsecurity.org/intell/systems/big_safari.htm
BIG SAFARI is the USAF's program office responsible for sustainment and modification of specialized special mission aircraft. Big Safari is a specialized process of acquisition and contracting management process that supports 20-24 projects at any one time and includes responsibility for logistics sustainment for over 50 aircraft. This process was the basis for the Lightning Bolt Initiatives, and is used to accomplish special projects on a quick-reaction basis. Program management includes Detachment 4, 645th Materiel Squadron, U.S. Air Force Aeronautical Systems Center, Wright-Patterson AFB, Dayton, OH.
Although the Big Safari process already operates at minimum funding due to the effectiveness of its management procedures, and is already far more streamlined than any other program due to the nature of its authority, the Acquisition Reform Initiatives have still helped realize more cost savings. One example is a cost reduction in the F-16 Pod program, brought about by the ability to streamline the test program.
Over its thirty year operational history, the RC-135 fleet has always depended on a streamlined acquisition and requirements management process covered under Aeronautical System Center's BIG SAFARI program. In order to facilitate DOD accepted budgeting consideration criteria for this HQ ACC weapon system in today's fiscal environment, the Air Combat Command approved on 22 Feb 1995 an Operational Requirements Document that formally states all RC-135 requirements in a standardized and recognized format. It specifically covers, as directed by Air Staff HQ USAF/XOR message DTG 142000Z December 1994, all models and missions within the RC-135 fleet (RC-135 V, W, X, S, U, and the TC-135 W and S), including airframe, sensors, avionics, datalinks, ground processing, and training system. This ORD, however, is not a replacement for BIG SAFARI practices but will be used in conjunction with them to articulate this unique weapon system's requirements.
Big Safari was also employed to support the 1994 reactivation of the SR-71, and it was the only AF office that tried to promote the program.
The Lockheed Martin Skunk Works has been a primary contributor to Big Safari, transforming C-130s into Combat Talon (MC-130E), Compass Call/Rivet Fire (EC-130H), Commando Solo (EC-130E), AC-130H Gunship Special Operations Forces Improvement (SOFI), and Senior Scout. The October 1996 arrival of an EC-130H Compass Call electronic warfare jamming aircraft marked the beginning of a transition of US Air Force's Big Safari class programs, which are managed under specialized procedures, from Lockheed Martin facilities in Ontario, CA, to Palmdale, CA. Under the program, Palmdale will perform maintenance and upgrade of the Compass Call aircraft. The first aircraft to arrive is due back at Davis-Monthan Air Force Base in Arizona in December 1997. Other Big Safari projects moving or moved to Palmdale include Rivet Rider, a special-mission C-130 airborne color television broadcast station and the Pacer Coin C-130 platform which collects airborne and ground signals intelligence.

Now the above is a technical definition of the Big Safari, but lets see if we can find something to connect it to the Deep State.
The below is a video on this story, and the questioning of the group at Wright Patterson Air Force Base:
www.youtube.com/watch?v=rGdk8S7TZXE
Published on Jul 13, 2017
GOP lawmakers question Air Force about unit's ties to defense firm
Two Republican lawmakers questioned the Air Force's top civilian official on Wednesday about alleged improprieties in the way it acquires multimillion-dollar aircraft.
Reps. Ted Budd and Walter Jones, both of North Carolina, said in a letter sent Wednesday to Air Force Secretary Heather Wilson that there may be a "serious, systemic problem" at an Air Force unit known as Big Safari.
The congressmen said their investigations reveal a potentially improper relationship between Big Safari and L3, a major defense contractor headquartered in New York. The unit, formally known as the 645th Aeronautical Systems Group, is based at Wright-Patterson Air Force Base in Ohio.
The Air Force and L3 did not immediately respond to requests for comment on the allegations in the letter.
The lawmakers said they have found "significant revolving door activity" between the Air Force unit and L3, a term that typically refers to military and government workers being hired by a particular company.
The congressmen cited information from two Air Force officers about how the unit steered a 2014 contract to L3 for the sale of aircraft to Yemen. The officers, both majors, said a better aircraft from a company called IOMAX was available for $15 million less, but the contract was awarded to L3 without competition.
IOMAX is located in Mooresville, North Carolina, which is part of Budd's congressional district. One of the majors is still on active duty and the other is in the Air Force reserve. Neither officer is employed by IOMAX nor have they ever received compensation from the company, according to Budd's office.
The two majors were assigned at the time to the 6th Special Operations Squadron, according to the letter, and had been deployed to Yemen as part of the U.S. mission to improve the Middle East's nation's internal defense. After exploring a number of options, they settled on the IOMAX Archangel, a combat attack aircraft also being used by the United Arab Emirates, the congressman said.
Their decision, the letter from Budd and Jones said, was backed by senior special operations officials at the Pentagon. Big Safari was then assigned to purchase four Archangels combat attack aircraft for Yemen.
"By early 2014, the contact had been awarded to without competition to L3, for a price of $15 million above IOMAX's quote," the letter said. "The planes were delivered months late, and were so poorly manufactured that the 6th SOS majors rejected the aircraft."
They added that the information provided by the majors "suggests something is seriously wrong with the way Big Safari does business."
The lawmakers also asked Wilson about a contract worth $418 million that L3 won for the sale of border security aircraft to Kenya. The House Oversight and Government Reform Committee sent a letter in May to Wilson seeking information about the contract. The committee said L3 won the contract despite evidence the company has limited experience manufacturing this type of aircraft.

The following article provides another aspect of this situation in the fact that the firm, who was awarded the contract by Big Safari seems to have stolen the IOMAX's Archangel design.
www.breitbart.com/national-security/2017/03/01/defense-firm-given-418m-kenya-contract-may-misrepresenting-products/
WASHINGTON D.C. — A giant defense firm may be passing off another company's equipment as its own, which could have played a role in a potentially corrupt U.S. arms sale to Kenya that the State Department approved on the Obama administration's last day in office.
Breitbart News has obtained photos of L-3 Technologies using marketing materials at a recent international defense conference featuring a small plane produced by IOMAX USA, Inc., a small, disabled-veteran owned company based in North Carolina.
The photos show an L-3 banner and poster at their booth at the 2017 International Defence Exhibition and Conference (IDEX) in February featuring IOMAX's "Archangel" aircraft — an armed crop-duster-like aircraft used by U.S. partner militaries for border patrol, surveillance, and close air support.
L-3 passing off the aircraft as its own could potentially explain how it got exclusive approval for a lucrative $418 million contract to produce 14 such planes for the Kenya Defense Forces, despite never having produced the planes before and IOMAX's ability to produce them for much cheaper.
Here is a photo of the IOMAX "Archangel" aircraft:
The following picture was taken from www.breitbart.com/national-security/2017/03/01/defense-firm-given-418m-kenya-contract-may-misrepresenting-products/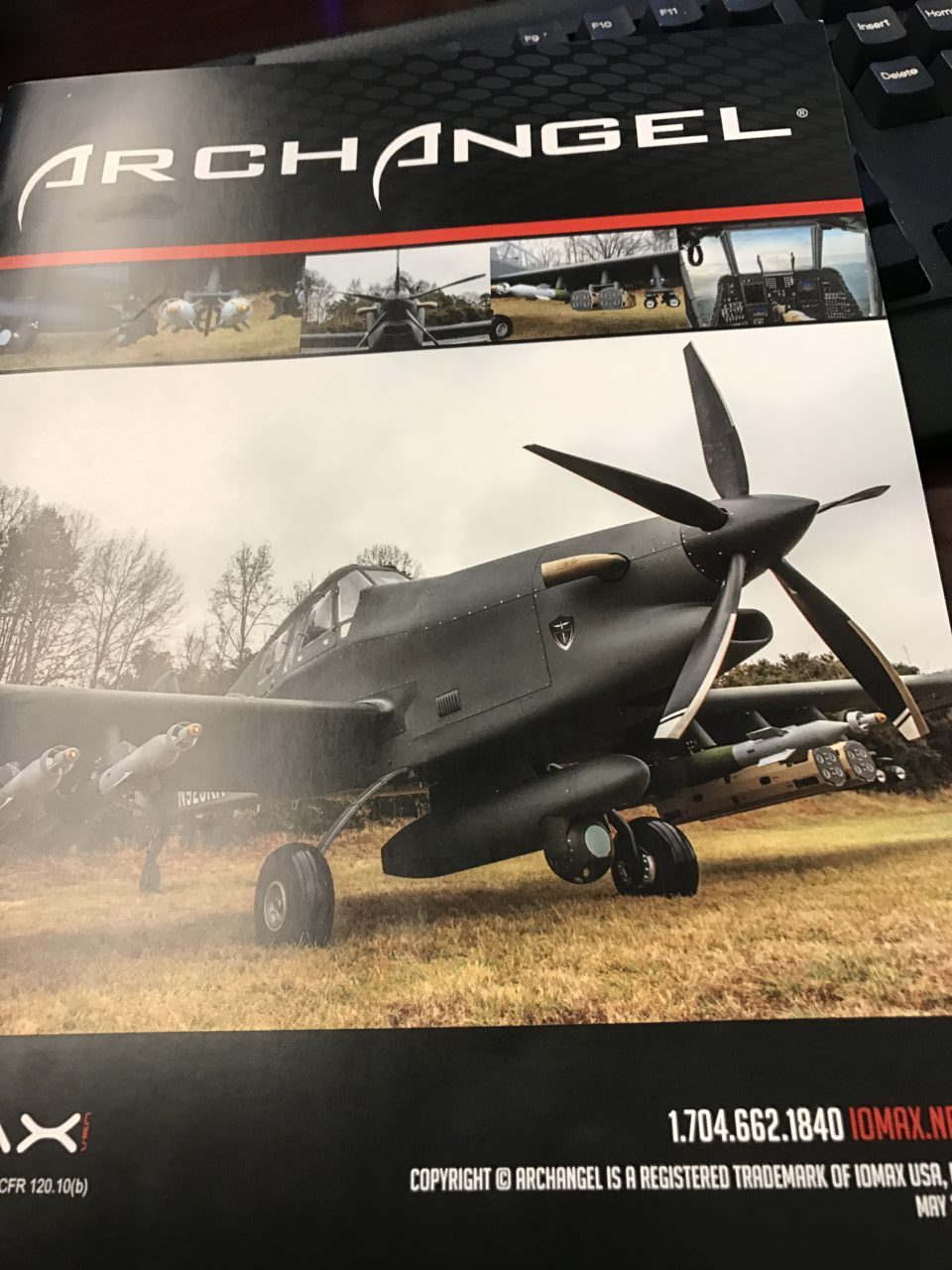 Here is a photo of L3's banner at its booth at IDEX: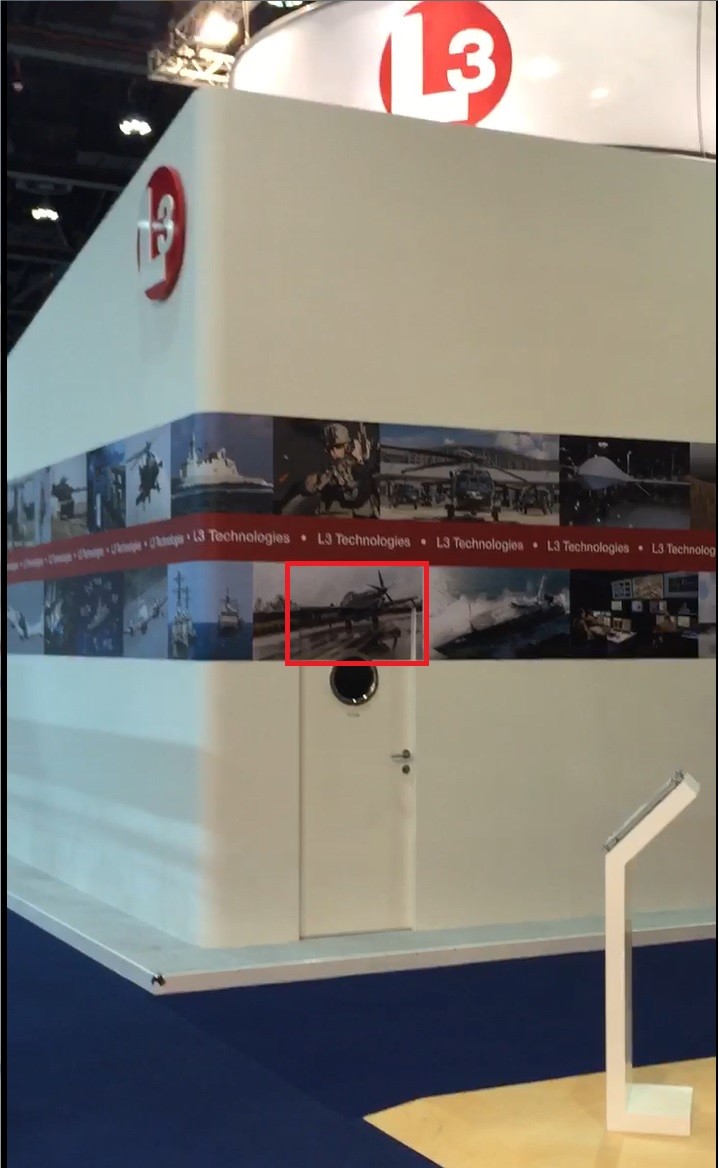 You can see it is the same picture.
Breitbart News provided a photo of the banner to L-3 and requested clarification.
"L-3 has declined to respond to your inquiry," a spokeswoman said.
How L-3 was able to get the contract has come under congressional investigation.
The State Department approved and privately notified Congress on January 19 about the sale, which would fulfill Kenya's request to buy the planes and other services for missions against terrorist group al-Shabaab.
An IOMAX representative said the company was never given the chance to compete for the contract and did not hear about it until after it was publicly announced on January 23.
Under the contract, Kenya would spend $364.4 million on the aircraft and $53.6 million on other services. The IOMAX representative said it could produce the planes for $237 million — about $127.4 million less than L-3.
A group of five North Carolina GOP lawmakers, led by Rep. Ted Budd (R-NC), sent a letter last week requesting a non-partisan government investigation into the matter.
"Our offices have been recently made aware of potential irregularities in the Foreign Military Sales acquisition process. Specifically, the existence of sole-source requests and a possible lack of due diligence by Defense Security Cooperation Agency (DSCA) Security Assistance Officers. It appears that more congressional oversight is warranted," said the Feb. 23 letter to the Government Accountability Office. 
"It is our understanding that this contract may have been awarded to L-3 based on false assumptions made by DSCA that L-3 manufactures a weaponized manned ISR platform that fulfills the requirement submitted by the Government of Kenya to DSCA," it added.

Now that we are on the subject of the Deep State, I would like to talk more about that.  President Trump knows more about the Deep State and what it can do than anyone, as since the day he was elected the Deep State has tried to oust him from office.   He spent the first weeks of his time in office scrutinizing several contracts he believes aren't in the financial interest of the American taxpayer.  The IOMAX debacle is one that he was highly critical of.
However, it is now being reported the previous administration may not have been acting quite as attentive when it approved a $418 million defense contract for Kenya to a "big box" US defense contractor – one that has zero familiarity providing the proposed unique airframe, and at double the cost to Kenya.
The strange thing about this whole thing is when Kenya was approached about the discrepancy they were first in shock.  Later they sent a delegation to Washington, and the delegation said they wanted the contract to remain as it was.
I was shocked to read this, and I realized that someone in Kenya associated with Obama was getting a kickback from the deal being give to L3 Technologies.
Before Howard, the owner of IOMAX died in Washington, he told said his best guess as to why this has happened is "the playing field is tilted."
He went on to say, "It's not a defense-contractor squabble.  This is the acquisition law as written to protect large defense contractors." In other words, the Deep State has to stay in control.  They knew they could not control Ron Howard, so they had to make sure they themselves got this deal.
Howard was a good man, a family man, a decorated veteran, and a man who hired other veterans, and there is no way the Deep State could have controlled him.  Now he is dead after making a trip to Washington DC to look into this situation.  
US Senator Richard Burr, a Republican from North Carolina has been helping Howard to find out what was going on.  He says, "if things are allowed to stand, Kenya will pay $418 million for L3 to make 12 border-patrol aircraft, to trainer aircraft and provide the weapons package, technical support and program management."
IOMAX could do the same for $237 million dollars, according to Howard.
Several Kenyan analysts also questioned the sale on Twitter, with the accompanying hashtag #KDFWeaponsScam.  KDF is short for Kenyan Defense Force.
We could have bought 5 of the Bell Boeing V-22 Ospreys at the $418 million expenditure #KDFWeaponsScam pic twitter.com/2XXdS0g7VT.
We could have bought 5 of these Bell Boeing V-22 Ospreys at the $418 million expenditure #KDFWeaponsScam pic.twitter.com/2XXdS9g7VT

— The Muthoka® (@MuthokaTito) February 17, 2017


IOMAX was unaware of the contract award until the State Department, which approves all foreign military sales, publicly announced it January 23, the Monday after Trump's inauguration.  They purposely waited, because they knew Trump would be furious as he was.
Since Trump is not a part of the Deep State, as Ron Howard was not as well, they were kept out of the loop.  The Deep State is now in control, and we should look at this very sad story as proof.
As far as Howard's death, I don't know.  He was healthy and fighting for his company when he made that trip to Washington DC, but he died there nevertheless.