@nvdems have hired a Buttigieg Iowa organizer as their "Voter Protection Director" pic.twitter.com/1yTWmPOGI7

— Fugazi Is The Greatest Band of All Time 🌹 (@ARigneyPhoto) February 9, 2020
It's getting comical at this point… t.co/JcDTgZf6C2

— Walker Bragman (@WalkerBragman) February 9, 2020
So Just How Well Did Bernie Sanders Do in Iowa? You Might be Surprised. He's -50% from 2016 (Yes, NEGATIVE). But WAIT, There's More!
Now, legitimately, the Berners will say,
"Hold on… there are more candidates now! That's not fair!
Stop pickin' on poor, ol' Bernie!"
Here's where the "BUT WAIT, THERE'S MORE" part of that
comes into play.
Bernie Sanders supporters have been claiming that the
socialist label will not matter so much because he will
draw in a MASSIVE NUMBER of NEW voters to replace the
independents and centrists he will inevitably lose.
So what happened? Bad news for Bernie (and the DNC):
Iowa Dem County Chair 'Blown Away' by Low Caucus Turnout
freebeacon.com/politics/iowa-dem-county-chair-blown-away-by-low-caucus-turnout/
But WAIT, there's MORE!
Share of first—time caucus goers, IA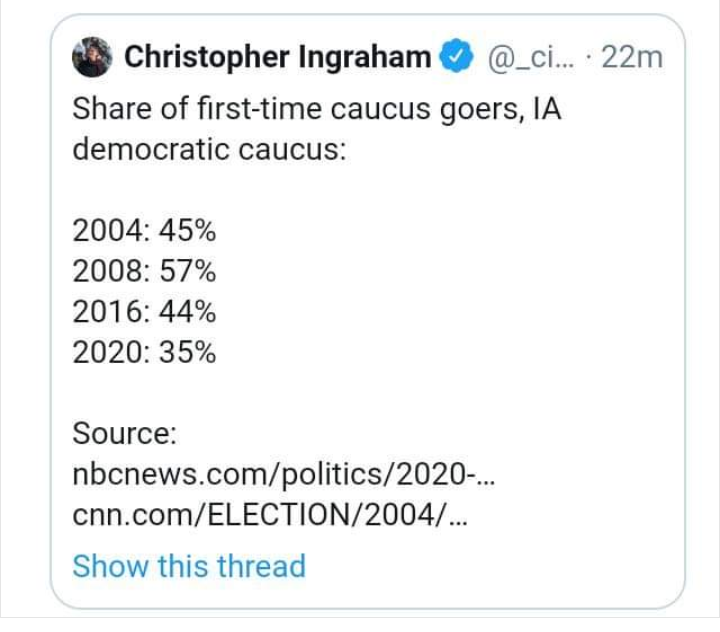 Both TURNOUT and FIRST-TIME VOTERS CRATERED.
NOT GOOD for Bernie. NOT GOOD for the DNC.
And on the other side of this:
Team Trump (Text TRUMP to 88022)
Verified account
@TeamTrump
Meanwhile…
President @realDonaldTrump CRUSHED all incumbent turnout
records in Iowa!
#IACaucus
Meanwhile…

President @realDonaldTrump CRUSHED all incumbent turnout records in Iowa! #IACaucus

— Team Trump (Text TRUMP to 88022) (@TeamTrump) February 4, 2020
The link above includes 45 contributions from Pete's campaign to Nevada lawmakers, in addition to grants to local Nevada nonprofits favored by lawmakers. Reflects serious effort by Pete to court local Dem establishment.

— Lee Fang (@lhfang) February 9, 2020
h/t dr0id
102 views