by Mark Angelides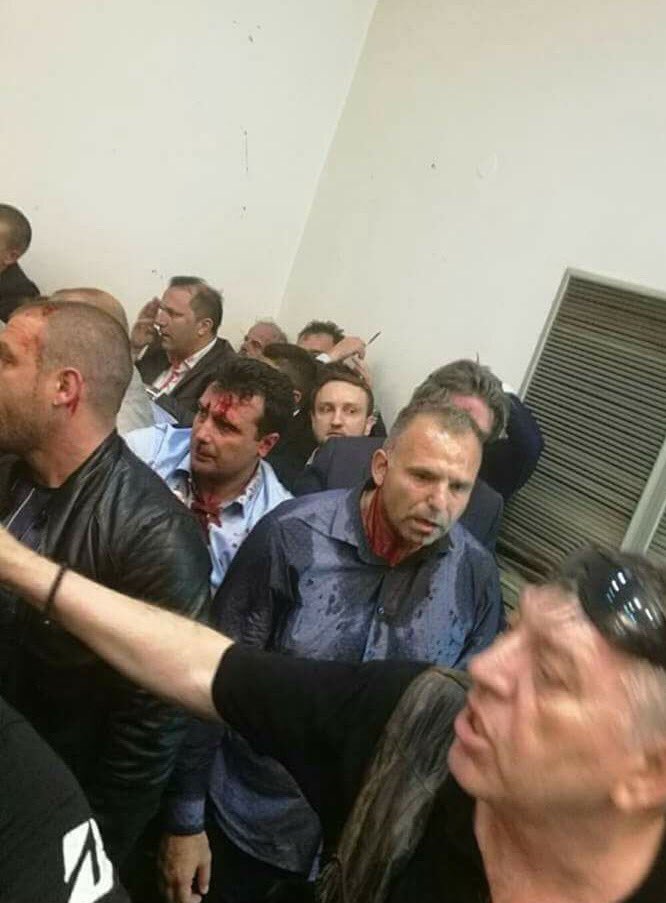 What appears to be the beginning of a coup is underway in Macedonia. Masked men have stormed into Parliament and are holding both journalists and MPs. But this is a very different type of coup; it is one where they are seeking to replace the sitting government with a coalition majority that should be recognized in International Law. However, it is known that there are "power players" behind the scenes that have been actively backing one side. The question is, which side?
Records have emerged after Judicial Watch filed a FOIA (freedom of info) request for details relating to why USAID give a George Soros group almost $5 Million for election-based projects.
According to Judicial Watch:
The Macedonia organization, part of George Soros' Open Society Foundations, received nearly $5 million from USAID from 2012 to 2016. The lawsuit was filed in the U.S. District Court for the District of Columbia (Judicial Watch v. U.S. Department of State and the U.S. Agency for International Development (No. 1:17-cv-00729)).
A recently formed political group called Stop Operation Soros (SOS), which calls for "free-minded citizens," regardless of ethnicity or religion, to join them in the "fight against one-mindedness in the civil sector, which is devised and led by George Soros,"
Nikola Srbov, co-founder of SOS and a journalist held a press conference where he stated:
"We've witnessed the takeover of the entire civil sector and its abuse and instrumentalization to meet the goals of one political party. That is unacceptable and goes beyond the principles of civic organizing," Srbov said at the press conference.
"The Open Society Foundation, operating under the Soros umbrella, used its funding and personnel to support violent processes in Macedonia. It has monopolized the civil society sector, pushing outside any organization which disagrees with the Soros ideology," he stated.
 
A detailed report that highlights the many, many, operations Soros has underway in Macedonia is available from stopsoros.mk, it shows the sheer magnitude of involvement that the Open Society Foundation has in the Macedonian Democratic process.
 
Macedonia's Executive branch is presently headed up by the President Gjorge Ivanov, and the Prime Minister (acting), Emil Dimitriev, both members of the VMRO-DPMNE (Internal Macedonian Revolutionary Organization – Democratic Party for Macedonian National Unity), basically a Christian Democrat party. They have been in power for a while, and whilst appearing to be notionally a "progressive party", they seem to have annoyed the Soros and Globalist movement with one fatal error: they support Ukraine.
And this is likely to be their downfall. The Globalist Agenda has decided that the Ukraine should be part of the European Union and not have ties to Russia, and anyone who backs the opposite view is an enemy.
Free nations are no longer allowed to choose their destiny; all must be controlled by the Globalist Agenda. And woe betide any country that tries to use its democratically elected government to steer the ship against the Globalist tide. They will remove you, they will replace you, and the US government is right behind them.