by Ruby Henley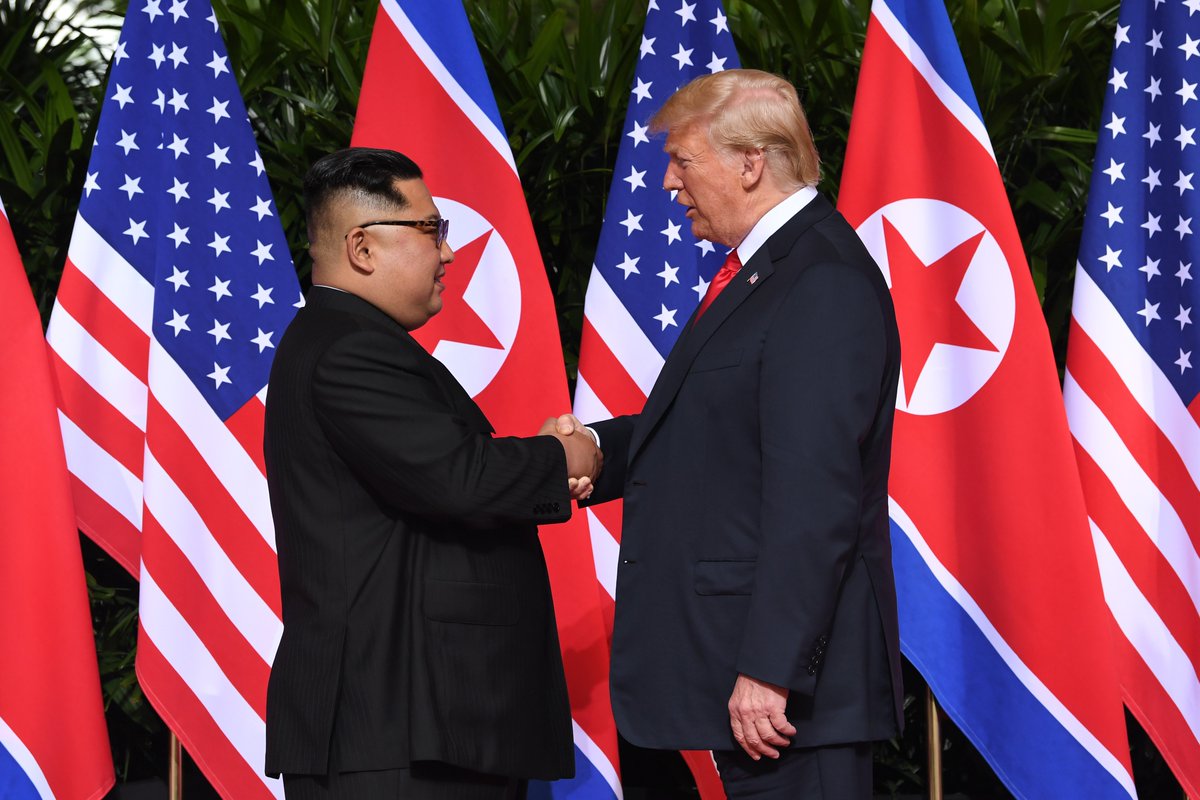 It is happening now.  President Trump and Kim Jong Un entered the beautiful Singapore resort separately, but soon after joined in a handshake that will be felt around the world.  History in the making – this very moment – positive history for the entire world.
While President Trump was at the G7 Summit, he represented the United States in a manner which should have made the American people proud.  However, the news media did nothing but downgrade him.
Now President Trump is sitting down in the beautiful Singapore resort talking and smiling with Kim Jong Un – the Hermit of North Korea.  Majestic!
I did an article on his visit to the G7 Summit, and I will link it here – it was an amazing Summit in President Trump's favor, but not according to the news media.  This is what he said about North Korea at the G7 Summit.
www.investmentwatchblog.com/president-trump-surprises-the-world-at-the-g7-summit-in-canada/
The road to the summit has been bumpy, with Trump pulling out of the summit last month after aggressive language from Hermit Kingdom.
"You talk about your nuclear capabilities, but ours are so massive and powerful that I pray to God they will never have to be used," he said in a letter to Kim.
Trump days later announced that the summit was back on but has remained only cautiously optimistic about how the historic meeting would pan out. On Saturday, he told reporters that while he was optimistic, Kim would only get one chance.
"It's unknown territory in the truest sense, but I really feel confident," he said. "I feel that Kim Jong Un wants to do something great for his people and he has that opportunity and he won't have that opportunity again."
"It's a one-time shot and I think it's going to work out very well," he said.
At the end of the presser, he said that the minimum he was hoping for was a relationship and a dialogue. When asked how quickly he will know if something good will come of the summit and if Kim was serious, Trump said he'd know very quickly.
"Within the first minute I'll know," he said.
As for what issues would be raised at the summit, Trump said everything will be on the table:
"We're going to raise every issue, every issue will be raised," he said.
I say, Bravo, President Trump!
What does Kim Jong Un need from the United States?
For years, North Korea has requested senior level meetings with the U.S., wanting desperately to establish diplomatic relations with Washington and reduce the U.S.-led maximum pressure economic sanctions regime. It has now gotten its wish, and President Trump has made it clear there is a path for North Korea to achieve great economic success in return for denuclearizing the Korean peninsula.
www.foxnews.com/opinion/2018/06/11/ex-cia-station-chief-why-north-korea-summit-matters-more-than-think.html
But as he prepares to meet President Trump, Kim no doubt has at least two key historical lessons at the forefront of his calculus.
First, Kim needs economic reform to survive, yet such reform comes – as the denouement of the Cold War and so-called "Arab Spring" have shown – with the risk of a loss of political control and the potential for complete regime collapse. The slightest crack in a ruthless totalitarian dictatorship's control – enforced in this case through Soviet-style gulags and massive repression – and people lose their fear of protest and revolt.
Yet North Korea's economy is in free-fall, relying on massive state-run corruption schemes, narcotics trafficking and counterfeiting operations to survive despite having significant reserves of coal, iron ore, zinc, limestone, minerals, and a well-educated yet cheap labor force at its disposal. Kim needs our help.
Second, Kim is wary of eliminating the nuclear deterrent, which made autocrats Saddam Hussein and Muammar Gaddafi vulnerable to regime change.So President Trump might be asking his negotiating team how the U.S. might address these concerns.
We should be on the lookout for interim steps and agreements designed to build mutual trust and set the stage for solving the more challenging, contentious issues. President Trump, for instance, might discuss negotiating a treaty to end the Korean War.
In conclusion, we should all be proud of President Trump and Kim Jong Un.  God bless them.
2,541 views