by Ruby Henley
There is so much to understand about the Las Vegas Massacre;  thus, this report will be lengthy and intertwined with many aspects evolving into the tragic event of October 1, 2017.   I am asking the reader to bear with me on my awkward path to what I perceive to be the truth, but it is only my theory after days of research.
I want to first start with the man at the center of the massacre, Stephen Paddock.  Paddock was an undercover agent, who had made his wealth in illegal arms deals in the Las Vegas area.  He was participating in what he felt was his usual type of role, similar to Fast and Furious.  Paddock had no idea himself that he would die as a patsy, covering up a war within a war.  
The Las Vegas massacre killed innocent people, mixed with crisis actors, in several places by multiple gunmen to cover up an assassination attempt on very important world figure.  This is my conclusion after much research and thought.
I want to direct your attention to the following video in which you will hear of "active shooters on the runway." They were everywhere, and this has been denied time and time again.  It was utter chaos, and if not for the multiple people, who have come forward to report this, it would have been covered up.

In truth the assassins were trying to escape and fled to the runway.  There was a chopper on the roof of the hotel, which took them to the airport for their final escape.  Those assassins were in Las Vegas, because Prince Mohammad Bin Salman was on an "under the radar" vacation, gambling, and enjoying the Western world's privileges.  He was originally staying in the Mandalay Hotel, but quietly changed to the Tropicana.  
Just who is Prince Mohammad Bin Salman?
 


en.wikipedia.org/wiki/Mohammad_bin_Salman
Mohammad bin Salman bin Abdulaziz Al Saud, or "MBS," is the Crown Prince of Saudi Arabia and First Deputy Prime Minister of Saudi Arabia. He is the youngest minister of defense in the world, and he is also president of the Council for Economic and Development Affairs. His father, King Salman, appointed him Crown Prince in June 2017, following his decision to remove Muhammad bin Nayef from all positions, making Mohammad bin Salman heir to the throne.
I will be referring to Prince Salman as MBS.  He is the Prince, who has just brought down many of those in authority in Saudi Arabia.  He put them under lock and key in the massive roundup that has rocked the world.  There are so many reasons and connections for this, it is a difficult story to tell.  However, I intend to try, and I will leave links.
In the below video, notice the man in the back of the team of armed gunmen.  He is wearing a white shirt, shorts, and sandals.  He is dressed in a casual way, as to disguise himself from the Saudi Prince he is.   



Published on Oct 2, 2017
A SWAT team is seen in this video entering the Tropicana after a shooting Sunday on the Las Vegas Strip. The video was shot from inside the hotel.
Courtesy Jay Paloma of Cerritos, who said he had just returned from a weekend in Las Vegas with friends.
 
In the following tweet, you will see those MBS put under lock and key in the Ritz-Carlton hotel in Saudi Arabia.  They were only allowed to sleep on mattresses to humiliate them, and some of them were injured in the event.  The Ritz-Carlton in Riyadh, the capital of Saudi Arabia, was used as a "jail."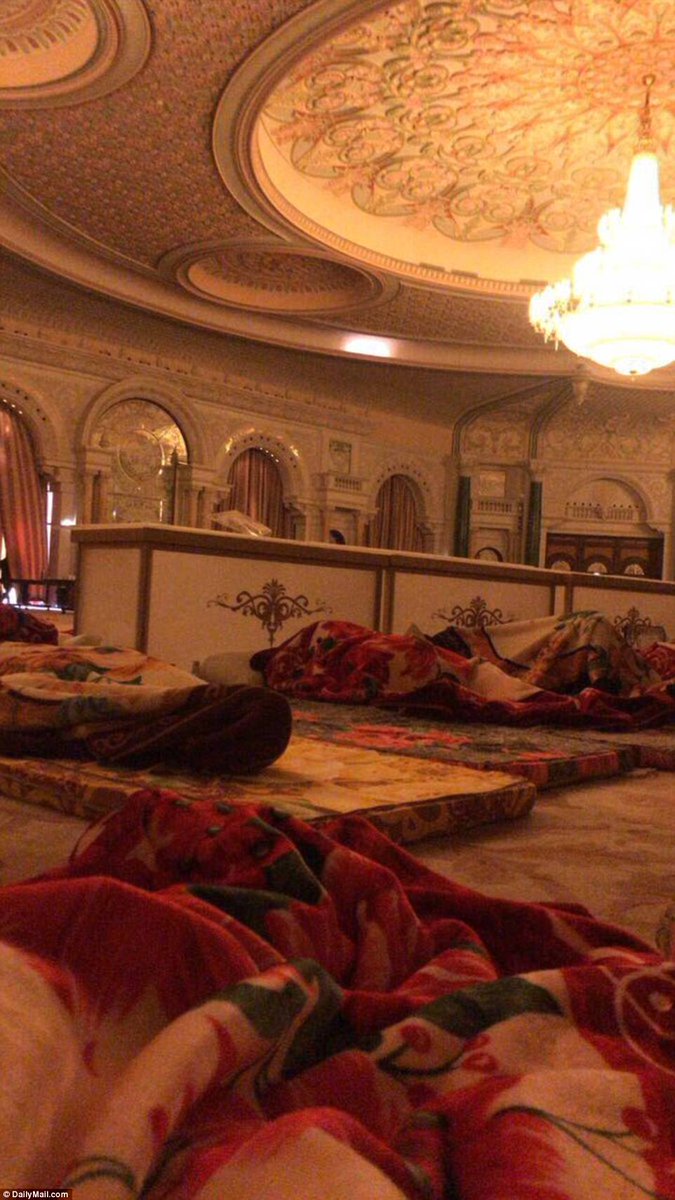 twitter.com/MichaelDelauzon/status/927769719460970496/photo/1
Steve Bannon of Breitbart reported, "I've got to tell you, for all the elites out in the world, the Party of Davos guys are sitting there today absolutely shocked. The largest financier in the Arab world, the Muslim world, is Prince Alwaleed. He's got stakes in just about every high-tech company. He's a huge partner of Rupert Murdoch. When he came to the United States back in the early nineties, he was actually a client of my firm as he got into Hollywood; he got into media. He owns a huge stake in Citicorp, he saved Citicorp from going bankrupt."
 
Now, who has ties to those, Prince Salman arrested?  Guess? One of those arrested was prominent billionaire Waleed bin Talal, a member of the royal Saudi family with deep ties to Barack Obama and Hillary Clinton. Prince Salman's anti-corruption committee arrests included bin Talal, ten senior princes, and dozens of ministers for corruption and money laundering charges.  Bin Talal is a shareholder of Citigroup, News Corp., and Twitter and was supposedly one of the richest men in the world.
This is how I view what Prince Salman has done, and, in fact, how I view the man himself.  I see him as someone who is moving forward to save his country economically and free future generations.  Some of you may not agree with me, and that is fine.  
The Prince is genuine, and a very forward young man.  His country cannot survive on oil revenues, as they are continually losing economically on oil.  The young people are bored, and their future will be a setback unless Saudi Arabia changes.  Salman wants to offer those young people a future of prosperity.  He wants his Country to move away from oil and become a center for the technical industry.
 
Now who would oppose this?  Guess?  Corrupt politicians, who favor the oil industry, are against this change Prince Salman is seeking.  However, President Trump supports Prince Salman in his move forward.
Crown Prince Mohammed bin Salman of Saudi Arabia is cleaning house. Many of them own stock in our largest co's and bribe our politicians. pic.twitter.com/eUvwcFkr8w

— The TRUMP PAGE (@MichaelDelauzon) November 7, 2017

I find the story behind what Prince Salman is doing to be so interesting.  It goes into the history of the Middle East, and the vast oil empire; but, much more it explains the wars fought there and why.
The history of fighting between Saudi Arabia and within Yemen has recently been inflamed by a missile attack reportedly from within Yemen upon Saudi Arabia.  It was intercepted by a Saudi anti-missile defense system, a U.S. supplied Patriot anti-missile system. The Saudis have new THAAD (Terminal High-Altitude Air Defense) anti-missile systems on order from the U.S. but have not yet received them.
The official Yemeni government has been at war with the Houthi rebellion inside Yemen since June 2004. The Houthi ballistic missile attack against Saudi Arabia from inside a rebel controlled area of Yemen is in retaliation for Saudi support of the Yemeni government. The Saudi support of the Yemeni government began in 2015.
On October 27, 2017, the Houthi's claimed to have shot down a Royal Saudi Air Force Eurofighter Typhoon multirole aircraft over the Yemeni capital city of Sana'a. It was the second time the Saudis lost a Typhoon over Yemen during Operation Decisive Storm, the Saudi-led air campaign against the Houthis inside Yemen.
Arab news outlets report a similar missile strike was launched from Houthi controlled territory toward Saudi Arabia on October 30. The missile fell far short of its intended target in Saudi Arabia, landing inside Yemen after a possible malfunction.
This conflict is deeply rooted in religious conflict which is the basis of war within the Middle East, and it is used by many, who seek to use that war for their own means.
www.newsweek.com/struggle-between-sunni-and-shia-muslims-explained-291419
 
The following links further explain the history of the Middle East, and why Prince Salman is acting in the way he is.
www.newyorker.com/news/news-desk/saudi-arabias-game-of-thrones
 
www.bloomberg.com/view/articles/2016-01-07/saudi-arabia-has-bigger-problems-than-iran
 
www.huffingtonpost.ca/2016/04/25/saudi-cabinet-approves-plan-outlining-reform-priorities_n_9770920.html
 
I am also going to list a link about the alleged information on the 9/11 attack that shook America.  It is possible that the old guard which has been removed from Saudi Arabia by the Prince was involved in that attack.  I am only speculating on that, and you should take it as that.
anonhq.com/judge-cleared-saudi-arabia-orders-iran-pay-10b-sept-11th-victims/
 
In conclusion, this theory of the Las Vegas massacre and attempted murder of Prince Salman, is mine only.  I have done my best to back it up with materials and sources, but it cannot be proven.  There are so many different stories we will probably never really know the truth.  I accept that one reason we will never truly know, in fact,  lies in the best of intentions and secrecy of the law officers and those agencies, who police this country and the world.  
You may not agree with that, but in truth without our law enforcement agencies, we would live in a more chaotic world than we do now.  However, at this time we are witnessing a war within a war.  Not only are the law enforcement agencies caught in the cross hairs, but so are the American people, just as were those innocent concert goers in Las Vegas.
I now believe that those innocent people could have been a mixture of the unsuspecting and actual crisis actors.  I believe people lost their lives, and it was a horror that will manifest itself in witnesses for years to come.
The Deep State is a global force, and it is destroying the world we live in.  It expands to all parts of the globe, and President Donald Trump is a victim.  However, we are all victims living in a global society of chaos and deception, which is being manipulated by the Deep State.