by Umar Farooq

Stagflation happens when the economy experiences stagnant economic progress, high unemployment, and high inflation. It's a rare situation. A slow-moving economy usually reduces demand enough to keep prices from rising. As workers get laid off, they buy less. As a result, businesses lower prices to attract whatever customers remain. Slow growth in a normal market economy prevents inflation.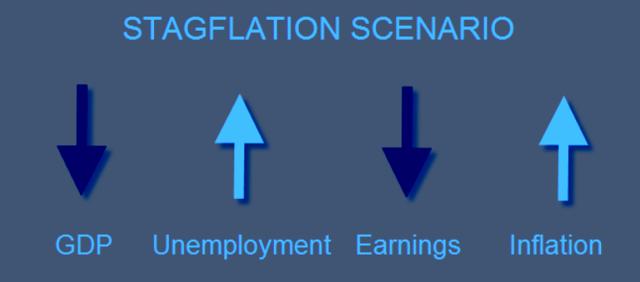 Source: goo.gl/BrCJoO
There are numerous signs of weak economic growth combined with rising inflation pressures right now, which is fairly suggestive of the 1970s stagflation; a milder form of stagflation may happen.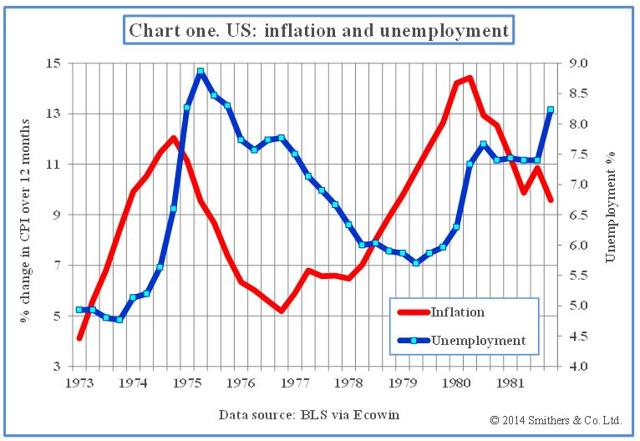 Source: goo.gl/BrCJoO
According to Kevin Wilson, "the inference of incipient stagflation is based on several lines of evidence. For example, in recent months,
GDP growth has declined simultaneously with gradually rising (but still low) inflation.

Furthermore, the markets expect yields to continue to climb.

The Philly Fed's Index of Leading Indicators implies further weakness in GDP growth in the months to come.

The rising US dollar is likely to keep downward pressure on GDP growth going forward, assuming the trend continues.

There has also been a decline in the utilization of chemical capacity

A 5% decline in railroad traffic.

Finally, the sharp increase in the spread between productivity and unit labor costs observed back in 2010 set up the conditions for stagflation that were last seen in the 1970s.

Conditions have improved only slightly for these parameters since then, in spite of a recent surge in wages and a relative decline in the rate of productivity growth".
"Nevertheless, if oil prices and other commodity prices were to spike, or President-Elect Trump's proposed tariffs and trade restrictions actually come to pass, but his infrastructure and tax plans are delayed, the situation could worsen rapidly. Assuming that this turns out to be the case, a recession might accompany the onset of stagflation, much as it did in the 1970s." according to Kevin Wilson
Mr. Trump's tax cuts and spending plans could see the US credit rating cut if they blow out the budget too greatly. Furthermore, his idea of raising tariffs could spark a global trade war that not only raises the prices of imports into the US but also hurts exports of US-manufactured goods and weakens world economic growth.
"Inspite of all this, many would hope that President-Elect Donald Trump's stimulus plans will stimulate the growth well enough to keep the doom and gloom away from markets. However, his infrastructure spending plan seems likely to have a delayed impact, and his supply-side tax cuts will also require time to have an impact. "On the more positive side of things though, Trump's deregulation efforts actually seem likely to bear fruit almost immediately, and could serve as a boost for some sectors of the economy. Obviously, this will all become clear in the fullness of time. In the interim, the uncertainty about policy and the weak economic trends suggest a certain amount of caution in the year ahead." according to Kevin Wilson