July 06, 2017Today John Embry warned King World News that things are rapidly deteriorating for Western central planners.
Things Are Rapidly Deteriorating
John Embry: "Eric, I think investors should be getting very concerned at this point as the market manipulation has been almost fanatical recently, suggesting that things behind the curtain are deteriorating at a rapid rate…
John Embry continues: "The preposterous comments coming from central bankers globally suggests that moral suasion or outright mendacity is the only thing they have left to underpin the public's confidence in their system. A good example is my home country of Canada. The recent statements emanating from our central bank suggest that the worsening impact of the falling oil price has been absorbed and the economy is now strong enough to handle higher rates. From my perspective, by far the only strong aspect of our economy is an out of control real estate boom, which, not surprisingly, is dependent on minimal interest rates. However, the market ignored the fundamentals, believed the rhetoric, and the Canadian dollar has strengthened noticeably. However, perhaps this says more about the U.S. dollar, which the IMF recently said was overvalued by between 10 percent and 20 percent. The IMF cited overstated economic numbers and a disturbing debt buildup.
"It's unequivocal now: We are taking money from the new employees and using it to pay off this liability for the old employees…"
From PM Fund Manager Dave Kranzler:
"It's unequivocal now: We are taking money from the new employees and using it to pay off this liability for the old employees," said Turner, a Gov. John Hickenlooper appointee. "And some might call that a Ponzi scheme." – Denver Post, 6/27/17
The people in Denver who bother to read the news, especially the ones who are or will be dependent on the Colorado public employees pension fund (PERA), were greeted with a shock Tuesday. PERA is now admitting to be 42% underfunded, down from an alleged 38% underfunding last year.
How on earth is it possible for the underfunding of a pension to increase during a period of time when the Dow, S&P 500, Nasdaq and fixed income markets are hitting or are near all-time highs?
And what about the valuations of these funds using realistic mark to market prices for the illiquid assets, like private equity, commercial real estate and OTC derivatives? Harvard University is about to sell its private equity assets. My bet is that the value received will be covered up as much as possible. And we'll never know where the fund was marked on its books. But judging of the failure vs. expectations of the SNAP and Blue Apron IPOs, private equity investments are likely over-marked on the books by at least 15-20%. A market to market here would devastate the stated funding levels of every pension fund.
It's not just Illinois, which is de facto bankrupt, and the Connecticut State pension fund, which is also de facto insolvent. Nearly every State's pension fund is severely underfunded, as well as most private funds.
Back in the 1950s when GM had 50% of the auto market they always said that, "As General Motors goes, so goes the nation."
That was obviously a tribute to GM's economic muscle and its role as the driver of growth and rising living standards in post-war America's booming economy. Those days are long gone for both GM and the nation. GM's drastically reduced 20% market share of U.S. light vehicle sales in June was still an economic harbinger, albeit of a different sort.
GM offered a record $4,361 of cash incentives during June. That was up 7% from last year and represented 12% of its average selling price of $35,650 per vehicle, also a record. But what it had to show for this muscular marketing effort was a 5% decline in year-over-year sales and soaring inventories. The latter was up 46% from last June.
My purpose is not to lament GM's ragged estate, but to note that it — along with the entire auto industry — has become a ward of the Fed's debt-fueled false prosperity. The June auto sales reports make that absolutely clear.
In a word, consumers spent the month "renting" new rides on more favorable terms than ever before. But that couldn't stop the slide of vehicle "sales" from its 2016 peak.
In fact, June represented the 6th straight month of year-over-year decline. And the fall-off was nearly universal — with FiatChrysler down 7.4%, Ford and GM off about 5% and Hyundai down by 19.3%.
The evident rollover of U.S. auto sales is a very big deal because the exuberant auto rebound from the Great Recession lows during the last six years has been a major contributor to the weak recovery of overall GDP.
In fact, overall industrial production is actually no higher today than it was in the fall of 2007.That means there has been zero growth in the aggregate industrial economy for a full decade.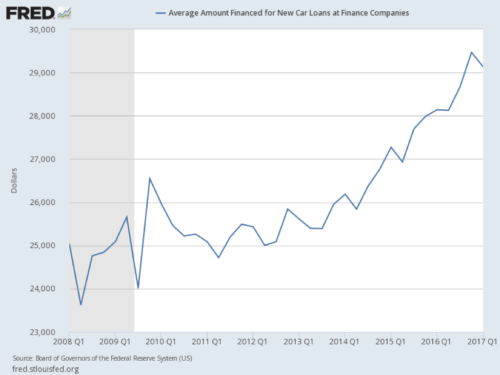 CHINA'S debt bubble and slowing growth in the US threatens to be a recipe for disaster, the head of the International Monetary Fund has warned.
Very low interest rates are another big risk facing the global economy, according to Christine Lagarde.
Despite improving growth across the world, the IMF chief stressed that a number of issues could blow-up the fragile recovery.
Ms Lagarde urged world leaders at the G20 summit not to be complacent.
She wrote in a blog post: "Left alone, this constellation of concerns could be a recipe for sudden financial distress, when the world's economies also continue to struggle with several longer-term problems.
"Think of excessively high economic inequality, low productivity growth, population ageing, and gender gaps.

Deja Vu, Well you knew that anyway as everything has been papered over and just merely swept under the rug in the smoke and mirror filled room. The whole everything bubble is truly 'Unsustainable'! be prepared.

Hedge funds that built up bullish long-end Treasury wagers to the highest outright level since 2008 are rushing for the exit as a government bond rout that started in Europe following a weak French debt auction is spreading to the U.S. market.
Thirty-year yields surged as much as seven basis points Thursday to 2.92 percent, breaching both 50- and 200-day moving averages. Open interest in September long-bond futures has dropped by around $3.7 million since June 28 in dollar-value per basis point move, or DV01, terms, a sign bulls are starting to liquidate positions in the sector. Speculators in recent weeks were the most bullish on 30-year Treasury futures on a net basis this year, according to Commodity Futures Trading Commission data.
The recent selloff is a sign of more pain to come for Treasury bulls, according to DoubleLine Capital Chief Executive Officer Jeffrey Gundlach, whose firm oversees $109 billion and said a year ago that yields had hit bottom. With a Federal Reserve seemingly committed to raising interest rates a third time this year and speculation the European Central Bank could announce a tapering of bond purchases by the end of the year, the fundamentals aren't encouraging. As yields are now approaching key technical marks that could trigger a fresh flush out of long-end bulls, the risk is building that Treasury yields go even higher.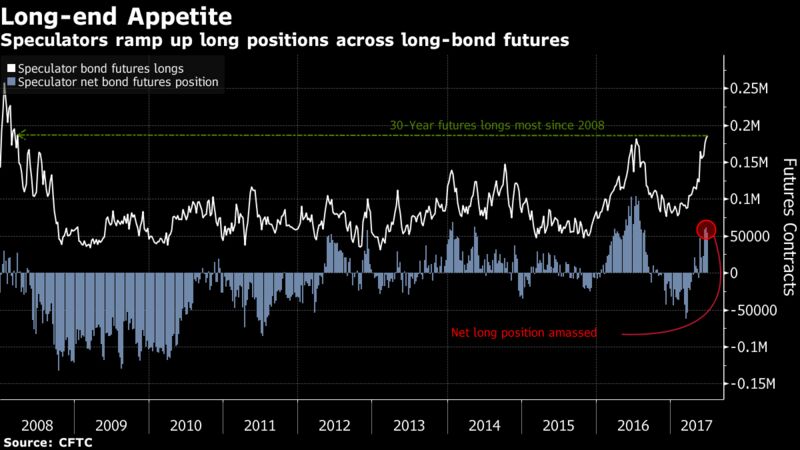 Economic Collapse Financial News (JULY 05th , 2017)
www.youtube.com/watch?v=UjinBRImQVE&feature=youtu.be
Bonus:
Unlike in 2008, the culprit isn't low-quality subprime mortgage debt, but sovereign bond markets. Central bank purchases of government paper reduce yields …
TOKYO (Reuters) – Japan's corporate tax revenue fell to 10.3 trillion yen ($90 … Half of the excess cash must be spent to pay off debt under Japan's budget rules.
Telegraph.co.uk
–
21 hours ago
France is "dancing on a volcano" of chronic state overspending and debt, its new … Last week France's independent auditor revealed a more than €8 billion ..
Telegraph.co.uk
–
8 hours ago
The number of graduates who fail to clear their debt before it is written off has … the Government will foot the bill for £5.9 billion per year of unpaid student loans,
Argentina 2017 inflation seen at 21.6 percent, above central bank target … to 17 percent, a poll of 54 economists published by the bank showed on Tuesday.
SEOUL, July 5 (Yonhap) — South Korea's national debt as measured in outstanding state bonds issued exceeded 950 trillion won (US$826.2 billion) last month, …
DesMoinesRegister.com
–
14 hours ago
Iowa's public employees' pension funds face billions of dollars in long-term unfunded liabilities and state lawmakers are planning to review whether they are still …
Rep. Noel Campbell, R-Prescott, wants these meetings with the committee he is chairing to educate the public on the pension issue. However, most of those …
Meanwhile, health care costs were outpacing the general rate of inflation long before the the ACA or Obamacare became law, and are projected to continue to …
Views: