via Elena Popina and Lu Wang
Rarely does a day go by in the U.S. stock market without someone decrying its addiction to gains in the FANG bloc of tech megacaps.
Now, in the middle of earnings season, their support has gone missing, and the result has been something less than a catastrophe.
Not that it was a banner week. The S&P 500 Index ended where it started, and the Nasdaq 100 — home of Facebook Inc., Amazon.com, Netflix Inc. and Google parent Alphabet Inc. — slipped from a record. But with trade tweets popping off all over the place and a currency war brewing, anything short of a rout could be claimed as a victory by the bulls.
For the five sessions, the S&P 500 rose less than a point to 2,801.83. The Dow Jones Industrial Average added 39 points to 25,058.12. The Nasdaq 100 lost 0.4 percent to 7,350.23. Indexes of small caps climbed, and the Cboe Volatility Index ended below 15 for a third consecutive week.
By far the biggest blowup of the earnings season has come from FANG constituent Netflix, a hit that tech investors never quite got over. With Alphabet, Facebook and Amazon all due to report next week, concern is growing that hopes for group may have finally outstripped what they will realistically be able to deliver.
"Expectations have been set so high and valuations are so rich, no wonder people are worried," said Chad Morganlander, portfolio manager at Washington Crossing Advisors. "Tech megacaps are doing fine, but the positive story is all priced in. There is concern about peak earnings, there is concern about what the trade war will do to the index of high-growth, high-multiple companies."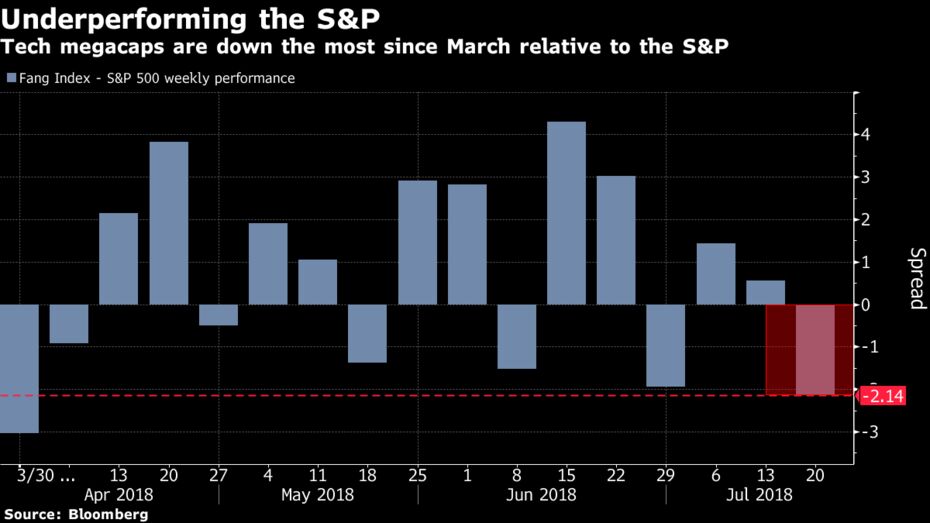 Netflix plunged the most in two years after its subscriber growth fell short. Alphabet slipped after Google received a record $5 billion fine in Europe. All told, the bloc retreated 2.1 percent. The gap to the S&P 500's performance was the widest since the week of March 30, when Facebook's data breach scandal left the FANGs reeling and the broader index intact.
Despite that, most investors were willing to see the glass as half full and celebrate a market where measures of breadth are improving and no single company seems capable of spoiling the party. While they slipped over the five days, both the Nasdaq 100 and and an equal-weight version of the index, one that strips out market-capitalization biases and gives the same influence to Apple Inc. as Ulta Beauty Inc., touched all time highs.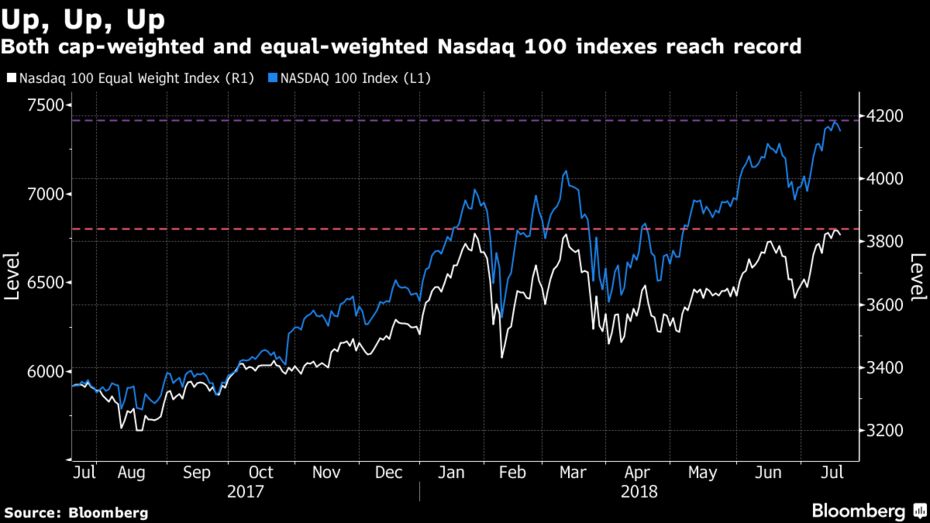 Obviously, FANG weakness may prove nothing more than a breather after they rallied at three times the pace of the broader tech index this year. Going long the group has been the market's most-crowded trade for the sixth months, according to a survey of fund managers by Bank of America Corp.
"The FANG group of stocks can still drive the entire market higher, but nobody said it would be a straight line," said Walter Hellwig, senior vice president at BB&T Wealth Management. "Even some of the strongest companies out there need to take a pause. That doesn't mean that their rally doesn't have more room to go."
The group's revenue is expected to increase an average 36 percent in the second quarter, 4 times the growth rate of the S&P 500, data compiled by Bloomberg show. An index tracking Facebook, Amazon, Netflix and Alphabet is up 42 percent this year, compared with a 4.8 percent gain in the S&P.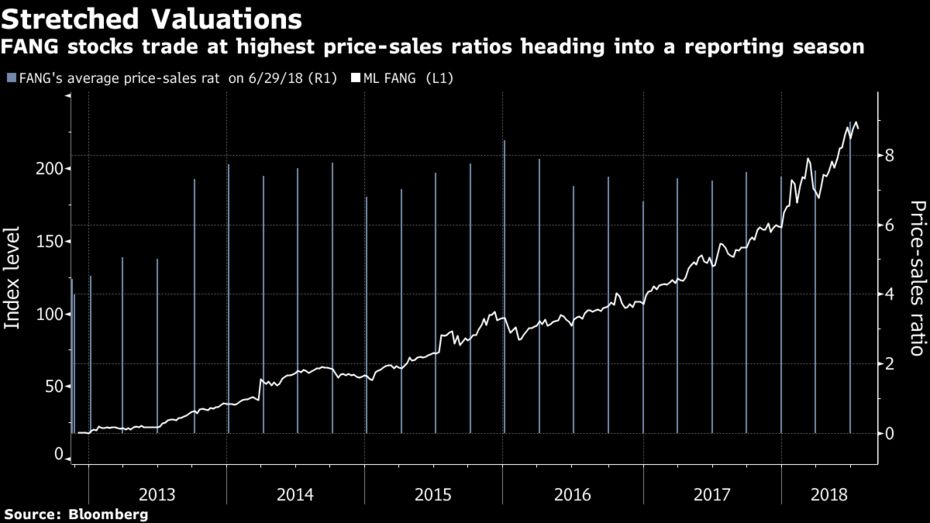 But the seemingly invincible rally has pushed the stocks to some of their highest valuations on record. At roughly 9 times sales, they've never been so expensive heading into any reporting season since Facebook's initial public offering in 2012.
Twelve of the 71 tech firms in the S&P have released results, with each reporting earnings that exceeded expectations. The 35 percent profit growth tech companies have posted on average so far is the fourth-highest in the S&P after energy, materials and consumer-discretionary stocks. Every tech firm but two came in with better-than-expected top-line growth.
But that has done little to impress investors, at least so far. Tech stocks have dropped 2.7 percent on average the day after reporting, the most among main S&P sectors.
Concern about the high-growth, high-multiple industry are widespread. Chris Senyek, chief investment strategist at Wolfe Research, urged investors to exit Facebook, Apple, Amazon, Netflix and Alphabet amid concern the rally has made valuations overstretched.
"The risk-reward in high-momentum stocks is highly skewed to the downside," Senyek wrote in a note this week. "If a trade war unfolds, we'd expect another drawdown in the market with the highest P/E momentum names materially underperforming."
****
Is it time for bearish option plays on <MSFT> for 2019??
Anyone thinking $MSFT trajectory is not sustainable? pic.twitter.com/v7CHyJt0DO

— Alastair Williamson (@StockBoardAsset) July 20, 2018
623 views