by Umar Farooq

We are quickly approaching to the Fed's first double-rate-hike-in-3-months since 2006. Investors are focusing on the two-day Federal Open Market Committee meeting that will kick off today. The Fed will release a statement, along with new economic projections, at 2 p.m. Eastern on Wednesday, followed by a news conference hosted by Fed Chairwoman Janet Yellen. But investors will be eager to glean signals about the timing and pace of future rate increases from the FOMC's policy statement.

Yellen said the Fed would raise interest rates at its March meeting barring any unexpected downward surprise. With the release of a better-than-expected job report earlier Friday, economists said the last hurdle for a rate hike had been cleared.

"This meeting is not really about whether the Fed hikes. That's a foregone conclusion. What's most important is the signal that they give about further rate hikes this year," Luke Bartholomew, an investment manager at Aberdeen Asset Management, wrote in a note. "We are getting to the stage where four hikes this year could be on the cards. But investors have only just got used to the idea of three so Yellen is going to have to be careful what signal she gives or she risks markets wobbling,"

The news of anticipated rate hike has started to ring alarm bells across several asset classes. After price appreciation over the past year, U.S. exchange-traded funds that invest in speculative-grade corporate bonds have started heading south this month. The iShares iBoxx dollar high-yield bond ETF has reversed all of its 2017 gains, having slipped from an historic high on Feb. 27. Meanwhile, the equivalent high-grade ETF is also now lower year-to-date, albeit having achieved less prior upside performance and still well off its July 2016 high.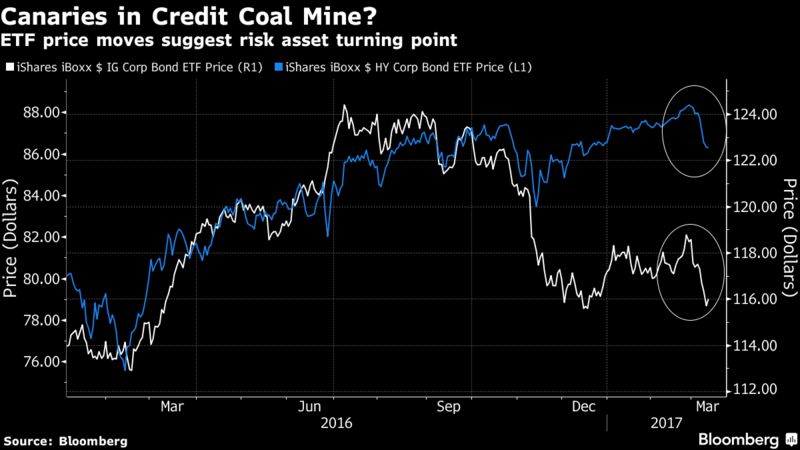 Source: bloomberg

Amid all this talk about rate hikes, participants in this month's BofAML Credit Investor Survey developed significantly more bearish views toward high yield valuations. The net proportion of investors expecting wider spreads one year from now jumped to 76% from the previous 23% in the January reading. This figure represents the greatest proportion of investors that expect wider spreads since May 2006, when high yield was trading at just 288bps. Moreover, a net 85% of investors now find spreads overvalued compared to 67% in January, the highest figure since April 2007. This bearish sentiment has caused investors to shift toward a net underweight stance on high yield (net 12% underweight), the first time a majority of respondents have been underweight since 2008.



Source: zerohedge

Notably US Fiscal Policy is rapidly rising as the biggest concern for credit investors.



Source: zerohedge
In short, as Bloomberg's Simon Ballard notes, given the current backdrop of political uncertainty on both sides of the Atlantic and skepticism about whether a growth rebound can last absent stimulus, risk appetite seems to be wavering. It will be further tested if efforts by central banks to quash future inflationary pressure, resulting from loose monetary and fiscal policy, end up choking economic growth.