by Phil

I love a good short!
As you can see from the Fed's own GDP forecast, Q1 expectations are now down to 0.9%, down 0.3% from just last week on weaker than expected Consumer Spending Growth which went hand-in-hand with weaker than expected Retail Sales Reports.
Nonetheless, on the same day the Fed was releasing a 25% downgrade to our GDP, they also chose to raise rates 0.25% and the market went crazy and rallied us all the way back to our highs, which you would think we'd be upset about but now we can (
as I noted to our Members this morning
) put on the following shorts:
Dow Futures (/YM) at 2,100
S&P Futures (/ES) at 2,390
Nasdaq Futures (/NQ) at 5,440
Russell Futures (/TF) at 1,390
These are dangerous plays and we need to be mindful that the markets are very irrational and could go higher so if any two are over the line, it's a no play.  At the moment, on the Nasdaq is at the line so that's our short for the moment (and we also have Nasdaq Ultra-Short ETF (SQQQ) as a hedge,
see yesterday's post
).  Those contracts pay $20 per point and a 25-point move in the Nasdaq is a big day so $500 would be a nice win but $250 is just fine on a pullback if the markets aren't looking too weak.
If the Futures start heading lower we begin using a strategy called "shorting the laggard" where we wait for 2 of the 4 indexes to cross below the next support and then short the others with tight stops (and out if either of the first two go back above).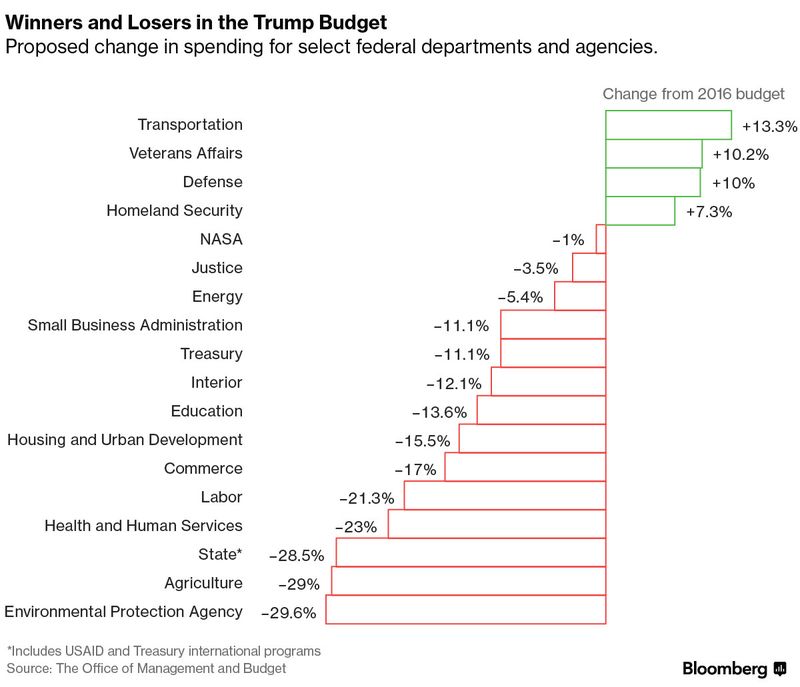 Aside from the Fed's downgrade to our overall GDP, we're very concerned with the effect Trump's Budget will have on the market as these spending cuts are effectively money that will come straight out of the economy and, as you can see from this chart, it's impacting every sector but Defense/HomeSec/Veterans and Transportation and before you get excited about Transportation – that's the wall-building budget!
This is not austerity because the goal of austerity is to SAVE money but Trump's budget also gives out over $600Bn worth of tax breaks to people in his tax bracket (just looking out for the common man!) and, of course, Defense is more than half of all discretionary spending so a 10% increase in Defense alone requires 10% cut from ALL the other agencies just to cover it.  It is a good idea to beef up Homeland Security though, since President Trump has stirred the pot and angered the terrorists, effectively goading them to attack us – which would then prove the need for more security, etc – good strategy!
Now that the Fed is out of the way, we can focus back on the wobbly Global Economy as well as Q1 earnings, which are right around the corner already.  So far, no good, per the Atlanta Fed's forecast, that GDP outlook was 3.5% in January, when the Dow was at 20,000 (down 1,000) and the S&P was at 2,280 (down 100) so the reality of the economy is falling very, VERY far short of the expectations yet dumb money keeps flying into the market as retail investors fear they are missing something – just like they do at every great market top!  
651 views