The rising wages also give employees a greater share of the productivity gains achieved by adding many robots to Amazon's warehouses.
The rising wages for warehouse workers is a financial problem for Jeff Bezos, whose Amazon retail empire employs a reported workforce of roughly 300,000 employees. Trump is limiting the supply of imported workers, so Bezos and other warehouse employers are being pressured to raise wages for their huge workforces.
For example, Amazon is offering $15.50 per hour for new workers at its Brisbane, Calif, facility, FexEx is offering starting pay of $13.75 to $15.25 in Rogers, Minn., and United Natural Foods is offering $14.75 starting pay in Mongomery, New York.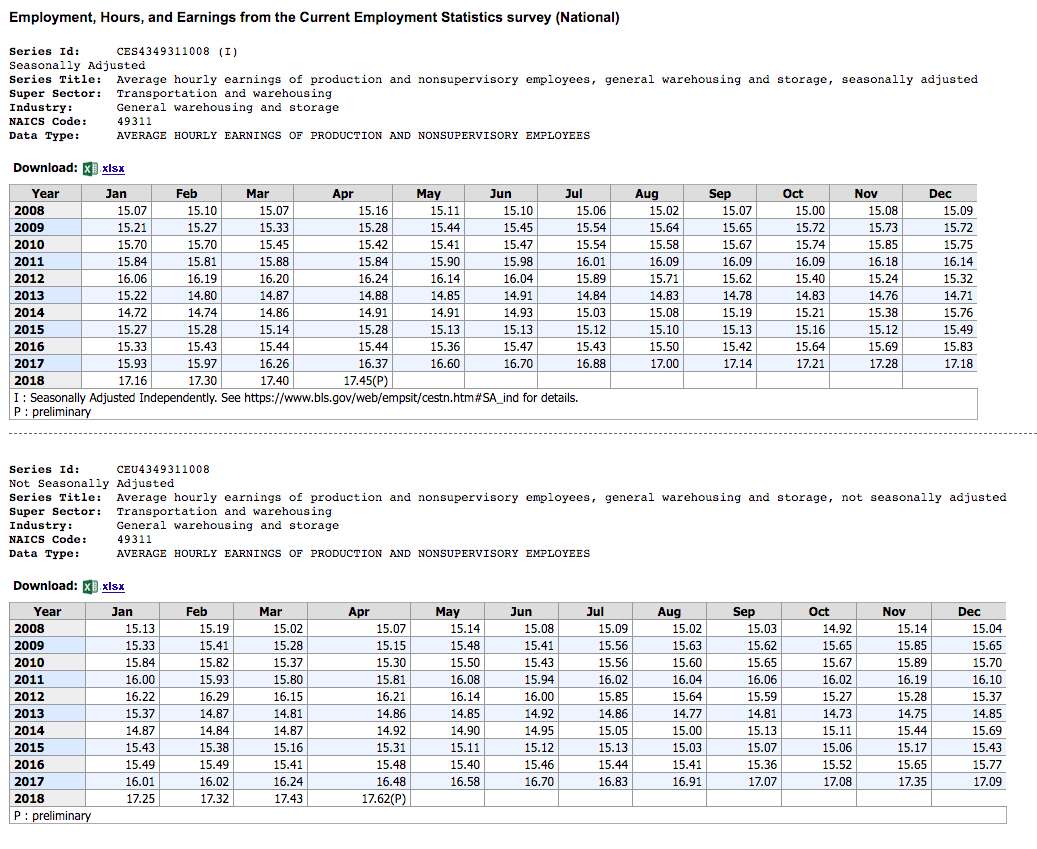 The sector is huge. The number of employees in this category rose from 762,000 in January 2017 up to 799,000 in April 2018.
Amazon's blue-collar wages are also a journalistic problem for any white-collar reporters at the Washington Post who cover immigration policy.
The reporters already face intense professional and corporate pressure to protect business' access to cheap imported labor. For example, the newspaper's editorial board has penned many editorials in favor of the DACA amnesty and of continued mass immigration, and it has panned Trump's lower-immigration policies which are forcing employers to compete for the existing pool of employees.
Most reporters at the Washington Post ignore the economics of immigration and instead cover immigration via the elite-left racial and ethnic perspective. For example, in March, a Washington Post report echoed claims by the meatpacking industry that its apparent shortage of workers could be fixed by greater immigration instead of by offering higher wages to Americans and recent legal immigrants;
Asked whether his labor shortages have been exacerbated by the Trump administration's immigration policies, JBS spokesman Cameron Bruett said the company was "proud to offer jobs to any qualified individual authorized to work in the United States."

"The Administration has made a concerted effort to grow the economy and help businesses thrive through tax reform and a common-sense approach to regulation," Bruett said in a statement. "We believe it will adopt a similarly pragmatic approach to workforce availability in agriculture and other labor-dependent sectors."

It was an acknowledgment that a remedy for the labor shortage — "workforce availability" — would come from abroad.
Similarly, a June 3 Washington Post report described Florida GOP Rep. Carlos Curbelo as a "moderate" before quoting him saying that immigration policy should serve the interests of business groups, not of Americans. "The party should stand for an immigration system that complements our economy," he said. 
However, salaries for white-collar workers are also being pushed down by nation's policy of growth via mass-immigration.
For example, Bezos' Amazon company has asked the federal government for visas to hire 9,000 foreign college-grad H-1B workers since 2014. Amid the competition from other CEOs for shares of the 100,000 new H-1B workers each year, Bezos likely got one-third of his request for 9,000 foreign college-grads.
Amazon also hires foreign college-graduates via the "Optional Practical Training" program.
www.breitbart.com/big-government/2018/06/06/trump-bumps-wages-for-jeff-bezos-warehouse-workers/
www.breitbart.com/big-government/2018/06/06/trump-bumps-wages-for-jeff-bezos-warehouse-workers/
Views: