by Ruby Henley
Update to the report:  investmentwatchblog.com/billy-jack-haynes-retired-professional-wrestler-speaks-out-drug-running-and-hit-jobs-for-the-clintons/
This is the story of a mother, Linda Ives, who lost her son to an evil in Arkansas, which has long been a darkness over that land .  Even in her continual fight for answers in the murder of her son, Kevin Ives, the wall has been impenetrable.  Every step she has taken, has led to a step backward until now.  
The story is also one of a broken down wrestler and drug runner, who says he was a witness to the murders of Kevin Ives and Don Henry.  Allegedly he was there on August 23, 1987 when these two innocent souls were hit by a train, which dismembered their bodies.  However, the boys had been stabbed and beaten before they were placed on the train tracks.   
How did this evil fall upon two friends on a summer's night in Arkansas?  Unfortunately it is believed they came upon a drug drop, and according to Billy Jack Haynes, they did.  
"I come with no mask, I come with no hidden voice," said Haynes in a video. "I come to you straight face-to-face because this is reality, man."
Haynes said he was compelled to come forward after the shooting death of Seth Rich, who was an employee of the Democratic National Committee. Many have connected Rich's death as well as "The Boys on the Track" to the "Clinton Body Count" theory.
You ask, where are the facts? They lie in a darkness so well hidden only God can shine the light upon them.  But never rule God out, for miracles do happen in this world gone mad.  I am praying for a miracle for Linda Ives and hopefully a soul redeemed in Billy Jack Haynes.  
The former wrestler explained that he used to be a drug trafficker and a hired enforcer during the 80s and was introduced to a "politician drug dealer from Arkansas."  You and I know who he is speaking about…allegedly Bill Clinton.
The following email from Linda Ives in her quest for justice in the murder of her son speaks volumes with facts.
www.zpub.com/un/traindeath.html
I have never claimed any direct connection between Clinton and my son's murder, however, his fingerprints are all over the case.
The state crime lab director is appointed by the governor and serves at the will of the governor. At the time of the boy's murder, the director's position was vacant. Three department chiefs, Ken Michau, head of toxicology; Ralph Turbyfill, who I believe was head of latent fingerprints and; Bear Chandler (I've forgotten his department) were designated by Clinton to be the "acting directors. When Steve Cox, who was the crime lab's trace evidence expert, found cuts in both of the boy's shirts, he wanted to do further testing to determine whether or not the cuts in the shirts matched any of the wounds on the boys' bodies. Cox received a memo from the acting directors stating that no further testing was to be conducted because the crime lab was "going to back Malak's ruling". This information came from Cox's grand jury testimony. In fact, Cox left the Arkansas state crime lab and moved out of state. I do not believe that the acting crime lab directors would have made the decision to stop Cox from doing his job without orders from above. The only person they answered to was Bill Clinton.

For 5 years Clinton steadfastly defended Fahmy Malak (medical examiner who ruled the boys deaths accidental) despite a huge public outcry for his dismissal and even recommended a 41% salary increase in his salary.

Understanding that Malak was a definite liability and problem for his presidential campaign, when Clinton decided to run for president Clinton's office participated in "negotiations" to create a new position for Malak in the state health department despite a hiring freeze. Then when the "negotiations" were exposed in the media, Clinton lied about his involvement, which was also exposed and loudly protested to no avail.

An FBI agent told us that the State Democratic Party Chairman, Lib Carlisle, called the state capital to call of the state police investigation of the boys' murders.

Don Birdsong was the state police investigator in charge of the case in 1989. If you have looked at much of the website, you know that, in my opinion, the ASP investigation was a sham. Birdsong withdrew from the case and was appointed Arkansas State Police liason to Clinton's office.

Robert Shepherd, appointed by Clinton as the state drug czar, interfered with three separate investigations of the boys' deaths. He tried to convince the U.S. Attorney's office that Jean Duffey was "crazy"; He warned John Brown to back off the case and; he attempted to intervene in the FBI investigation.

I was placed on Clinton's "enemies" list and, in fact, singled out by White House Counsel Mark Fabiani to reporter Phil Weiss who wrote the New York Times Magazine article, "Clinton Haters". The "Mainstream Conspiracy Commerce Report" was a Why was I important enough to even be on the list, much less be singled out to reporters???? Phil Weiss' conclusion was much like mine — I am not a conspiracy nut out to get Bill Clinton — I have a legitimate complaint about the handling of my son's murder case.
Although Clinton My agenda has never been to "get" Bill Clinton — The only persons I am interested in "getting" is my son's killers. Likewise, I also cannot ignore the obvious connections he has to the case.
Kindest regards,
Linda Ives
linda@idmedia.com
Tuesday, October 12, 1999



PICTURE TAKEN FROM www.sott.net/article/353121-Murder-in-Arkansas-The-lawsuit-that-could-sink-the-Clintons
You can see the portrait in the picture above of Linda Ives and her deceased son, Kevin Ives.  No mother should have only a portrait of a child she brought into this world.  No mother should be unable to receive the documents and information connected to the murder of her son.  What force of injustice is she fighting against?  
The force of injustice in this world has built a wall so strong man cannot penetrate it alone.  Jesus Christ is ready to bond with man to destroy that wall!  So all Luciferians get ready to rumble.  It is time.
When God propels a man like Billy Jack Haynes to step forward with a woman like Linda Ives, this is Jesus Christ in action.  Make no mistake about it, these two human beings are a force to be reckoned with…on a mission of intensity like no other. Heaven and earth are coming together to right a wrong for two boys on those Arkansas train tracks.  
Linda Ives believes what Billy Jack Haynes is saying with no bitterness against him.  She sees him as a man trying to redeem himself after years of crime.  She sees in him justice for her son.
www.sott.net/article/353121-Murder-in-Arkansas-The-lawsuit-that-could-sink-the-Clintons
"After nearly thirty years of cover-ups and government stonewalling, Linda Ives is suing eleven federal and state agencies for "full and unredacted reports" that could shed light on who killed her son.
As her lawsuit states:
Plaintiff believes the only reason she has not received adequate responses [to her FOI requests] is that an adequate response would show crimes by government officials and would expose them and government agencies to suits for damages.
Plaintiff will prove that there has been a massive cover-up by federal, state and county officials.
Filed on August 24, 2016, twenty-nine years to the day when her son was murdered, her lawsuit is currently collecting dust on the judge's desk.
A court date has been set for sometime in late November, 2017, but a motion to dismiss filed by the government has been pending for more than six months.
Ives has never made her son's unsolved murder into a vendetta against the Clintons. She has stated repeatedly that her only goal is to identify her son's killers.
Nevertheless, in 1996, Clinton White House counsel Mark Fabiani accused Ives of spreading "conspiracy theories and innuendos" about Clinton—an episode detailed in Ives' lawsuit.
Although not a defendant in the case, Bill Clinton's name appears repeatedly in Ives' suit.
'Most of [the] public still does not understand that murder in politics is real'
Ives is now appealing to the internet for help—although it remains to be seen if her son's case can attract as much attention as the mystery surrounding Seth Rich, the DNC staffer gunned down near his home in Northwest D.C., on July 10, 2016.
"Most of [the] public still does not understand that murder in politics is real," Ives wrote on the popular internet message board 4chan. "To Seth Rich's family: I am sorry for your loss. I have been there and I know your pain and frustration. I do not know what happened to Seth, but I do know what happened to my son and I know why justice never came."                  


www.sott.net/article/353121-Murder-in-Arkansas-The-lawsuit-that-could-sink-the-Clintons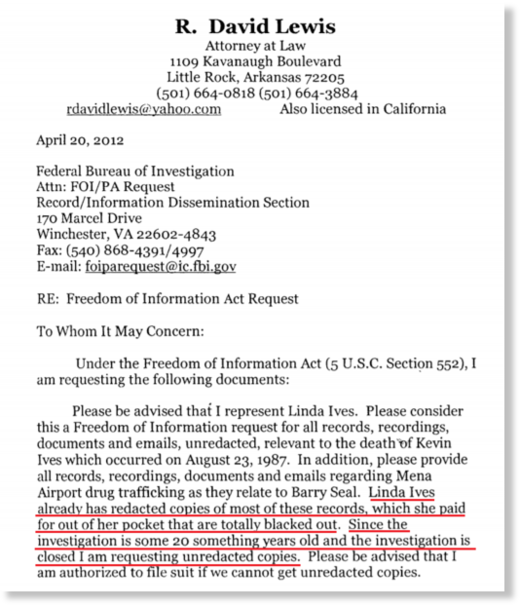 A document related to Kevin Ives' death released by the FBI — completely redacted: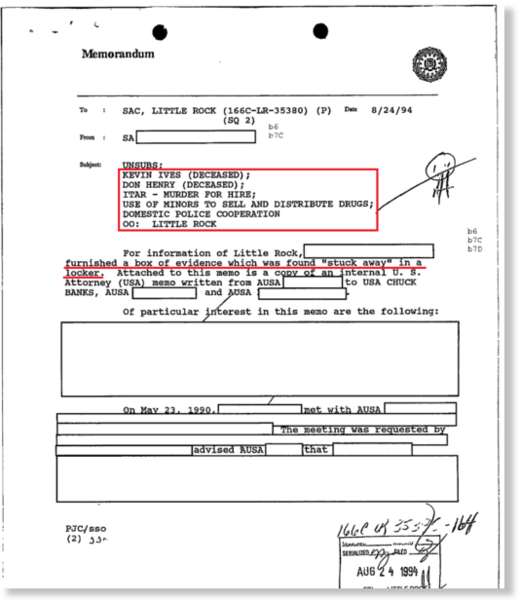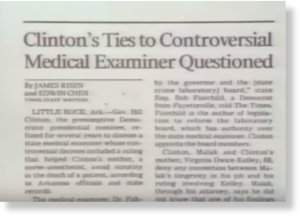 A few excerpts from Ives' lawsuit:
Terry Reed trained pilots for Barry Seal, the infamous Mena drug smuggler. According to Ives' lawsuit, "Reed reported a meeting in March of 1986 which was held at a bunker in Camp Robinson located in North Little Rock, Arkansas between Bill Clinton, Clinton's aide Bob Nash, Terry Reed, Max Gomez, the alias for Felix Rodriguez, John Cathey, the alias for Oliver North, resident CIA agent Akihide Sawahata and the man in charge who called himself Robert Johnson who said he was the emissary for Mr. Casey, the head of CIA."
"In this meeting, it was stated that Bob Nash was Clinton's economic head and the liaison officer with the secret intelligence operations that had been carried out undetected at the Mena airport. Johnson then described Gomez as the agency's man-in-charge of planned operations in Mexico. Johnson said to Clinton, 'The deal we made was to launder our money through your bond business but what we didn't plan on was you and your***** ****** here start taking yourselves seriously and purposely shrinking our laundry.'"
"Linda Ives was filmed by two people who produced a documentary called The Clinton Chronicles which discussed that the Mena airport had been the command post of the biggest drug smuggling operation in the United States importing $100 million per month in cocaine into Mena. It alleged that much of that money had been laundered through the ADFA, a bonding agency that Governor Clinton had created to help small businesses get started."
"In November 1996, a CIA inspector general's report was declassified which admitted that the CIA had been at Mena for routine aviation related services, that L.D. Brown, an Arkansas State policeman assigned to security at the Arkansas' governor mansion, had been a candidate for CIA employment in 1994 at the suggestion of Bill Clinton and the CIA had limited contact with Seal and installed cameras on his plane."
As detailed in her lawsuit, in 1996, Ives was targeted by Clinton's White House counsel Mark Fabiani for spreading "conspiracy theories and innuendo":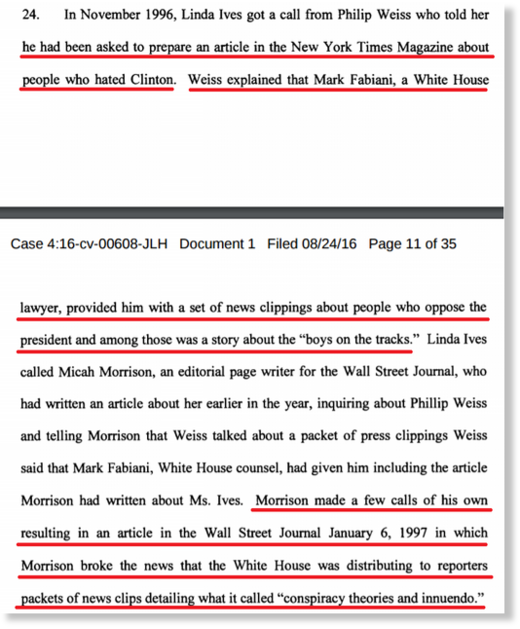 Murder on the Tracks – The Story of Kevin ives and Don Henry:
www.youtube.com/watch?v=ow0yP
…
In Arkansas, on August 30 1987, best friends Kevin Ives(16) and Don Henry(17) were brutally killed after witnessing a drug/cash drop, and then their bodies were placed on the railroad tracks in an effort to cover-up the murders.
The cover-up of their murders began immediately and reached all levels of government over the last 30 years.
Now, former World Wrestling Federation(as it was called then) Superstar, Billy-Jack Haynes, has come out with explosive revelations… he was there that night!
www.fox16.com/news/local-news/man-claims-to-have-witnessed-murders-of-boys-on-the-tracks/971948383
"After cases turn cold, many investigations quietly vanish. Detectives retire. Family and friends move on with their lives. Case files are closed.
Linda Ives won't let that happen.
Over the years, she has collected every piece of evidence she can get her hands on. She has conducted countless interviews. She remains committed to keeping her son's story in the news cycle until justice is served.
In 2016, Ives filed a lawsuit hoping to get unredacted documents from three Arkansas law enforcement agencies and eight federal agencies. Ultimately, the suit claims insufficient response to FOI requests. Ives alleges a coverup of the story behind the death of her son, a theory supported by Haynes' claim that a "criminal politician" was involved.
A judge tossed out most of Ives' 2016 lawsuit. However, he ordered the Executive Office of U.S. Attorneys, the Drug Enforcement Administration, and the Department of Homeland Security to hand over all documents related to the case for his review, according to Arkansas Democrat-Gazette.
That review continues.
After three decades with few answers, you can understand why Ives was immediately hopeful when she received a call from Billy Jack Haynes.
"We're very excited about the information that he has," said Ives in a video posted by her private investigator."
In conclusion, please pray for Linda Ives and Billy Jack Haynes to overcome the force of injustice, which has blocked the truth of what happened to Kevin Ives and Don Henry.  
Views: