By Michael Snyder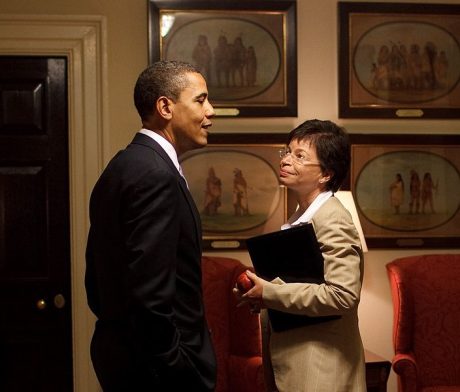 Never before have we seen a previous president and his team openly attempt to sabotage the next president, but that is precisely what is happening. Traditionally, most ex-presidents have chosen to move far away from Washington, but Barack Obama decided to purchase a home less than two miles from the White House, and many of his former staff members are either working directly with him or are working for his political organization Organizing for Action. And of particular concern is the fact that Valerie Jarrett has actually moved into Obama's five million dollar home, which many are referring to as Obama's "anti-Trump command center". For eight years the Obamas wouldn't even sneeze without consulting Valerie Jarrett first, and needless to say Jarrett has not moved in to help them pick out wallpaper and drapes. Jarrett is a hardcore political operative, and she has reportedly convinced Obama that he needs to lead the fight against Trump.
And when I say "fight against Trump", I don't just mean trying to block his agenda from getting through Congress.
What I mean is that Barack Obama actually intends to try to remove Trump from the White House. The following comes from the Daily Mail…
Barack Obama is turning his new home in the posh Kalorama section of the nation's capital – just two miles away from the White House – into the nerve center of the mounting insurgency against his successor, President Donald J. Trump.
Obama's goal, according to a close family friend, is to oust Trump from the presidency either by forcing his resignation or through his impeachment.
And Obama is being aided in his political crusade by his longtime consigliere, Valerie Jarrett, who has moved into the 8,200-square-foot, $5.3-million Kaloroma mansion with the former president and Michelle Obama, long time best friends.
From this anti-Trump nerve center, the Obamas and Valerie Jarrett will be directing an army of more than 30,000 activists that are committed to an organization known as Organizing for Action. If you read my previous article about this "army of activists", you already know that Organizing for Action grew out of the Obama presidential campaigns, and at this point it claims to have 250 chapters around the nation.
But of course Barack Obama does not exactly plan to just sit on the sidelines and let others do the work. Former Attorney General Eric Holder says that Barack Obama is rested and "ready to roll"…
"It's coming. He's coming," Holder said, speaking to reporters at a briefing for the new group. "And he's ready to roll."
Throughout, Holder said, Obama "will be a more visible part of the effort."
Holder also predicted that the usual pattern of the party in the White House losing state legislative seats in off-year elections would hold next year, but "I expect we'll see that on steroids with President Trump."
Ever since Trump won the election in November, Barack Obama and his team have been quietly working against him.
Even while Obama was all smiles in public, members of his administration were working feverishly to spread information that would undermine the incoming president. For example, just check out what the New York Times has just reported…
In the Obama administration's last days, some White House officials scrambled to spread information about Russian efforts to undermine the presidential election — and about possible contacts between associates of President-elect Donald J. Trump and Russians — across the government. Former American officials say they had two aims: to ensure that such meddling isn't duplicated in future American or European elections, and to leave a clear trail of intelligence for government investigators.

American allies, including the British and the Dutch, had provided information describing meetings in European cities between Russian officials — and others close to Russia's president, Vladimir V. Putin — and associates of President-elect Trump, according to three former American officials who requested anonymity in discussing classified intelligence.
If you have ever wondered where all of these "leaks" are coming from, the truth is that they are coming from people inside the government that are still loyal to Obama.
Earlier today, the Washington Post ran a story with this alarming headline: "The Trump presidency can't seem to escape Russia's shadow". The reason why Trump and his team are continually plagued by this stuff is because of the internal sabotage that is being conducted against them.
And of course the mainstream media will just eat up any anti-Trump morsel that they can possibly get their hands on. Most in the mainstream media absolutely hate Trump, and so they are quite eager to aid in sabotaging him any way that they can. Here is another example of sabotage that occurred not too long ago…
White House officials believe Obama administration employees attempted to sabotage President Trump by releasing an incomplete memo suggesting that Trump's travel ban focusing on seven Muslim-majority countries contradicts government intelligence.
The Associated Press reported on Friday that a leaked Department of Homeland Security document indicated that filtering immigrants by citizenship would not likely prevent terrorists from entering the United States.
Almost every day it seems like something new comes out, and this kind of political warfare is not going to lead anywhere good.
At this point, there is very little chance that most of the country will unite behind the new president, and Obama and his team are going to continue to try to cause strife, discord and disruption any way that they can.
And any time street protests break out against Trump, Obama and his leftist allies are going to do their best to fuel the fire. Eventually this could result in the kind of widespread civil unrest that I portrayed in my apocalyptic novel "The Beginning Of The End", but Obama and his allies don't seem to be very concerned about the long-term damage that they are doing to this country.
Instead, they seem to be absolutely obsessed with doing whatever is necessary to destroy Donald Trump.
A lot of people were hoping that the political nastiness would end once the campaign was over, but instead it appears set to go to a whole new level.
Unfortunately, I don't see any way that this is going to end well…
1,121 views